How To Wear The New Anastasia Palette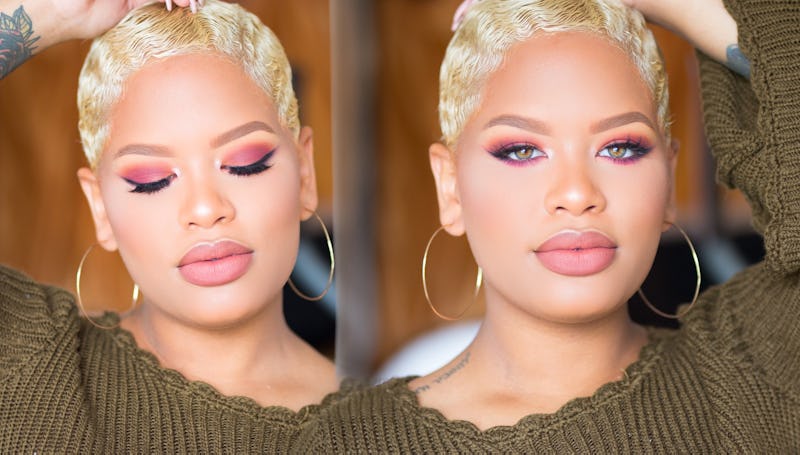 Eyeshadow palettes are basically a girl's best friend. You can never have enough of them because they're all so different. Sure, you may be able to live without them, but why try? If you're wondering whether you should buy the new It palette or already have it and are wondering what to do with it, look no further. Here's how to wear Anastasia Beverly Hills' Renaissance Palette, because it's the palette of the season.
Anastasia Beverly Hills became known for its must-have brow products and trends, but has become one of the biggest brand contenders in the beauty world. From liquid lipsticks to contour and highlighting palettes, Anastasia Beverly Hills knows what's up. So when it launched the Modern Renaissance Palette, a 14-shade collection of ultra-matte, metallic, and satin finish shades, the makeup world went crazy. Neutral and berry tones are more popular than ever right now, and that's what this palette is all about.
Anastasia Beverly Hills Modern Renaissance Eye Shadow Palette, $64, Amazon
Eyeshadow palettes are an investment, and the Modern Renaissance palette is no exception. It's $42, which is an investment as far as palettes go, but still affordable when compared to the Urban Decay Naked collections that cost $54 each. Plus, the sleek magnetic packaging makes it perfect for travel and the color range works for day and night.
Modern Renaissance Eye Shadow Palette, $64, Amazon
Since this palette is bound to make its home in every makeup enthusiast's drawer...
Modern Renaissance Eye Shadow Palette, $64, Amazon
...Here's how to wear it according to your favorite YouTube gurus.
1. Jeffree Star Tutorial
Using a bright berry red under your eye can be intimidating because you don't want to look like you have pink eye, but Jeffree Star will show you how to do it right.
2. Jasmine Hand Tutorial
A smoky, inner corner cut crease is perfect for the mono lidded ladies out there. Your eyes will look bigger and brighter with this tutorial.
3. Jamie Paige Tutorial
All over red lids are red hot this summer. If you're scared to try it out, try keeping the intense color below your crease.
4. Sofie Bella Tutorial
This tutorial looks inspired by a Tequila Sunrise, and I'll cheers to that.
5. Melissa Alatorre Tutorial
From editorial to everyday, this palette can create a wide range of looks. And luckily, it's a permanent member of the ABH family!
6. Taylor Anise Tutorial
When this palette pairs with a vampy, red-brown lip, magic is made.
7. Alissa Ashley Tutorial
This look uses the matte shades in the palette, showing off how creamy and blendable they are.
8. Crystal Conte Tutorial
Blue eyes look beautiful with an orange smoky eye and inner corner highlight.
9. Beauty Dosage Tutorial
This up-close tutorial will show you exactly how to blend these colors for a show stopping, shiny metallic eye look.
Image: Anastasia Beverly Hills/Instagram