This Will Give Your Texts Some Pizzazz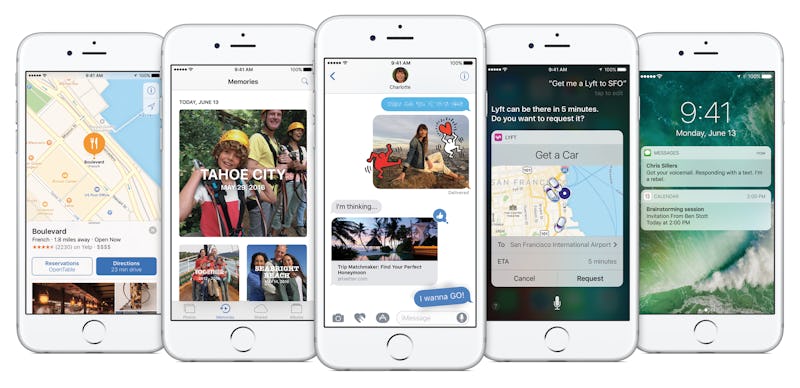 Apple is making some moves in their new iPhone technology, as always! With the advent of the iPhone SE, the iPhone 6S, and a slew of other innovations like the iOS 10 operating system and Mac OS Sierra (the Siri of the desktop), in a time where design is as popular as ever (I mean, people fought for a taco emoji; this is the world in which we live), Apple has developed — get ready — bubble effects! So what exactly are Apple's new iPhone bubble effects, and what is their purpose? It's actually a feature designed to aid in communications.
The entire purpose of the bubble effects, aside from rounded-aesthetic, is that of emphasis. The bubbles of text will have the ability to take different sizes as a user sees fit, emphasizing particular phrases or highlighting words of importance. A small bubble can express sympathies during a time of sadness, which will soon prove easily contrasted by a larger bubble to express congratulations or excitement.
This isn't so farfetched; since the start of the Internet, users have done this on their own. Historically, capital letters were used to draw attention to words, and then shortly thereafter were interpreted as yelling.
Even prior to this, in publications, words are bolded, highlighted, and italicized. There exists an option to write a word and then cross it out as an error — even though it is intentional. Now, Apple is simply doing what humans have always done; that is, they are expanding our means of communication.
Instead of finding one's own way of making a point as direct as humanly possible, there are companies who are looking to preempt a user's need to do so. Apple is always riding the wave on new operational mechanisms, and their most recent unveilings are only further indicative of this.
In addition to the bubble text, Apple is introducing color-coded text, a slew of new emojis, invisible ink, handwriting (my personal favorite), and new camera features in iMessage.
With the popularity of combination communication apps like Snapchat, which allows for speedy photography, cool effects, as well as instant message-style conversation, Apple is keeping in the race for good reason. In the end, users only benefit from the competition, so long as companies are taking into account what works and what does not.
I, for one, am excited to give these new features — like the unexpectedly useful bubble effects — a try as soon as they're available to the public.
Image: Apple