'Hello My Name Is Doris' Clip Is Hilarious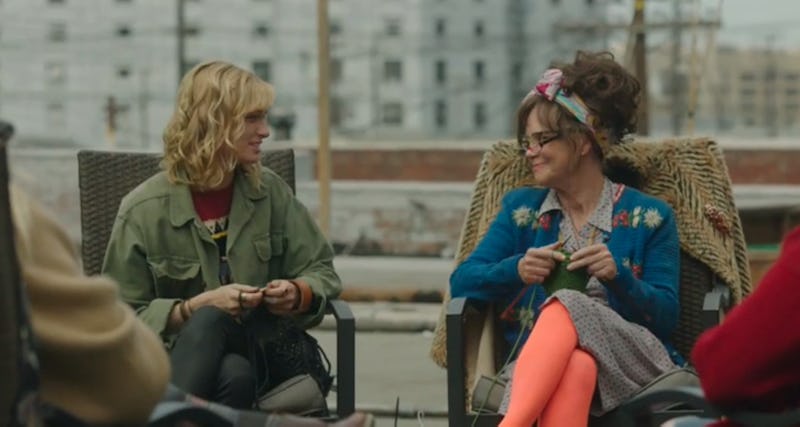 Who would have thought that a knitting circle could be a catalyst for conversations on gender norms? A knitting circle is exactly the place for this kind of in-depth discussion in Sally Field-starring romantic comedy Hello, My Name Is Doris , and it's met with hilarious results. In this exclusive clip, which is a deleted scene from the comedy, new to the circle Doris (Field) and her friend Brooklyn (Beth Behrs) are hanging out on the rooftop alongside some of Brooklyn's fellow knitting buddies when the conversation turns to the performance of gender. Hello, My Name Is Doris knows exactly how to document just another day on a New York rooftop.
One member of the circle shares her experience reading Judith Butler's Gender Trouble, and subsequently makes all of the other women in the circle take note of the "feminine" way that they are sitting. Has society policed women into being cross-legged sitters? Totally — though it seems like Doris' first time hearing of it. The conversation later turns to the reason that everyone in the circle, save for Brooklyn and Doris, seem to be wearing a poncho — as Brooklyn points out when the reason is finally revealed, "it's not worth it."
Hello, My Name Is Doris is available on Blu-ray and DVD June 14.
Image: Roadside Attractions (screenshot)