Here's How To Successfully Shop Rihanna x Puma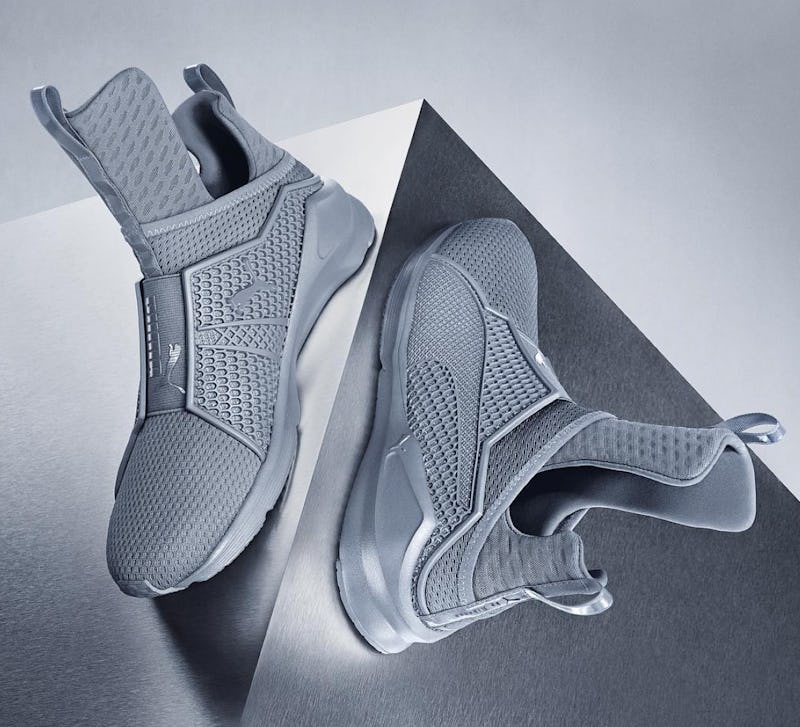 Much-anticipated drops of celeb shoe collabs, such as Rihanna x Puma or Kanye West's Yeezy Boosts, are often accompanied by shopper anxiety, nerves, and bartering with deities in hopes of scoring a pair. I was anxious when the Rihanna x Puma Creepers landed on May 26, because I coveted them... hard. I eventually snagged two pairs in all-black. But during the run up to the drop? OMG. I was feeling so uneasy. But if you are a fashion girl or boy, you get this emotion and response. Fashion and style are ways in which you express yourself through adornment. No shaming here. With the grey Rihanna Puma Trainers dropping on Wednesday, June 15 and likely to sell out upon landing, you are probably wondering how to successfully shop a pair, right?
Since I grabbed the much-hyped Creepers with ease, I can provide tips to make the process smooth, with the end result (hopefully) being an email confirmation that your order went through and your shoes will soon ship.
These are six things you can do in order to increase your chances of copping a pair of Rih's latest footwear for Puma. They grey trainer is cute yet futuristic and reminds me of wrestling sneakers. They would look adorbs with leggings or a denim mini, no?
1. Be Informed
Stay informed in advance of the drop by remaining atop social media. Make sure to follow the Puma Instagram and Twitter accounts, in case on-sale times change and or other information is parsed out.
2. Be Ready
The grey Rihanna Trainer is going on sale at 10 a.m. ET/7 a.m. PT on Wednesday, June 15. I recommend opening a browser to the Puma site at 9:55 a.m. ET. Have your credit card at hand so you can quickly punch in details. Close out your email, other browser windows, and any potential distractions, if able, so you can focus on the task at hand.
3. Advance Prep
Sign up for email updates. That way you can be in the know first thing. Plus, you get special offers and discounts. It doesn't cost anything, either.
4. Create An Account
It's also a good idea to create an account in advance. That way, pertinent information and details remain saved and you don't have to enter them every time. Plus, you can use it to track your order(s) after the fact.
5. Gameplan
Go into the shopping experience knowing how many pairs you want to buy. Don't waste time browsing other shoes or thinking about "non-event" kicks. Focus on grabbing the grey Trainers, put them in your cart, and move on. You can always go back and shop other shoes at another time. Since the grey Trainers are the new kid on the block and are an "event" drop, pairs will move more quickly than other stock.
6. Size Matters
This seems obvious, but know your size before you shop. Consult the Puma size charts. You don't want to lose precious shopping seconds trying to figure out the best size or size conversions. I have small but wide feet and I sometimes have to go a half-size up or down based on how narrow a shoe is. Think about this type of detail in advance so no time is wasted.
Those six steps should help you be able to shop efficiently and successfully. There are other variables, such as the speed of your web connection and how many other shoppers on the site with whom you will have to battle. But this plan of attack is the way to go. It's how I got myself the much-hyped Creepers.
Images: Courtesy of Puma (3); Puma/Instagram (1); Rihanna/Instagram (2)