9 Calming Beauty Products For Nighttime Shower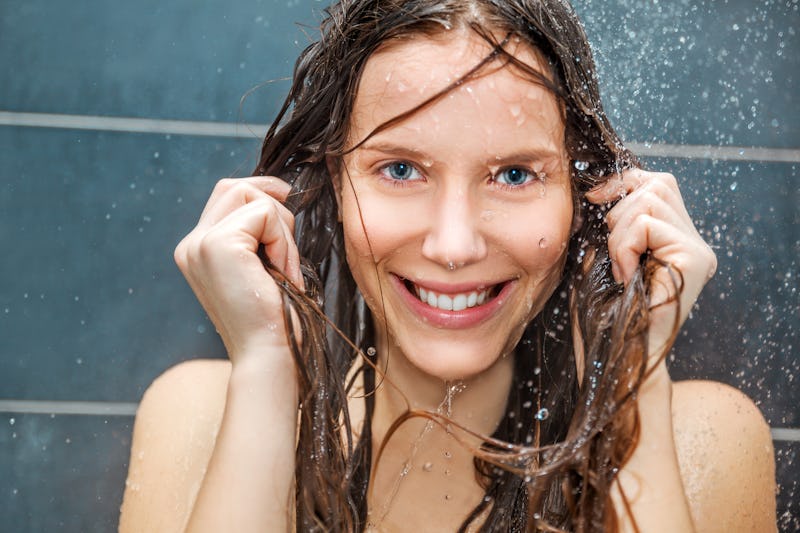 I'm a morning shower taker, and probably will be forever. That doesn't mean, however, that I've waged any kind of war against all the nighttime shower takers out there. If you're wondering, "Should I shower at night or in the morning," there are definitely pros and cons when it comes to either. Still, if you want to fall asleep faster, there are a few relaxing skin and hair hacks that could help your shower at night improve your sleep.
Evening showers are especially great for those with insomniac or other sleep-impeding issues, as the warm water helps to relax you, and the cooling-off period that occurs afterwards prompts your brain to start producing melatonin. There's also the fact that your sheets stay clean, and your pores are cleansed, open, and ready to start the rebuilding process that happens while you sleep.
The best shower skin and haircare products you apply while nighttime bathing are especially effective, but — here's the important part — read your ingredients lists, as your pores are really vulnerable while you rest (and even more so after a shower). Here are a few of the best tips and tricks for those of you who wash up right before bed, so you can keep your skin, hair, and body healthy.
Cleanse Hair Without Removing Necessary Oils, All While Winding Down With Aromatherapy
Wen Lavender Cleansing Conditioner , $32, Amazon
Your body repairs itself while you sleep, meaning that skin and hair produce the oil it needs to fix dry pores. If you're stripping your hair with a harsh shampoo right before bed, your scalp will try to compensate overnight, and you'll wake up with oily hair. Wen lavender cleansing conditioner uses great ingredients to cleanse dirt and build-up without stripping your hair's natural oils. It keeps hair looking and feeling shiny, beautiful, healthy, and balanced. This one also smells like soothing lavender, which is especially relaxing right before bed.
Calm Sense & Help Skin Regenerate With Natural & Hydrating Soap
Lavender Goats Milk Soap Bar , $9, Amazon
The regeneration rate of skin is much faster while you sleep, as it's repairing itself from environmental assaults during the day. However, if you're putting more chemicals on it right before bed, you're making its job much harder. Lavender Goats milk soap bar is a chemical-free soap made from moisture-locking ingredients like shea butter. It doesn't have any parabens or SLS, like other soaps, and it won't strip your natural beneficial bacteria or oils, either. It's a great soap to use before bed because it helps your skin to repair itself at night, and it's infused with soothing therapeutic-grade lavender essential oils, too.
Moisturize Without Any Chemicals
Pure Fractionated Coconut Oil , $11, Amazon
Dr. Howard Murad told Beautylish, "We naturally lose moisture during the sleep process, so it's very important to maintain healthy levels of cellular hydration topically." Pure Farm's fractionated coconut oil is a great option because it's chemical-free, all natural, super hydrating, and has a cooling effect on the skin, which helps you to sleep. It's processed in such a way that doesn't harm the medium-chain triglycerides, but creates an always-liquid texture that absorbs easily and won't stain clothing or sheets. This one comes in a pump bottle for easy application during or after a shower, and it makes skin feel incredible.
Fill Your Shower With The Relaxing Scent Of Lavender
Aura Cacia Aromatherapy Relaxing Lavender Shower Tablets , $8, Amazon
The smell of lavender has been shown to reduce anxiety, as well as help with insomnia and other sleep issues. Make your nighttime shower a spa-like experience with these Aura Cacia aromatherapy relaxing lavender shower tablets. Simply unwrap the tablet and place it on the shower floor underneath the stream of water. As you wash yourself, it releases a beautiful and relaxing scent that fills your bathroom and helps your whole body to unwind. Reviewers say it has a very calming effect, and they're totally in love with the smell.
Apply Magnesium Oil To Your Skin To Help You Sleep
Seven Minerals Magnesium Oil With Aloe , $24, Amazon
Magnesium oil has been shown to improve quality of sleep, as it helps your muscles to relax and decreases the amount of the stress hormone cortisol in your body. If applied topically, your body absorbs as much as it needs, and this Seven Minerals magnesium oil with aloe makes it easy. Because it's infused with aloe, it's not itchy (which is the most commonly heard complaint with other brands), and because it comes in a spray bottle, it's easy to apply. One excited reviewer says, "Love this product! Really helps with muscle soreness and sleep."
Don't Exfoliate At Night — Wash Gently Instead
Appearus Microbamboo Charcoal Microfiber Wash Cloth , $7, Amazon
Exfoliation should be a morning activity, as your skin rebuilds and sheds while you sleep. Exfoliating in the evening could be too harsh on your skin, impeding the rebuilding process. This Appearus microbamboo charcoal microfiber wash cloth is made from exceptionally soft bamboo fibers, which makes it breathable, lightweight, and absorbent. Reviewers say it's way more gentle than cotton, so it won't irritate even the most sensitive skin, and one says, "It's like washing your face with a cloud!"
Replenish Hair's Moisture After Intensely Hot Nighttime Showers
Laritelle Organic Conditioner , $33, Amazon
If you style your hair before bed, this one's for you. The combination of oil-stripping shampoos, hot water, heat from the blow dryer, and a harsh cotton pillowcase can be really tough on your hair. Laritelle's organic conditioner restores the moisture and strength to your hair with awesome ingredients like argan and natural essential oils. It's great for hydration and healing, as well as prompting new growth, and reviewers love that it's free of parabens, chemicals, BPAs, and GMOs.
Apply Essential Oils To Your Feet After Washing
Tranquility Sleep Essential Oil , $15, Amazon
Essential oils absorb into your body through your lungs or skin and interact with your system the same way medicine would, but they're all natural and totally safe as long as they're pesticide-free. Apply a sleep-inducing essential oil to the bottoms of your feet as soon as you get out of the shower, while your pores are wide open and absorbent. This blend is made with only the highest quality therapeutic grade and organic oils that help to promote a great night's sleep, like lavender and chamomile. Reviewers absolutely love the smell, and they say it's the most effective blend they've used as a sleep aid.
Dry Hair In Half The Time With A Bamboo Hair Towel
Women's Bamboo Hair Towel , $10, Amazon
Going to bed with wet hair can be really uncomfortable, but waiting all night for it to dry is even worse. This bamboo hair towel is softer and lighter, so it cuts down on damages and split ends, but because it's made from mostly bamboo viscose, it's extra-absorbent and dries hair in half the time. It also has an elastic loop to keep your towel on your head and out of your way, and people say it's comfortable, effective, and just as easy to care for as any other towel.
Bustle may receive a portion of sales from products purchased from this article, which was created independently from Bustle's editorial and sales departments.
Images: Fotolia (1); Amazon (9)