'RHOA's Phaedra Has Political Aspirations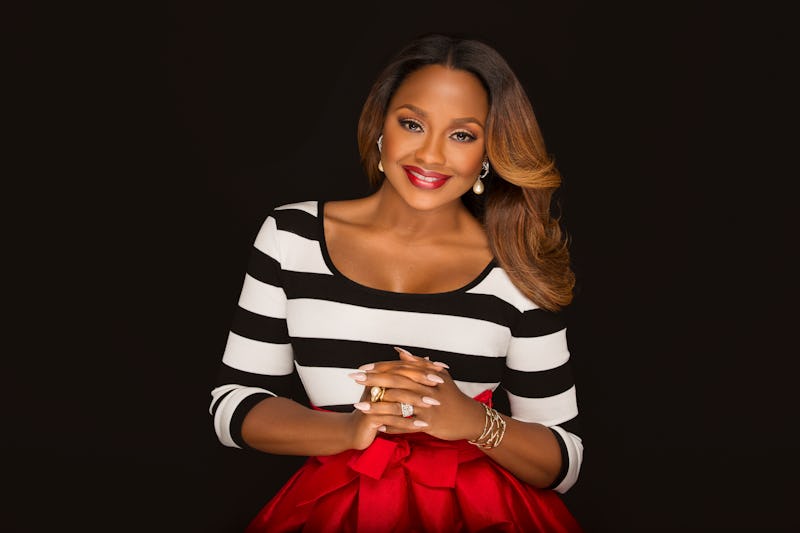 Doing charity work has become such a standard part of being a celebrity or a reality star these days, but sometimes it's hard to tell if celebrities are simply attaching their names to things or actually putting in the time. But when it comes to Real Housewives of Atlanta star Phaedra Parks, she is definitely active with everything she puts her name to. Parks started The Phaedra Foundation, which has a mission to "develop responsible young people, create resilient families, and build vibrant communities," according to its website. With her background in law and years of philanthropic experience, Parks does more than lend her name to her foundation; she is extremely hands on. Parks tells me about her foundation, its programs, and her aspirations for a career in politics, and she makes it very clear that she takes on all of her charitable endeavors because she genuinely wants to take the time to help others.
Parks shares that her foundation will be running Camp Joy this summer for kids affected by the water crisis in Flint, Michigan. She says, "It is going to be a well-rounded, 360 approach." And that definitely seems accurate since the camp covers a lot of territory in just one week's time. According to The Phaedra Foundation's site, the campers "will spend a week engaging in activities such as academic enrichment, sports and fitness, arts and culture, and many other exciting activities designed to impact a child's life, socially, and academically."
Parks says of the camp, "I am definitely going to be there because my name is on it and being a part of it is important to me. Yes, I'll be there to oversee it, but I will really be a part of it and be hands on with all of the campers."
It's clear Parks does everything all out and believes that it is important to genuinely care about everything that she is a part of. In fact, the mother of two was actually hesitant to start her own foundation since she was well aware of the stigma attached to celebrity sponsored charity endeavors. "For years people told me that I should do a foundation because I was volunteering and investing in so many other events," she explains. "Initially I didn't want to do it because sometimes I think foundations get a bad rap, because it's more about the people's egos than really helping the community."
As for why she finally gave in and decided to take on such a big endeavor, she says, "Even though I love what I had been doing, I realized that I really needed help and that I can have a larger impact and more of an impact on the community."
Parks is all about uplifting the people around her. Not only does she care about the people who are directly around her like her children, clients, and RHOA cast mates, but she also wants to widen her reach when it comes to helping people. This is why she aspires to get into politics — and it's not a new idea for her.
"When I went to law school, I did not necessarily want to be a lawyer initially. I wanted a degree to give me the credibility to have a career in politics," she says. In addition to her philanthropic work and her work in law, she has also helped out with local political campaigns and both of Barack Obama's presidential campaigns.
So why does she want to get involved now? "I've become interested in it again because I think that the average person is sort of tired of the average politician not really being in touch with what's going on in the community," she says. "I am an attorney who is on TV and there are a lot of different things that put me at the forefront of the community." And once again, Parks is very conscious of her capabilities and experiences. She is very wary of taking that typical celebrity route of jumping into a new endeavor full force. "I don't know what my first step would be toward reaching this goal. Of course, this is a big year in politics. I think before I do something on a huge scale that I would like to get my feet wet with local politics," she says.
Parks really cares for the people around her and, like many of us, she does not understand how issues like the water crisis in Flint, Michigan are still happening in 2016. Parks laments,
"Just to think that we are in 2016 and we live in one of the wealthiest, if not the wealthiest, countries in the world with the most opportunities, but we have people in the United States suffering like this is just unbelievable. It really speaks to being disenfranchised. It speaks to the leadership obviously not doing the things that they need to do ... It is very interesting to me to be a part of a movement and say, 'Hey, not only do we need to make sure that our leaders are accountable, but we also need to make sure that everyone in the United States of America is afforded the same benefits across the board.'"
Reading this you may be wondering what this has to do with the Real Housewives of Atlanta or why someone so accomplished would want to be a part of a reality show. But it really does all add up. Parks has a vision and has been able to bring these different parts of her together to make a real difference in the world. For instance, during RHOA's eighth season, she invited her cast mates and their children to the Million Man March in Washington, where they met with members of congress and spoke about issues the black community is facing. Not only was this something great to share with RHOA viewers, but it really hits close to home for Parks since she is the mother of two young boys. When discussing the impact of being on the show, Parks says,
The show has given me an even larger platform because people not only in the United States, but abroad watch the show. We've maintained a strong and large fan base. It has broadened my visibility and has given me the opportunity to have a larger opportunity to really help people, not just here in Atlanta.
Parks opened up her very hectic life for the greater good, and has used her platform as an entertainer to reach people she never could before and really make a difference in the world around her. When it comes to being a reality star, she's in a league of her own.
Image: Phaedra Parks