See All The New Huda Beauty Liquid Lipstick Shades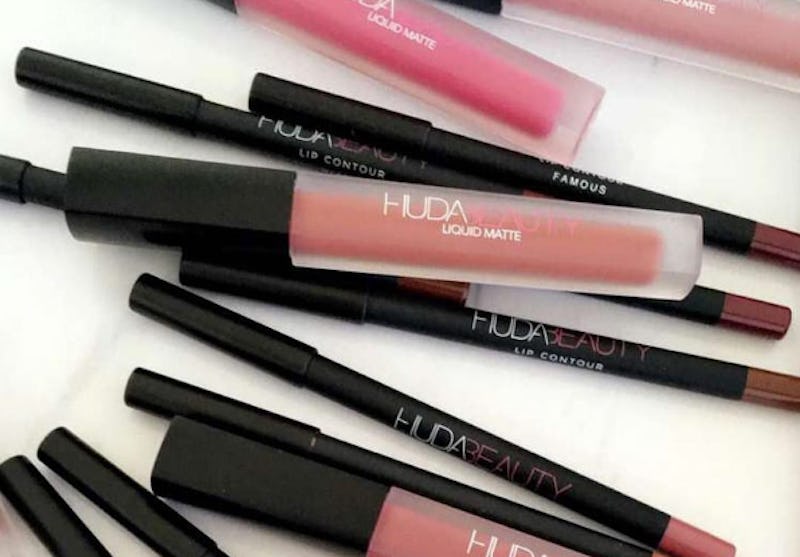 This company might be known for lashes, but that's all about to change with their latest lip launch. Huda Beauty's new liquid matte lipsticks are coming, and every single one of the 16 shades is absolutely gorgeous. Whether you're a fan of a nude or bold look, this line will have something for you. The only downside to the launch is that you'll want to buy all of them at once.
Brace yourself, because the Huda Beauty lip wear family is getting a little bit bigger. You probably already know about the company's gorgeous Lip Contour Matte Pencils, and now these liquid lipsticks are being added to the family. As a Teen Vogue article jokes, these could even sell out faster than Kylie Jenner's Lip Kits. That's a bold statement, seeing as Jenner's first launch sold out in just minutes.
The vlogger turned makeup maven Huda Kattan has been teasing her liquid lipsticks for a while now, and now the official shades are finally here for all to see. Ranging from nudes to bright reds and even a purple, there's something for every single style in this collection. I should warn you though, you'll want to buy every single color after seeing the picture.
I told you they were pretty! These little beauties will arrive in the states at the end of July — just in time for summer into fall. That means you still have some time to decide which one (or more) deserves a spot in your makeup bag.
The official price has yet to be announced yet. Considering the Huda Beauty Lip Contour Pencils are $19 a piece, I'm willing to bet the prices on these will be similar. All totally worth it though, in my opinion.
Good luck deciding which ones to buy, because every time I look at the picture I'm convinced that I need even more shades. July can't come soon enough!
Image: HudaBeauty, Instagram (1)