How To Tell If You're Wearing The Wrong Bra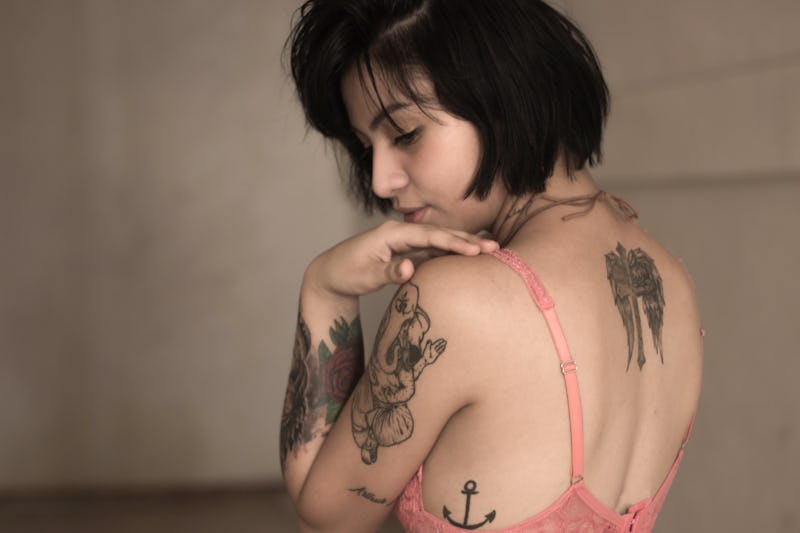 I am absolutely in love with lingerie. I've spent way more of my income on lacy bras and pretty underwear than I'm comfortable admitting on the internet, but it wasn't always like that. Before a friend and former Victoria's Secret employee told me, "You're wearing the wrong bra, and here's how to fix it," bra shopping was a massive headache for me.
In fact, I hated having to figure out if I was wearing the wrong bra size so much, that for the first sixteen years of my life, I'd raid my mother's bra drawer. Instead of paying attention to signs my bras didn't fit correctly, I'd wear whichever ones she didn't want, regardless of whether they looked good, fit right, or even provided any support.
Unfortunately, your bra can't talk to you. If it could, it would probably say things like, "You shouldn't have that much room there," "It won't feel too great on your face when this bra strap snaps in half," and "Why the hell are you even wearing me, if you're in that much pain?" But if you keep an eye out for ways to tell if your bra fits, you'll know exactly what you need to do, in order to provide the right support, a comfortable fit, and the exact look you're going for.
You're Experiencing Some Side Spillage
Chantelle Revele Moi Underwire Bra (30D-42H) , $40-$78, Amazon
As Kay-Lin Richardson of Panache Lingerie told Cosmo, while most women prefer seamless bras for subtlety under clothing, the seams are often necessary for side shaping. "Especially with larger busts, those seams are mostly under the breast and are rarely noticeable under clothing." If yours are less centered than you'd like, try a four-part cup, like this Chantelle Revele Moi underwire bra. It provides lift and support, but the high seam and mesh overlay are harder to see underneath clothes. It's great for preventing that side spillage, and reviewers love the beautiful lacy design.
The Tops Are Bubbling Out
Lunaire Plus Size Honolulu (Sizes 32D-38E) , $12-$37, Amazon
When the tops of your boobs are spilling out, it could be time to go up a cup size. It also helps if you downplay the amount of padding in your bra, in order to make more room for your chest. The Lunaire Honolulu bra is available in larger cup sizes, and it's also lightly lined with fuller coverage. The stretchy cups adjust to your breast size, and the high back helps to keep you supported and comfortable.
You're Annoyed That You Can See An Outline Through Your Clothes
Hanes Women's Ultimate Invisible Look Underwire Bra (34A-38D) , $14-$33, Amazon
I'm not that bothered when my bra lines are showing, but if it bugs you, aim for fewer seams and a more contoured fit. The Hanes 'invisible look' underwire bra limits the seams and skips the tags, and the ultra-soft fabric hugs your skin and glides effortlessly against any shirt or dress without catching. That being said, it still provides adequate support with underwire and a little bit of padding, so it'll look "barely there" while still totally having your back.
Your Underarm Areas Are Irritated
Maidenform Two-Hook Bra Extender , $8, Amazon
If you feel chafing under your arms or around your torso, it's time for a bigger band. Too attached to that one particular bra? Try these Maidenform two-hook bra extenders instead. The pack comes in three different colors to give your best bras the extra few inches they need to feel comfortable and breathable, and they're so highly rated because they're durable, reliable, and get the job done without the effort of bra shopping.
You're Chafing While Working Out
Tasc Performance Endurance Printed Sports Bra (XS-XL) , $17-$32, Amazon
If you tend to finish a workout with angry red rashes all around your chest, you're going for the wrong material. This Tasc performance sports bra is partially made from bamboo viscose, which is an ultra-soft and lightweight material that glides across your skin without causing irritation. It's also made with anti-chafe binding, has a four-way stretch, and is moisture-wicking to make sure that you're supported and comfortable all throughout your workout.
You're Perpetually Poked By Underwire
Bali Women's Comfort Revolution Wirefree Bra (34C-42DD) , $12-$75, Amazon
I wouldn't wish underwire-pokage on my worst enemy, but unfortunately, bras break down and it just happens. If you're fed up, go for one without any underwire at all, like this comfortable wire-free bra. It's got thick straps, a torso band, reliable padding, back support, and side support, but doesn't have any wires whatsoever. One reviewer says, "Let me first say that I hate bras very much. I try to not wear them as much as possible…This is the closest thing to being as comfortable as going bra-less."
You're Impatient With Back Clasps, And You've Noticed Your Band Size Becoming Loose Over Time
Ekouaer Front Closure Lace Racerback (Sizes 34B-40DD), $18-$20, Amazon
If you're about as flexible as a toothpick (me), or you're dealing with a shoulder or arm injury, don't use the T-shirt method. Pulling your bra over your head stretches out the material, and seriously decreases its lifespan. Ekouaer's front closure racerback bra has an adorable design and tons of front, side, and back support, but its selling point is the several wire hooks in the front of the bra. Best of all, one reviewer even said, "It's stunning. It's a shame that I can't walk through a store just wearing this bra."
Your Bras Are Smoothing, But Sometimes You'd Rather Accentuate
Wacoal Women's Ciao Bella Balconette Bra (30C-38DD) , $18-$61, Amazon
The cut of the bra, in addition to finding the correct size, makes a huge difference when it comes to getting the look you want. While you may prefer a triangle shaped cut for certain outfits, maybe you think other tops call for some more accentuation. A balconette shape (like Wacoal's balconette bra) provides a fit that accentuates, instead of smoothes out. This beautiful lacy bra comes in 14 different colors, and while the padding is relatively thin, it still gives you plenty of support. One happy lady puts it simply: "Never had a bra that fits this awesome."
You're Annoyed By Every Bra Ever & Appreciate Multitasking
Cut Out Strappy Bralette (S-XL) , $6-$11, Amazon
If chest support is more trouble and pain than it's worth, then who needs it? Turn your bra from a prison to a fashion statement with this extra comfortable cut out strappy bralette. It's super stretchy, made from combination of spandex and nylon, and has an awesome cage pattern in the front for wearing under loose shirts, sleeveless dresses, or entirely on its own.
Your Outfit Calls For Backless And Strapless, But All Your Bras Have Backs
Ultra-Light Invisible Backless & Strapless Bra (A-D) , $17, Amazon
Of course, you're more than welcome to go braless altogether, but if that idea's not your style, there's this ultra-light invisible backless bra. It adheres to your breasts with a hypoallergenic inner glue, giving you just the right amount of support, hold, and coverage. Because there's no wires — just padding — it's comfortable enough to wear all night long, and believe it or not, it actually stays put. Reviewers say it's great because it doesn't leave any sticky residue, either.
Your Cups Are Wrinkling
Silicone Shaping Inserts , $12, Amazon
When your bra is wrinkling or folding in on itself, it could mean you need to go down a cup size. However, you've also got the option of adding a little extra padding with these silicone shaping inserts. They're super comfortable, as well as soft, reusable, washable, and waterproof. Reviewers like them because they're simple, effortless, and do exactly what they're meant to do.
You Can't Seem To Make Strapless Work For You
Elia Long Strapless Longline Bra (Sizes 34B-46H) , $50-$63, Amazon
If your strapless bras are constantly falling down, it may help if you have a thicker band. This strapless longline bra keeps everything right where it feels most comfortable all night long, thanks to its comfortable and supportive bodice. It's lightly ribbed, but also very comfortable, and it provides the necessary support for bigger chested women who tend to slip right out of strapless bras.
Bustle may receive a portion of sales from products purchased from this article, which was created independently from Bustle's editorial and sales departments.
Images: Gabriel Nunes/Unsplash; Amazon (12)