Too Faced Just Dropped Its Sketch Marker Liners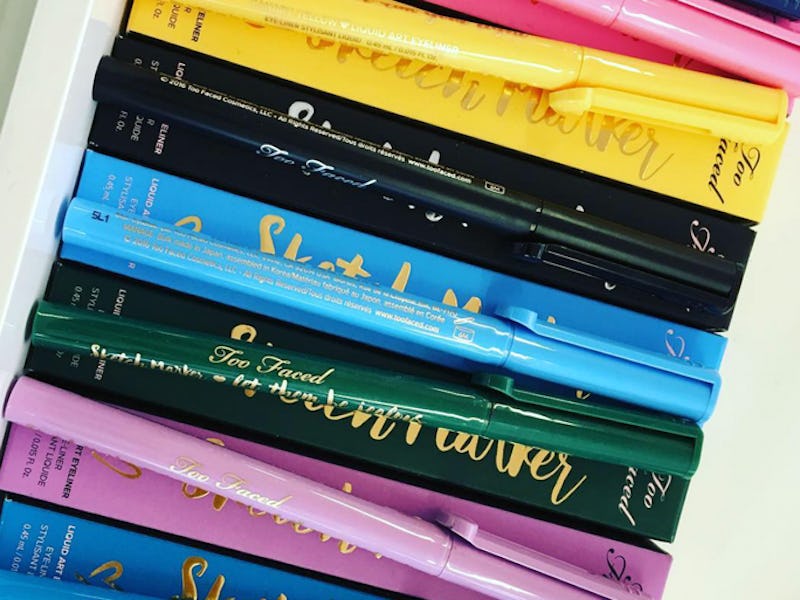 Surprise, surprise! About three months ago, Jerrod Blandino teased Too Faced's Sketch Marker Liquid Eyeliners on Instagram. He revealed the liners were inspired by Japanese calligraphy pens and the sneak peek photo revealed they would come in all the colors of the rainbow. Last month, the ever-fab co-founder teased the new Too Faced eyeliner pens again, in Insta photos and on YouTube. We got a close look at the colors and the tips of these to-die-for liners pens via the video. Blandino also shared that the liners were slated for the fall.
Guess what? Fall makeup launches are upon us, even though we are just entering the summer season, since the beauty and fashion industries work with several months of lead time. So when can you buy the Too Faced Sketch Marker Eyeliners and line your lids with color and precision?
Oh, how about right now? No, I am not kidding. The liners are available as of today, Wednesday, June 15, at the Too Faced site. Beauty scoop site Trendmood also posted that the liners will be available at 12 p.m. ET/9 a.m. PT, as well.
Ack! I am cycling through too many emotions at once. I was not expecting these to land this soon, yet I am shaking and crying over the two black versions.
Here is the screenshot from the Too Faced site. The liners are $20 and they arrive today. You can't add them a cart just yet. I tried. But allow me a moment to welcome them to the Too Faced family.
This was the first taste!
And another! A rainbow of fruit flavors, like Skittles.
This is Deep Black, which will so be my jam.
I am feeling Deep Navy, too! Too glam to give a damn? Oh yes!
Blandino and Too Faced have another hit on their hands. #ByeMoney.
Images: Courtesy of Too Faced (3); Jerrod Blandino/Instagram (2)