9 Mistakes That Could Turn Your Toenails Yellow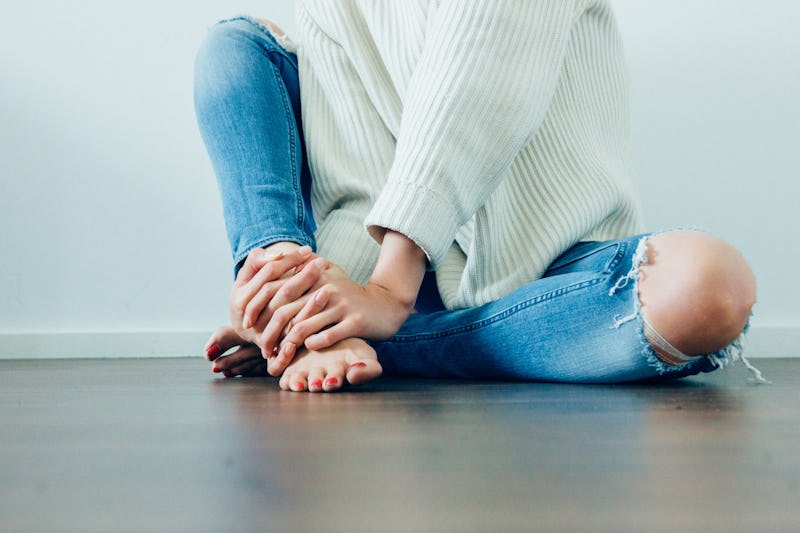 Call me a hippie, but I think your feet are meant to be free. I've never met more people with foot issues than I did during my short stint in the restaurant industry (but swampy kitchen floors and confining rubber shoes just aren't natural to me). If you're not careful, hygiene mistakes can turn your toenails yellow, especially under those kinds of conditions. If you don't know why your toenails are turning yellow or what you can do about it, it can be a pretty stubborn problem to fix.
As always, I'm all about the natural approach. When it comes to getting rid of yellow nails and infected feet, the first place I look is to ingredients lists. If a soap, fabric, or lotion is jam-packed with chemicals that I can't pronounce, I'm going to assume it's not doing much to help my body balance and correct itself. Next, I look to lifestyle choices, genes, and diseases. Are you doing enough to get your lymph moving, or do you have a history of diabetes in your family? If you can rule out the serious causes, you're left with small habits that are easy enough to incorporate into your daily routine — as long as you know where to start. Check out these common mistakes that lead to yellowing nails, as well as what you can do to fix yellow toenails once and for all.
Your Nail Polish Is Filled With Chemicals
Ella+Mila Honeymoon Bliss Nail Polish , $11, Amazon
A huge culprit of that yellow tint is often nail polish. Among the many toxic chemicals in nail polish that can turn your toes off-white, the most common are toulene, formaldehyde, and dibutyl phthalate. This brand, Ella+Mila Honeymoon Bliss nail polish, contains none of the aforementioned, and is dedicated to remaining vegan and cruelty-free. It's also chip-resistant, dries quickly, and they come out with new colors all the time, so it's no wonder it's got great reviews.
Your Lymph Fluid Is Stagnant
Natural Dry Skin & Body Brush , $16, Amazon
According to Cynthia Geyer, M.D., yellow toenails can be a side effect of a larger issue, like a "blockage in your lymphatic system (part of your circulatory system), which prevents lymph fluid from draining well and causes swelling." Dry brushing is an awesome and healthy way to move your lymph fluid along, and this particular body brush makes it easy. It's made with a durable bamboo handle and boar bristles, which are sturdy, but extra-soft. Reviewers love it because it's high quality, feels great, helps to unblock pores and increase circulation, and has an extra-long handle.
Your Usual Soap Just Isn't Cutting It
Tea Tree Oil Foot Soak and ReNew Topical Solution , $30, Amazon
Most soaps aren't very efficient when it comes to dealing with the bacterial and fungal infections that lead to yellow nails. In fact, the chemicals in unnatural soaps can imbalance your hormones, further aggravating matters. This tea tree oil foot soak is made with loads of all-natural antibacterial and antifungal tea tree oil. The whole set comes with a foot soak, a foot wash, and a nail treatment, all with healthy and pronounceable ingredients that target the problem at its source. People are absolutely thrilled because it actually works.
You're Using Acetone On Your Toes
Organic Lavender Nail Polish Remover , $11, Amazon
Acetone nail polish removers are also to blame for yellowish nails, but this organic lavender nail polish remover is entirely natural and non-toxic, as it uses a base of soybean oil to entirely clean your nails and remove your polish — yes, even the glittery kind. Reviewers say it actually works better than acetone, and it smells great alongside that. One reviewer asks, "HOW IS THIS NOT IN EVERY STORE IN AMERICA?" and I'd say that caps lock key is 100 percent necessary here.
You Need A Natural Form Of Whitening
Grandpa's Unscented Baking Soda Soap , $3, Amazon
Many people try using whitening toothpastes on their nails, but most brands contain fluoride, which is known to clog your lymphatic system, leading to further yellowing. Instead, baking soda is a great natural whitening agent that isn't too harsh on your skin or cuticles. Grandpa's unscented baking soda soap makes the whole process easy and convenient by delivering the healing qualities of baking soda in the form of a bar. It's soft and gentle on skin, and contains no added fragrances or colors.
You Need To Balance Your Skin's pH
Organic Apple Cider Vinegar Wipes , $20, Amazon
Apple cider vinegar is a common treatment for toenail fungus, which could be contributing to the yellowness of the nail. These organic apple cider vinegar wipes balance the pH of the skin, fight bacteria, and whiten nails, all in the form of a convenient wipe. They're also infused with moisturizing and healing rose water, and while they were originally intended to be used as facial toning wipes, the individually packaged and disposable cloths make them a great option for cleaning yellow nails, and the packaging doesn't hurt, either.
Your Foot Moisturizer Is Filled With Flora-Altering Chemicals
Organic Fields Of Heather Lemon Moisturizer , $4, Amazon
Chemicals in your go-to moisturizer might disrupt your skin's natural flora, creating an environment that helps fungi and bacterial infections to flourish. This chemical-free Organic Fields Of Heather's lemon moisturizer is made with all natural ingredients, the best of which is lemon, which helps to fight infections and whiten yellow nails. Even those with the most sensitive skin experience no reaction, and it smells incredible, too.
You Need A Natural Form Of Medicine
Simply Earth Juniper Berry Essential Oil , $10, Amazon
Juniper is a natural astringent, as well as a detoxifier and an antiseptic, so it makes for a great organic medicinal foot bath. This Simply Earth juniper berry essential oil should be your go-to oil for whitening nails and fighting infections, as it contains no additives, fillers, or thinners — just the healing and gentle qualities of the juniper tree. Tons of people prefer it because it's 100 percent pure and therapeutic grade, and it comes in an easy-drip amber bottle that preserves the scent and beneficial properties.
Your Feet Can't Breathe During The Day
Q.T. Bamboo Women's Low Cut Organic Bamboo Socks , $18, Amazon
If infections just keep springing up time and time again, it's a good indication that your feet are unable to breathe properly during the day. These low cut organic bamboo socks are made from 100 percent organic bamboo, which is significantly softer, lighter, and more breathable than any other fabric. They come in a pack of four pairs, as well as a complimentary laundry bag, and people say they're ridiculously durable and comfortable.
Bustle may receive a portion of sales from products purchased from this article, which was created independently from Bustle's editorial and sales departments.
Images: Imani Clovis /Unsplash; Amazon (9)