Create More Space In Your Home With These Tips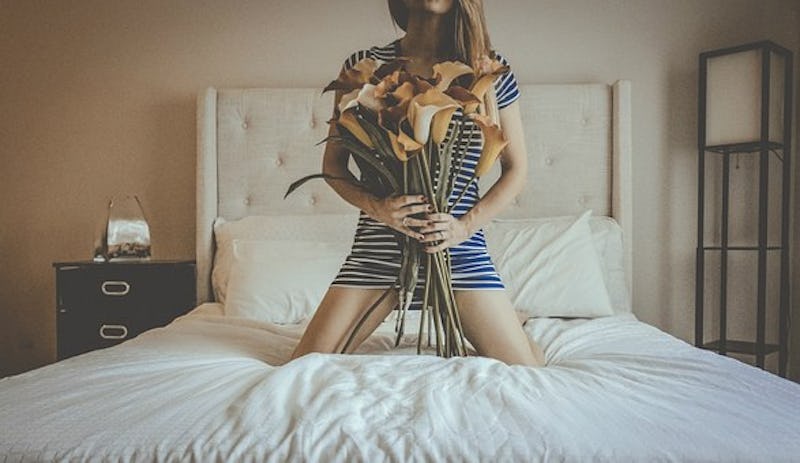 Whether your home is bigger or smaller, there are various ways to create space in whatever size you occupy. By manipulating furniture, lighting and mirrors, among other home accessories, you can bring an airiness and brightness to your home. Size can be overrated when considering these steps towards bringing more volume to your home, and you'll be able to feel more comfortable and organized in your newly designed space.
As a certified health coach, I encourage my clients to bring organization, personality and spaciousness to their living arrangements. The majority of my clients live in apartments, usually in big city environments, and there's often a major issue dealing with size, layout and the ability to make sure all clothing, accessories and shoes (can't forget shoes!) fits. Feeling cramped can hinder our wellbeing, making us feel small and undervalued, especially when amidst a large, bustling city. Homes can be expensive, and so often a larger space is out of budget. When living in a smaller area, it's important to use these easy and effective tricks to bring more spaciousness and liveliness into each room. Here are eleven ways to make a home feel more roomy, so that you can feel comfortable and relaxed each day.
1. Add Mirrors
Mirrors can make a space look larger and brighter. "If a home is near a park, river or open view, even if it is a partial view, you can position a mirror on a wall near the window so that the water, trees or open skyline can be seen from the inside," says President Council Member and real estate broker at The Corcoran Group, Debbie Baum, over email correspondence with Bustle. "It will add a great feeling of space," she continues.
2. Add The Right Balance Of Furniture
"Contrary to what one would think, rooms look bigger furnished than unfurnished," advises Baum. Instead of removing furniture to make it appear roomier, keep furniture for a more spacious layout and feel. However, don't add too much furniture where it is hard to navigate through the home. Look for a proper balance!
3. Build More Storage
Clutter around an apartment can make it feel disorganized and smaller. Stacks of papers, bags and clothing spread out can make the room feel tight and out of balance. "A great way to create storage is to create a closet at the base of a staircase," says Baum. This will allow the owner or renter to stash more items in a classy and refined manner that will still allow the room to open up.
4. Take Advantage Of High Ceilings
"If a studio apartment has high ceilings, create a loft space above that can become a great sleeping or storage area," advises Baum. Even if a small space, you might have higher ceilings that can be a major advantage for enhancing a room's layout. An extra sleeping or storage area is practical and can make the whole home feel larger than it really is.
5. Manipulate Purposes Of Rooms
Just because a room is designed a certain way in a layout you are given, it does not mean that you are confined in using that space in that particular form. "Convert a closet into a home office," suggests real estate broker at The Corcoran Group, Andrea D'Amico, over email correspondence with Bustle. A home office is incredibly useful and can allow for greater mere than a sheer closet can.
6. Hide Extra Clothing
It can be tough to fit all your clothing and accessories into your shelves and closets, and some homes do not allow the opportunity to include additional cabinets or build closet space. "Store out of season clothing under your bed by using containers or storage boxes," suggests D'Amico. You can also set up a dust ruffle underneath in order to hide the boxes from public view.
7. Clean Up Your Bathroom
A cleaner, more organized bathroom with some furnishings can make a space look and feel better and allow for more storage of toiletries. "Carve out a space in your bathroom wall and insert a medicine/storage cabinet with a mirror face flush with the wall," advises D'Amico. These types of cabinets can be both visually appealing and useful, and it can add an intimate feel to a standard bathroom.
8. Store Belongings In An Ottoman
"Buy an ottoman that allows storage for books / blankets/ pillows etc…" advises D'Amico. This trick can be incredibly sneaky and undetectable to friends and visitors. It's accessible and functional, as it allows for a sitting area and storage all rolled up in one! Find an ottoman in a fun, modern color that meshes well with the feel of your home's decor.
9. Play With Light
Light can make a home feel larger than it really is. By setting different types of light around a home, you can brighten up the room and add height. Clean windows often to allow for clearer light and sun, and opt for a dimmer effect, as well as low and high lighting systems to bring light in from all angles, levels and intensities.
10. Wallpaper Or Paint The Walls
By adding colors to walls, you can make the room feel taller and more spacious. You can also use one color scheme and paint or paper the ceiling and walls in a shade lighter and darker, respectively, to create a contrast that adds warmth. Additionally, lighter colors, such as pastels, can add extra light to a room, as opposed to darker hues.
11. Keep Windows Open
Keeping windows open or only lightly covered with a sheer lining can bring in more light, sunshine and happiness into a room, and if there are windows, it will add a nice reflection. Closed windows and darkness can make a space feel more cramped, so by opening up the area for direct heat and radiant views, you can easily make your home feel larger than it is.
No matter the actual size of your home, it's easy to create for room, storage, and brightness with these easy tips. As long as you feel relaxed, organized, and comfortable in your home, you'll be fine in whatever layout you choose. Still, if you're hoping to create more space, these efficient suggestions can be just what you need!
Images: Pixabay (12)