Kylie Jenner x SinfulColors Polish Sets Are Here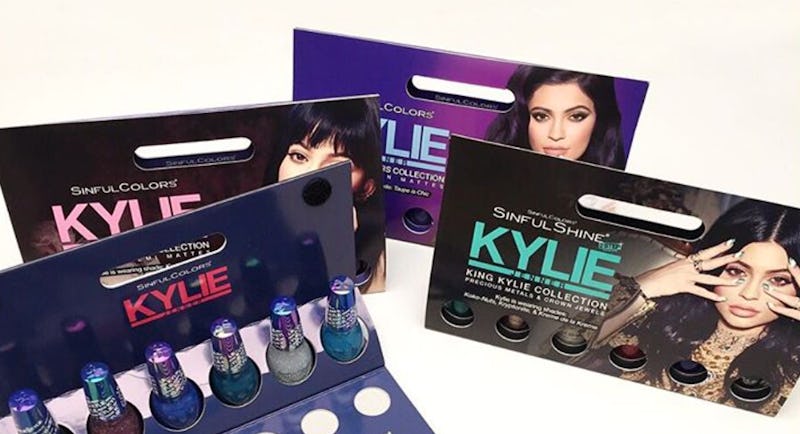 It's a reprise... sort of! Kylie Jenner's Denim & Bling nail polish shades marked the third and final collection in her partnership with on-trend drugstore nail brand SinfulColors. Jenner and SinfulColors launched several cool, mix 'n' match, matte sets this spring. At less than $3 a bottle, nail art addicts and Jenner fans could stock up and play with a variety of lacquers during the height of mani x pedi season. However, you can never have too much of a good thing with celeb-branded collabos and now we have Kylie Jenner SinfulColors packs! What are they and where can you get them?
Well, Jenner curated the six-polish packs, which include previously existing colors. They Kylie x SinfulColours packs are available online at a variety of destinations: Walmart, Walgreens, and Ulta, according to the brand's Instagram post on the sets. They are easy to nab!
Jenner's SinfulColors collab was extensive, with plenty of hues and textures to choose from. Lots of shades were designed to be worn together for ombre or negative space manis. The best thing about these sets is that they eliminate guesswork and do the work of picking and pairing shades for you. The Jenner x SinfulColors polish packs are perfect for lazy girls.
See, there's a Denim & Bling pack, a King Kylie Pack, and two packs from the Trend Matters collection, which were divided into the Pure Satin Mattes and the Velvety Demi Mattes. It looks like four collections, but it was just three, with one collection split by texture.
They are all of Jenner's faves, as chosen by her.
So pretty and coordinated.
Don't you love having so many choices? Nail art is supposed to be fun.
You can mix shades and see what you come up with for a custom look. Or you can pretend like Jenner actually chose your mani x pedi shades for the next few weeks. Or you can do a different color on every digit. #Options.
This is a fun and uncomplicated way for the Kylie x SinfulColors collab to carry on a little longer.
Images: SinfulColors/Instagram (4); Kylie Jenner/Instagram (1)