10 Hacks for Making Feet Feel & Smell Extra Fresh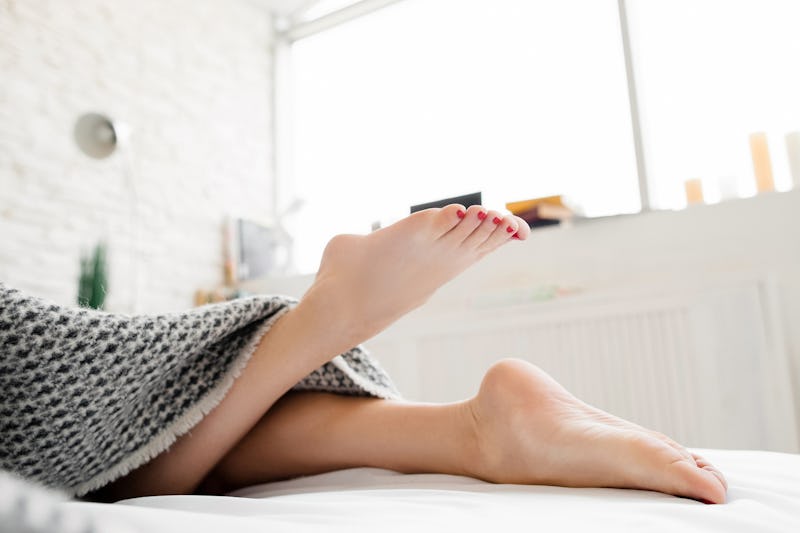 I absolutely hate sweating, but some areas of the body are way more uncomfortable than others. When the warm summer months roll around, I'm usually shoeless, which means knowing how to keep feet feeling and smelling fresh becomes a necessity. Why? Because I'm really not a fan of my feet feeling sweaty and confined simultaneously.
That being said, there are several good hacks to make your feet feel and smell extra fresh (as well as your shoes), and the better news is that they're all entirely natural. The technical name for foot odor is bromodosis, which sounds a hell of a lot more terrifying than it actually is. Essentially, there are more sweat glands in the feet than anywhere else in the body, and they're secreting sweat all the time to keep the skin there healthy. Your feet start to get an unpleasant smell when the bacteria on your skin breaks down due to the sweat that's coming from your pores, and it happens to just about everyone — especially when it comes to your go-to pair of summer shoes.
Here's a bunch of great ways to keep your feet feeling and smelling fresh, so you can actually wear your shoes and skip the barefoot route (on occasion).
Wash Your Feet With Tea Tree Oil
Artnaturals Tea Tree Oil Soap , $15, Amazon
Tea tree oil is a natural antiseptic. It's also antibacterial and great at fighting fungus without irritating skin. Artnaturals tea tree oil soap uses all-natural ingredients including loads of tea tree, which make for a great foot wash to keep feet fresh and clean. However, because it's filled with healthy oils, it's also really moisturizing, and leaves skin everywhere (not just your feet) feeling smooth and silky.
Use Essential Oils & Salts In This Soothing Spa
Conair Foot Spa With Vibration and Heat, $25, Amazon
If your feet are always aching by the time you kick your shoes off at home, it's time to have a 'treat yourself' evening. This plug-in foot spa can be filled with skin-softening salts to help take your foot soak to ultra-relaxation levels, as it vibrates and massages the tension out while a little essential oil addition can refresh your feet. One reviewer said this spa makes all the difference for her tired feet after she's spent an afternoon gardening, saying, "Just pour in the warm water, and turn on the heat and the gentle vibration. It will make your feet feel great in short order."
Absorb Smells And Moisture With Talc-Free Powder
All Natural Foot Sense Powder , $10, Amazon
Powders can be really effective when it comes to keeping your shoes dry and fresh. An all-natural alternative to chemical-filled powders is this all-natural Foot Sense powder. It gets rid of bacteria, neutralizes the smell with essential oils, and absorbs all extra moisture, so reviewers say it's one of the best they've ever tried, and some have tried a lot.
Spray Shoes With Essential Oils
Rocket Pure Natural Shoe Deodorizer , $16, Amazon
This Rocket Pure natural shoe deodorizer is made with a whole combination of natural but powerful essential oils that keep both feet and shoes feeling fresh. You can spray it on fabric or directly onto your body, and because it's made without any chemicals or parabens, it's great for sensitive skin. Fans of this spray are primarily runners and gym-goers, so you know this stuff is tough on odor.
Soak Feet Once A Week To Detoxify Them
Rocky Mountain Essentials Tea Tree Foot Soak , $12, Amazon
Tea tree is a great resource when it comes to keeping foot bacteria under control, and so is eucalyptus oil and mineral salts, which is why this Rocky Mountain Essentials tea tree foot soak is so effective. It naturally fights odor, infection, fungus, and inflammation, as well as tired muscles, and reviewers say it both smells and feels incredible. It makes for a great detox bath that makes a huge difference.
Soak Up Smells Overnight With Charcoal
Bamboo Charcoal Shoe Deodorizer , $10, Amazon
Charcoal is exceptionally absorbent, both when it comes to smells and moisture. These bamboo charcoal shoe deodorizer are filled with loads of it, and they are small enough to fit right inside your shoes once you've taken them off. They come in a nice-looking bag that "recharges" when put out in the sun, and reviewers love them because instead of masking the scent, they actually get rid of it.
Replenish Your Beneficial Flora With Probiotics
Topical Probiotic Body Spray , $30, Amazon
Replenishing the natural microbiome of bacteria that exists on healthy skin is a great way to keep feet fresh, as they keep the bad odor-causing bacteria balanced and at bay. This topical probiotic body spray was originally created for babies to control skin rashes and bug bites, but it's great for use on (adult) feet because it's chemical-free, preservative-free, and contains nothing but 150 million different strands of beneficial bacteria and filtered water.
Exfoliate Dead Skin To Minimize Odor
Amopé Pedi Perfect Foot File , $37, Amazon
Exfoliating your feet is a great way to keep them fresh, as the same types of bacteria that cause odor feed on dead skin cells. This Amopé pedi perfect foot file is a number one best seller because it rotates 360 degrees to buff away any and all old skin on your heels and toes. It's battery operated and has an easy-grip and comfortable handle, and people are totally loving it. One reviewer says, "I have used many different ways to smooth out my rough heels and this Pedi Perfect is by far the easiest way."
Switch To Socks That Actually Stay Dry All Day
Sierra Socks Seamless Bamboo Socks , $8, Amazon
Fabric made from bamboo is much thinner and hygienic than cotton, as it's anti-microbial and moisture-wicking. These seamless bamboo socks are made from 85 percent bamboo rayon, have no seams, and can be machine washed with the rest of your laundry. Reviewers say they're insanely soft and silky, and help to keep their feet dryer and fresher all day.
You Can Also Use Cedar To Keep Shoes Dry And Fresh
Zederna Cedar Soles , $17, Amazon
Cedar is anti-bacterial, fragrant, and super absorbent, which is why these Zederna cedar soles keep your shoes dry and clean. They come in women's sizes 6.5 to 13, and are thin and flexible enough to be really comfortable inside your favorite shoes because they mold to the shape of your feet. There's also no chemicals or artificial fragrances, and they're entirely organic.
Bustle may receive a portion of sales from products purchased from this article, which was created independently from Bustle's editorial and sales departments.
Images: Fotolia (1); Amazon (10)