10 Hacks For Walking In Heels (Without The Pain)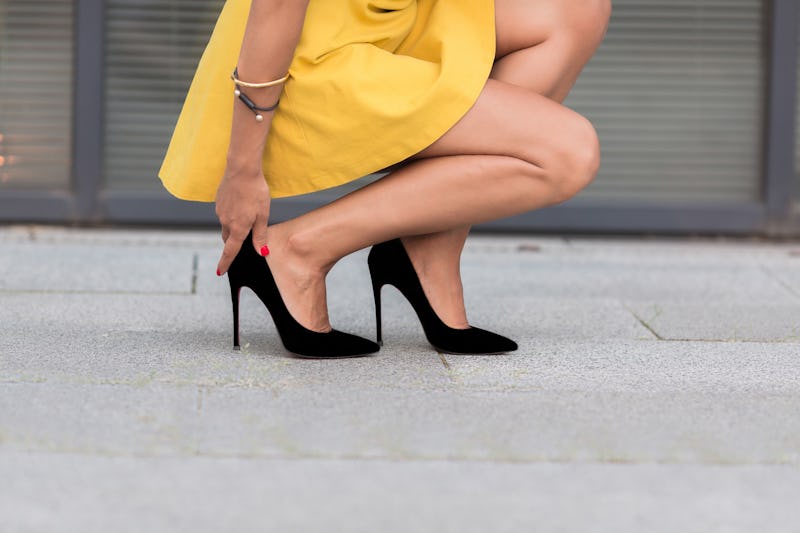 I'm four-foot-eleven. My boyfriend is six-four. I could really use the extra height that comes with a great pair of heels. Thankfully, there are hacks on how to make walking in heels easier and tips to make your heels more comfortable. After all, let's face it: Most people have have tried on a pair that didn't feel all that great from the get-go, but walked out of the store with the "I'll make it work" mentality. (That mentality tends to fade halfway through an all-night barhop.)
If you're hoping to keep your high heels from hurting in the first place, remember a few basic tips before you head to the shoe store: The longer the distance between the heel and the outsole (the part where the ball of your foot rests), the more comfortable that shoe will be. If you like really high pumps, go for something with a platform to minimize the high heel's arch, and remember to measure all parts of your foot — not just the distance from heel to toe.
However, if you've already purchased that amazing pair of boots, pumps, platforms, strappies, or slingbacks — don't worry. There are things you can do to make your heels less painful and extra-comfortable, no matter how painful they were when you got them.
Stop Your Toes From Getting Crushed
Pixnor Toe Pad Protectors , $6, Amazon
When it comes to high heels, gravity makes everything harder. If your feet slide down to the front of your shoes and crush your toes, these Pixnor toe pad protectors just might be the answer. They're made from a strong but cushiony material that sits in the front of your shoes, alleviating tension, rubbing, friction, and squishing, and while they're originally made for use in ballet slippers, reviewers say they work just as well in pointed heels.
Try These Shock-Absorbing Gel Pads For All-Over Comfort
Full Gel Insoles for High Heels , $10, Amazon
Targeted protection just not cutting it? Cushion your whole foot with these special gel insoles for high heels. They're made with sanitary silicon that's great for tired heels, painful arches, hurting toes, and shin splints, and they have an adhesive side to make sure that they stay put. One super excited reviewer says, "Thanks to these high heel gel insoles, I can finally wear my heels again! Absolute game changer for me!"
Stop Pressure On The Ball Of Your Foot
Forefoot Insole Pads , $4, Amazon
These shock-absorbing Forefoot insole pads are like little pillows for the ball of your foot. They relieve pressure and pain, but without any need for glue or tape, and the subtle lace straps stay hidden underneath the seams of your pumps. This pack comes with one pair of black and one pair of tan, and because they're comfortable and convenient, the ratings have been great.
Prevent Blisters With A Protective Layer Of Cream
RunGoo Blister Prevention Cream , $18, Amazon
This RunGoo blister prevention cream is made for runners, but because it's non-staining, non-greasy, prevents friction, stops blisters and calluses, and creates a protective long-lasting layer between fabric and your feet, it's great for high heels, too. Reviewers say they haven't seen a single blister since their first application, and one person even states they'd give it six stars, if they could.
Massage And Protect Your Heels
Massage Gel Heel Cushion Pad , $15, Amazon
For pressure targeted toward the heel of your foot, there's these gel insert cushion pads. They're clear, thin, and unobtrusive, but the comfortable gel pad is ribbed to massage your feet and absorb any extra shock. They come with an adhesive to make sure that the pad stays put, but they're also reusable. Just peel them off, wash them, and stick them in your other favorite pair.
Reduce Friction With A Thin No Show Sock
Habiter Women's No Show Socks , $15, Amazon
To alleviate the friction that leaves the bottom of your feet raw and sore, these no-show socks are both fashionable and functional. They're cut in such a way that makes them invisible while your shoes are on, but they help to prevent rubbing and chafing, as well as provide an extra layer of padding. They're made from breathable cotton, so they prevent sweating, and they won't slip off into your shoe like other brands, either.
Absorb Moisture And Stop Chafing
Ora's Amazing Herbal Natural Body Powder , $14, Amazon
When your feet sweat, it can create uncomfortable sticking and friction that causes blisters. However, when your feet are dry and clean, straps and seams glide effortlessly without chafing. Ora's natural body powder contains only healthy and natural ingredients that absorb moisture, fight bacteria, and leave a fresh and clean fragrance that keeps your feet blister-free all night long.
Alleviate Tension In Your High-Heeled Boots
Mello Foot Arch Support Wrap , $15, Amazon
To reduce pain associated with muscle tension, try these Mello Foot arch support wraps. They're made with graduated support technology that place pressure on certain parts of your feet, relieving the tension and making you much more comfortable throughout the night. The material is breathable, sturdy, well-stitched, and cuts low on the ankle, which make these especially great for high-heeled boots and ankle booties.
Treat The Most Stubborn Spots With Moleskin
Jaybird and Mais Moleskin Roll , $6, Amazon
To stop painful counters and sharp linings from cutting into you, this Jaybird and Mais moleskin roll is an awesome DIY way to personalize your favorite pair. One side comes with a strong hypoallergenic and latex-free adhesive, and the other has a soft cotton that shields you from rubbing, cuts, and irritations. Best of all, you can cut it into any shape or size you need.
Stretch Your Heels Until They're Comfortable
FootFitter High Heel Shoe Stretcher (4-11) , $25-$27, Amazon
Regular stretches aren't shaped correctly to do much for heels, but both leather and synthetic high heels work wonderfully with this FootFitter high heel shoe stretcher. It's made entirely from hard wood and metal, so it's extra durable, and it fits both the right and left shoe. This stretcher is also made in three different sizes, and it's a great way to make any heel roomy and comfortable.
Bustle may receive a portion of sales from products purchased from this article, which was created independently from Bustle's editorial and sales departments.
Images: Fotolia (1); Amazon (10)