You've Got To See This Anton Yelchin Movie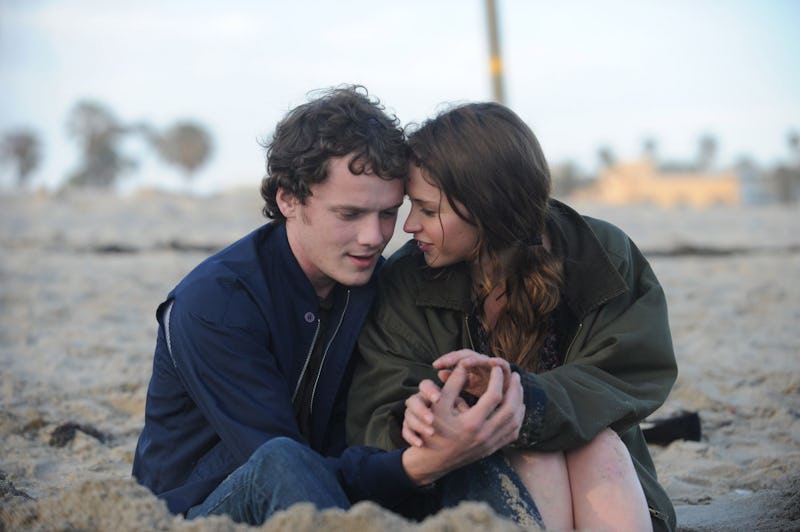 Movie fans learned of sad news on Sunday, when it was announced that Star Trek actor Anton Yelchin has died at age 27 in a fatal car accident at his home. The young star on the rise was best known for his role in the modern rebooted Star Trek films as Pavel Chekov, but there's one Anton Yelchin movie you need to see that showcases his untapped potential as a charismatic and charming lead actor. In 2011, Yelchin starred in an indie romantic drama called Like Crazy, which co-starred Felicity Jones and a pre-breakout Jennifer Lawrence. The film premiered at the Sundance Film Festival and won the Grand Jury Prize.
I'm not lessening the important of Yelchin's Star Trek role to his career — appearing as Chekov in the films Star Trek (2009), Star Trek Into Darkness (2013), and the upcoming Star Trek Beyond definitely took his acting career to new heights. But those movies are ensemble flicks backed to the brim with star power and it can be hard to get a solid amount of screentime. In Like Crazy, Yelchin truly got a chance to shine as Jacob, an American college student who falls head over heels for Anna (Jones), a British exchange student who gets deported and banned from the United States when she defies the guidelines of her student visa.
Yelchin and Jones are the main players in this film, which shows an intense rollercoaster of a youthful college relationship that is tested and tested again by the constraints and unfairness of the real world. The beginning of the movie is sweet and lets Yelchin showcase his ability to be a romantic lead, but once Jacob and Anna are separated by an ocean, the real struggle begins. Yelchin is a real standout as his character Jacob experiences intense longing, frustration, awkwardness, and holds his own with both Oscar nominee Jones and Oscar winner Jennifer Lawrence, who plays Jacob's colleague and other love interest.
The movie is a stark reality check about how love is not a fairytale with a happy ending. Yelchin plays Jacob so raw and real — and in a lot of ways, much of Jacob actually comes from the young actor himself. Like Crazy was a unique movie that didn't have a traditional Courier New-filled script with dialogue and action description. Director Drake Doremus shot the film off a 50-page outline with Yelchin and Jones improvising all of the dialogue, according to The Economist. Improvising a scene without a set script or a proverbial net can't be easy, but Yelchin was up for the challenge.
"With improv, you are allowed the tool to be as free as you can be," he told the Associated Press in a 2011 video interview. "Now that you know who that human being is, you are able to create that dialogue to find the most honest moments...You have such freedom in where you go and how you move; it's quite extraordinary."
And Like Crazy showed what extraordinary talent Yelchin had and his true potential as a lead actor, lost far too soon.
Image: Paramount Vantage