This App Will Make You A Custom Foundation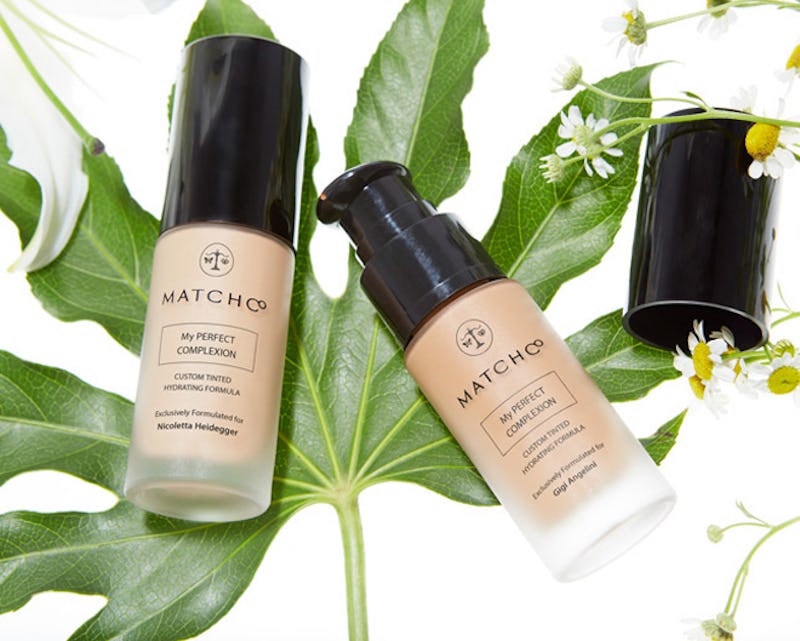 It's the ultimate beauty conundrum, and a problem that literally everyone who wears makeup deals with — finding a foundation that perfectly matches your skin. There's nothing more annoying than buying a bottle that looks like it'll match or even trying it on in the store and coming home to realize it's too light, dark or orange for your skin. When I read about a product that was designed to perfectly match your skin, I had to try it out. So, does MATCHCo customized foundation really work? I've got the answer.
If you're wondering how exactly does MATCHCo's perfect match foundation work? It's actually super easy. You download the MATCHCo app, which walks you through the entire process. You start by calibrating your phone camera by holding it over white paper and tapping the camera against the surface. Then, you move onto your skin. You tap your phone camera repeatedly on five surfaces so that the app can sense your skin tone: the inside of your wrist, outside of your wrist, right cheek, left cheek and forehead. You'll feel a little silly doing it, but the entire process only takes a few minutes. And the app is super easy to navigate.
The app also uses your phone light to illuminate the surface of your face and get the best reading of your skin tone.
And after the photos are taken, you're done. The app will take you to the purchasing page, where you pay for your foundation — at $50, it's on the pricey end, but isn't a perfect match foundation worth it? About a week later, your custom blended foundation arrives.
The best part? Each bottle is printed with your name. How fun is that?
I mean, who wouldn't like makeup with your own name on it?
The Verdict
So, what's the verdict on this foundation? It actually works. I was seriously amazed by how well my foundation matched my skin. As soon as I put it on for the first time, I could tell it was special — no orange lines here.
Here it is watched on my wrist. Although the color looks a little warm here (on my super-pale wrist), it blended perfectly on my face.
And here's a before and after. It was really sheer coverage, which is exactly what I look for in a foundation. My skin just looked like a smoother, more flawless version of its normal self. I couldn't get over how perfect the match was.
The MATCHCo foundation is a lighter formula, almost like a tinted moisturizer. It's perfect for those days you want a flawless face but don't want to spend a ton of time on your makeup. I apply it with my fingers in the morning (along with my Glossier Stretch Concealer), and my face looks flawless and hydrated all day.
If you've been wondering about MATCHCo, I'm here to tell you its foundation is totally worth the $50 price tag. It'll become your new secret weapon.
Images: Courtesy of MATCHCo (3); Jessica Thomas (2)
SaveSave