9 Super Useful Hair Tips For Brunettes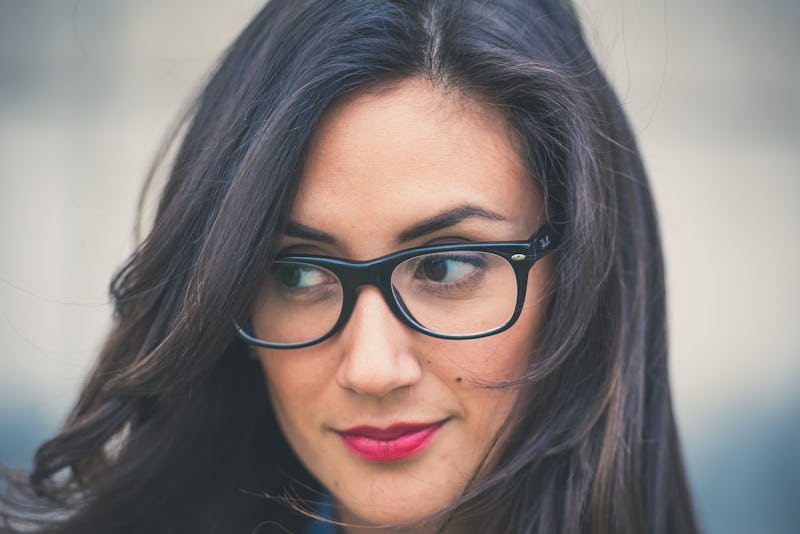 Blondes might not have more fun, but it can seem like they get all the beauty advice when it comes to hair maintenance tips. And the fact of the matter is, there are a few tips us brunettes should know when it comes to hair as well.
I've had just about every hair color possible, from my natural dirty blonde, to black, to red, to really red, to brown, and everything in between, and I can tell you first hand that there are absolutely hair hacks for brunettes that — whether it's natural or dyed — make a huge daily difference, both to the health of your hair and to how it looks everyday. When I first started dying my hair, I was under the impression that being a brunette would be super low maintenance and not really require any work on my part. I viewed it as the "anti-blonde" in terms of style and upkeep.
And while I was partly correct — being a brunette definitely required less work than when I had bleached my hair lighter, it definitely wasn't a no maintenance choice. There were certain products I learned I needed to invest, and a few tricks I learned along the way that I wish I had known beforehand.If you're currently rocking brown hair, or are thinking about switching to brown, here are 9 useful hair hacks that every brunette should know.
1. You Can Have Highlights
In a piece for Allure, celebrity colorist Marie Robinson noted that while many of us think of brown hair as one solid block of color, in reality it's often extremely multi-tonal, with a lot of natural highlights and low lights. So if you're considering going brown, also think about enhancing the overall effect with highlighting.
2. You Need Color-Resistant Products
John Fried Brilliant Brunette Color, $9, Amazon
If you're a dyed brunette, then you absolutely should invest in color-protectant shampoos and conditioners designed for brown hair. It will make your color last longer and keep it looking super vibrant, which saves you both time and money. And here's a tip I learned along the way — if your brown hair ever looks brassy or orangey (which can happen if you were previously blonde), use purple-tinted shampoos designed for blondes to neutralize it a couple times a week. It will definitely help.
3. Remember That Makeup Looks Different On Everyone Based On Their Hair Color
If you're changing your hair color to brown, there's a chance you'll need to invest in a new makeup palette. Think of it this way, you wouldn't repaint your walls without thinking of the color of your furniture, right? The same holds true for variations in your hair. In a piece for In Style, celebrity colorist Mai Quynh recommended sticking "to pinky-nudes, reds, and berry shades on the lips," and if you're a darker brunette, "use a light bronzer to warm up the skin." And in the same piece, makeup artist Amy Nadine suggested that you accentuate your eyes. This will make sure your features won't get overpowered by your darker hair.
Try: Lorac Tantalizer Baked Bronzer, $8, Amazon
4. Take Care Of Your Skin
In a piece on the best makeup for your hair in Shape, makeup artist Marissa Nemes noted that "youthful, healthy skin is gorgeous on brunettes," since it often creates a contrast with the skin and draws more attention to your face. She specifically recommended using a tinted moisturizer and following it up with a gentle bronzer for that "glowing" look.
Try: Image Skincare Prevention Tinted Moisturizer with SPF, $29, Amazon
5. And Consider Your Skin Tone
According to Marcy Cona, Creative Director of Color and Style at Clairol, skin tone is a super important factor when deciding on what specific shade you should choose, no matter what your color. "Your skin tone is the framework to your hair, so you want to make sure your skin tone and hair color complement one another.
6. Think About Your Haircut
Marie Robinson also said that you should also think about cut when working with your specific shade of brown. For example, if you have a shorter, choppier hair style, you'll likely want to go with a softer shade of brown so that the cut and color don't overpower your face, and if you have a longer style you could consider going darker.
7. Blush Is Really Important
tarte Amazonian Clay 12-Hour Wear Blush, $22, Amazon
The experts over at Schwarzkopf, a hair and information site, stressed the importance of rocking blush when you're hair is a darker hue. "Blush does not only enliven your face it can also be used to set skillful accents," they wrote, noting that, "brunettes look great with rose shades, [especially] with brownish undertones." And I've always found it's a great way to avoid looking washed out if you're on the paler side.
8. Go Crazy With Lip Color
Laura Geller Les Fleurs de Provence 6-pc Lip Collection, $57.86, qvc.com
The Schwarzkopf experts also noted that brunettes look awesome with bold lips, as it generally serves as a great compliment to their dark hair. However, they recommended steering clear of pearly pinks, as that can take away from the intensity of your hair (but then again, if you love a pearly pink, I say go for it, regardless of your hair color).
9. Protection Is Important
CHI Iron Guard Thermal Protection Spray, $12, Amazon
This is a personal tip. A lot of people assume that they're not damaging their hair if they're not bleaching it blonde. But the fact of the matter is you can damage your hair in a ton of different ways, from blow drying it on too hot a setting, to over using flat irons, to not protecting it from things like sun and chlorine. If you want your hair to really look awesome, protect it!
If you're a brunette and are looking to totally rock the healthiest and most vibrant hair possible, try some of the above tips. And remember, hair is, well, just hair. So don't stress!
Images: Pexels (3)
Happy shopping! FYI, Bustle may receive a portion of sales from products purchased from this article, which were added independently from Bustle's sales and editorial departments after publication.