Robby Dropped The L-Bomb On 'Bachelorette'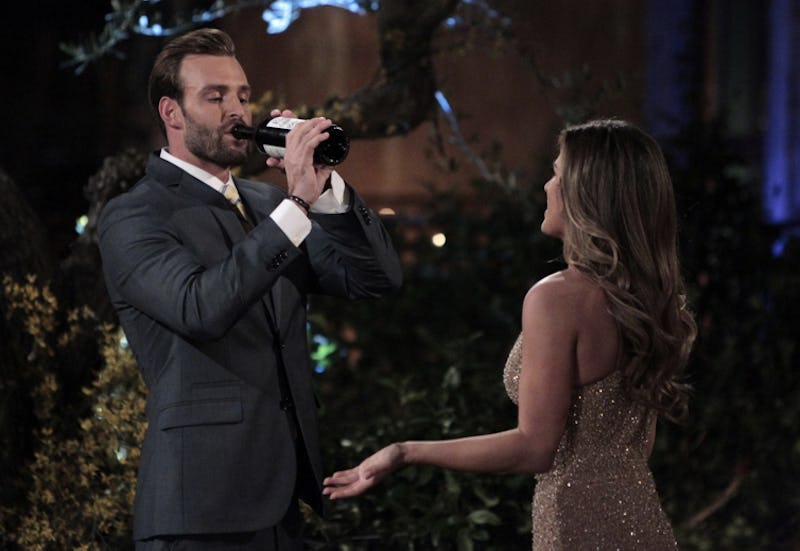 Even though JoJo Fletcher's season of The Bachelorette is just getting started, in so many ways, it feels like it's been going on forever — or maybe that's just all the singing about our leading lady that I'm thinking of. If you feel the same way, don't be fooled. We're still pretty early in, but that doesn't mean that some serious feelings aren't already developing for some of JoJo's men. On Monday night's episode of The Bachelorette, Robby told JoJo he loves her, dropping the first official L-bomb of the season.
I know what you're thinking, because I was thinking it too. "Robby, no! It is way too early for this, and you could be sabotaging yourself" was the first thought that came to mind, closely followed by, "Wait, is he saying this just to get a rose? Because that would make more sense." But love knows no reasonable timeline, and apparently, neither does anybody on The Bachelorette. In a totally sweet, private moment with JoJo, Robby told her that he loves her. And am I crazy, or did it seem like he totally meant it? I mean, there's always that chance it was for the cameras, but even though it's early, I feel like he's being sincere.
I mean, they may not have known each other for that long (or spent that much time together just the two of them), but when you know, you know, right? He's just following his heart, and it's really nice to see that kind of sincerity on a show where guys do play games sometimes.
Plus, Robby gets major props from me for showing that kind of courage. It can't be easy for him to go out on a limb like that, but it seems like it definitely paid off. He got the rose... and it seems like JoJo might feel that way about him too. Well, eventually. We'll see.
Image: Rick Rowell/ABC