Stop Sweating Through Clothes With These 10 Hacks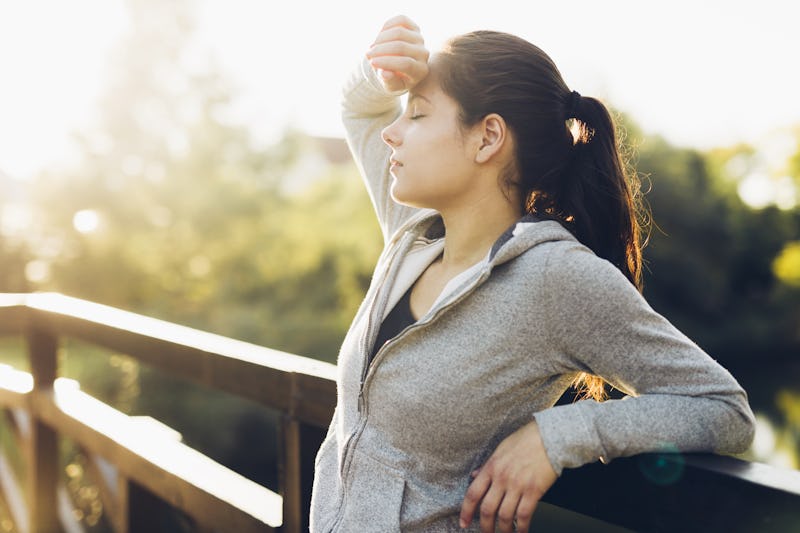 Summer's well on its way. To normal people, this means beaches, boating, suntans, and happiness. To me, this means the excessive armpit sweating begins the second I step out of the shower in the morning. For people like me, it's important to know how to stop sweating through your clothes, even though, in all fairness, the fact that my body is perpetually overheating is probably all my fault. I blow dry my hair every single day, drink hot tea in August, and feel this intrinsic need to rush everywhere I go. I also have no intention of stopping these habits anytime soon.
That being said, you don't want to stop sweating altogether. It's also important to know how to balance sweating naturally, granted it's an entirely normal bodily function that's linked to detoxification, temperature regulation, and the removal of unhealthy elements from the body. When you use chemicals and heavy-metal-laden antiperspirants to block your sweat glands, you're not doing your body any favors in the long run. However, there are all-natural and convenient ways to stay dry, feel fresh, and eliminate those pit stains all day long, even when you're running to catch the subway in your best (and heaviest) slacks sometime around the middle of July.
1. Protect Your Clothing With Underarm Guards
Garment Guard Underarm Shields (12 Pack), $12, Amazon
To create a no-effort guard between your armpit sweat and your clothing, there are these Garment Guard underarm shields. They're entirely cotton, which means that they're very breathable and less likely to cause irritation, but this pack of 12 is also disposable. They're available in black, white, and neutral to blend in with all your favorite clothing, and reviewers say they're comfortable and super absorbent, too
2. Carry Around Some Natural Towelettes
Herban Essentials Mini Lemon Towelettes, $7, Amazon
Lemon has citric acid, which helps to control sweat and bacteria. That's why these natural Herban Essentials mini lemon towelettes are a great on-the-go solution. They're formulated with natural lemon essential oil that feels fresh and smells even better, and because they're individually wrapped, they fit in your bag, wallet, or glove compartment for a quick cleansing anytime.
3. You Can Absorb Underboob Sweat, Too
Wick'Em Comfort Bra Liner (Sizes A-G) , $23-$30, Amazon
This two-pack of absorbent bra liners makes underboob sweating no big deal at all (because it definitely isn't), as sweat is pulled away from your skin and into the cotton liner. Plus, they're totally machine-washable and can be tucked beneath your bra to use again and again.
4. Counteract Sweat With All Natural Mineral Salts
Crystal Body Stick Deodorant , $21, Amazon
People entirely swear by this Crystal Body stick deodorant because it uses nothing but natural mineral salts to reduce sweating and odor all day long, but it doesn't have any of the irritating ingredients of other synthetic deodorants. This one comes in an easy-to-apply stick that leaves no white residue and absorbs easily, and you can put it on anytime throughout the day — although reviewers say that you honestly won't need to.
5. Soak Up Moisture With Organic Powder
Nature's Baby Organics Silky Dusting Powder, $3, Amazon
Baby powder is a great way to absorb extra moisture, but most contain aluminum, which can attack your central nervous system. This Nature's Baby Organics silky dusting powder leaves skin feeling smooth, dry, and comfortable, but it uses only natural and absorbent ingredients without any of the chemicals. While it's formulated for babies, adults appreciate it for its chemical-free deodorizing abilities, and I appreciate it for the adorable seahorse dude on the front. (You got me, Nature's Baby Organic's marketing team).
6. Reduce Stress, Reduce Sweating
Stress Relief Blend , $8, Amazon
Sweating from heat or exertion is one thing, but if you're seemingly sweating for no reason at all, science says it's probably stress. Hormones and adrenalin flood the body, causing eccrine glands to produce sweat, but switching to resting mode with this stress relief blend could just fix all that. It's formulated with high-quality therapeutic grade essential oils that interact with your body to put you in an immediate parasympathetic state, and because it's safe and natural, it can be used with a diffuser or applied directly to skin.
7. Use An Essential Oil Spray To Feel Fresh
EO Organic Deodorant Spray , $9, Amazon
For an easy and convenient way to freshen up during the day, there's this EO organic deodorant spray. It's certified organic and contains nothing but essential oils (like rosemary and lavender) that help you feel fresh, cool, and clean on the go. It also won't cause any irritations on the skin, and it comes in a convenient spray bottle for application all throughout the day.
8. Reduce Sweat Production By Increasing Your Magnesium
Transdermal Sensitive Magnesium Oil Spray , $14, Amazon
Tons of people use magnesium spray as a natural and non-toxic deodorant, as it promotes relaxation, deodorizes underarms, and replenishes magnesium deficiencies that actually lead to more sweating. Most magnesium oils sting like nobody's business, but this Transdermal magnesium oil spray is formulated for the most sensitive skin, as it has added vitamins and a low concentration of magnesium. It absorbs easily into skin, too!
9. Freshen Up With Sweat-Wicking Bamboo
Heart Felt Reusable Bamboo Cloths , $10, Amazon
Sometimes you just need something absorbent and sanitary to help with sweat. These Heart Felt reusable bamboo cloths are made entirely from bamboo, which means they're ridiculously soft, durable, and absorbent. They're also small, lightweight, and dry really quickly, which makes them amazing for travel and on-the-go. Keep them in your desk or in your bag for moisture-wicking convenience, no matter where you are.
10. Remove Sweat Stains From Your Favorite Clothing
Puracy Natural Stain Remover , $16, Amazon
Once the stains are already there, it helps to know that there's a safe and effective way of getting them out. Puracy's natural stain remover is super powerful, but it uses only hypoallergenic and natural plant enzymes to remove every single stain from wine to tomato sauce. It sprays on easily without bleaching or discoloring fabrics, and reviewers love the fresh smell and the fact that it works hard to remove sweat stains. One reviewer said, plain and simple, "This is without a doubt the very best stain remover I have ever used!"
Bustle may receive a portion of sales from products purchased from this article, which was created independently from Bustle's editorial and sales departments.
Images: Fotolia (1); Amazon (10)