Too Faced Is Adding To The Totally Cute Palette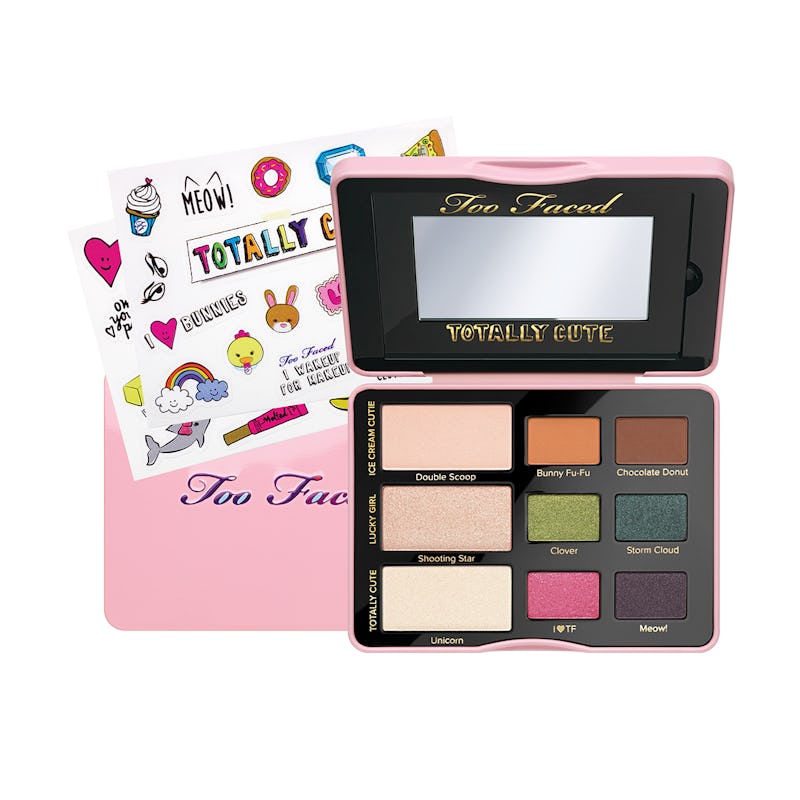 Just when you thought that Too Faced's Totally Cute Eyeshadow Palette couldn't get any more adorable, they amp up the, well, cuteness even more. The company is constantly creating new standout products. As if personalizing your own palette with a sheet little stickers wasn't enough, Too Faced designed even more stickers for their Totally Cute Palette. They even scouted a totally awesome graphic artist to do it.
Get ready for even more trendy stickers, because this makeup company isn't messing around. When you think "personalized palette" you probably think of choosing your own colors, right? Wrong. For the very first time, Too Faced is allowing their customers to design the outside of the nine-shade collection. The little, pink, on-the-go palette has a few neutral shades and some bright, but how you decorate the outside is completely up to you.
Up until now, the palette came with a sheet of stickers to choose from. Now they're getting even more stickers to go along with your palette. According to Too Faced's Instagram, the makeup company had the San Diego based graphic designer iscreamcolour to create even more options. You'll now get two different sheets of stickers filled with everything from best-selling makeup products to unicorns and rainbows. Basically, there's something for every kind of makeup lover out there.
I'm willing to bet that a few of these images will be showing up on palettes very soon. The seashell is the perfect addition for summertime as is the cheetah-printed bronzer.
Totally Cute Eyeshadow Palette, $36, toofaced.com
The Totally Cute Palette is already on sale on the Too Faced site. The pictures of the stickers are up too, so you'll know exactly what you'll be getting. If the colors aren't enough to get you to buy, then the adorable sticker definitely will.
In addition to the pizza, Clover, and "I wake up for makeup" stickers, you'll be getting a whole bunch of summery designs too. I personally love the merman in a bathtub and flamingo.
Although the company is adding even more stickers, the price stays completely the same. That mean you'll get two sheets of stick-ons and a nine-shadow palette for $36.
What are you waiting for? Go get to shopping!
Images: TooFaced.com (2)