7 Best DD+ Bras For Warm Weather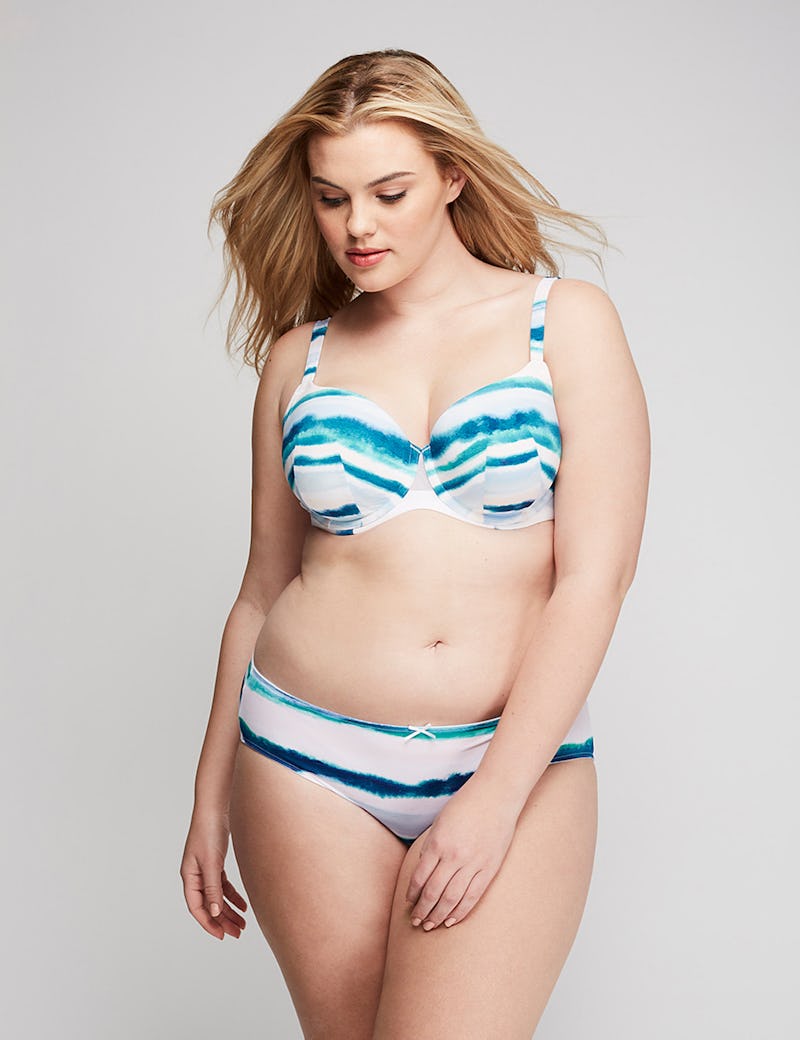 Managing a full bust can be a challenging task at any time, but finding the perfect DD+ bras for summer is even trickier. When it's cold outside, I find myself paying less attention to my undergarments; if anything, they provide a another layer, however slight, against the cold. But when the weather warms up, I suddenly start to notice how underwires chafe on sweaty skin, and how synthetic fabrics trap heat when I want it least. On top of these factors, summer sunshine calls for lighter layers, so I want bras that work unobtrusively with my favorite sundresses and strappy, minimal tops, while still offering coverage and some level of support. Finding all that in one item is a tall order!
While, sadly, I haven't found the one magical style that will perfectly fulfill all your full figure summer bra needs, there are a few different types of bras that should make staying cool and comfortable a little easier (and some gorgeous pieces that will look super sexy peeking out from under your favorite skin-baring outfits). From cooling designs to breathable fabrics, wire-free wonders to sweat-resistant styles, read on to discover the seven best full bust bras for hot and steamy weather.
Cooling French Full Coverage Bra, $58, Lane Bryant
Beat the heat in a bra specifically designed to keep you cool, like this style from Lane Bryant, that features breathable microfiber cups, as well as mesh panels to allow airflow. These styles usually incorporate cool-touch, satiny fabrics that glide across skin and allow heat to disperse easily.
Although there aren't many specifically-labeled cooling styles available in DD+ sizes, look out for details like mesh cups or bands and so-called "wicking" fabrics that pull moisture away from skin. Also, if you wear underwire styles, check bras to make sure the wires are stitched smoothly and, ideally, covered in a silky material that won't cause chafing when you sweat.
Curvy Couture Cotton Luxe T-Shirt Bra,$52, Amazon
Another feature to keep an eye out for when you're shopping for summer bras is breathable, natural fiber construction. This bra from Curvy Couture, which blends classic, absorbent cotton with soft, breathable bamboo, is a great option for those days when wearing anything more than the lightest of T-shirts sounds unbearable (personally, bamboo/rayon is one of my favorite summer fabrics — it's super soft and cool to the touch).
The stretchy, satiny band will move with you comfortably all day, and a touch of lace adds style without scratching skin or adding extra layers. Smooth, unseamed cups are also great, because less seams means less potentially rough or uneven surfaces that can rub or chafe.
Lace Ladder Bralette, $35, Amazon
For days when you don't need or want the support of a traditional underwire style, wire-free and bralette designs can be sweet relief. I don't know about you, but I don't love the pressure of wires on my skin when I'm hot. For casual outfits in particular, wireless bras can be a great solution.
Although there's a misconception that full figure or plus size women can't wear bralettes, kickass fashionistas like writer and designer Alysse Dalessandro are proving that these easygoing styles look great on every body. I love the strappy front detail on this design from Torrid, which would look amazing layered under a low-cut bodysuit or breezy kimono jacket.
Elomi Maria Strapless Bra, $76, Amazon
Strappy tops and off-the-shoulder dresses are perennial summer favorites, and for those outfits that you want to rock without visible bra straps, strapless support can at times be a necessity. While a good strapless bra in DD+ styles can seem like an impossible dream, a few brands like Elomi and Curvy Couture have enough expertise in full figure undergarments to actually create styles that hold you up without slipping or needing constant readjustments.
Look for silicone strips inside strapless bands, as these will help your bra stay put all day. While normally longline styles are my favorite strapless solution, all that extra fabric is less than summer-friendly, so stick to normal band styles during the warmer months.
Ashley Graham Fatal Attraction Unlined Balconette Bra, $65, Addition Elle
When you're trying to stay cool, extra layers, thick, molded cups, and added linings are less than appealing. Thinner, unlined bras are a great compromise; they offer decent support (especially those with underwires), but their more minimal construction allows for a cooler, breathable design.
I particularly love this balconette bra from Ashley Graham. Not only is this a lighter, sparer option for warm weather, but the additional straps would be a great, subtle detail under a low-cut dress or tank top. The mesh wings and keyhole center core are also great, summer-ready features.
Panache Active Molded Sports Bra, $70, Amazon
On those days when sweating is less of an option and more of an inevitability, sports styles that are created specifically to handle heat and moisture are a practical, if not wildly sexy, option. While I expect all my bras to be able to hold up to a little perspiration, I like to save my fancier, more delicate styles from sweat stains when temps skyrocket.
This is especially easy on weekends or casual days, when I'm not as concerned about a specific silhouette or outfit requirement. Lighter control styles are better options here than heavy compression sports bras; unless you plan to be running, there's no need to bother with substantial, constricting layers.
Santana Bralette, $46, Rue 107
If you're feeling bold, bras and bralettes that can double as outerwear are a great way to cut down on unecessary layers. Fun styles with added coverage like this cheerful Santana Bralette from Rue 107 can double as crop tops for effortless summer style with no additional bulk.
The halter neckline is a great feature that will add a bit of extra support, and can be adjusted to customize your fit. Don't be afraid to go bare! You deserve to feel the sun on your skin and be comfortable in your clothes. After all, breaking boring fashion rules is part of what can make style so fun.
When summer heats up and you find yourself needing a little fashion relief, traditional full figure bras can seem heavy and unwieldy. But with these seven warm weather options in your lingerie drawer, you'll be ready for whatever this sunny season throws your way.
Images: Courtesy Brands