The 9 Best Things To Do On The 4th Of July In L.A.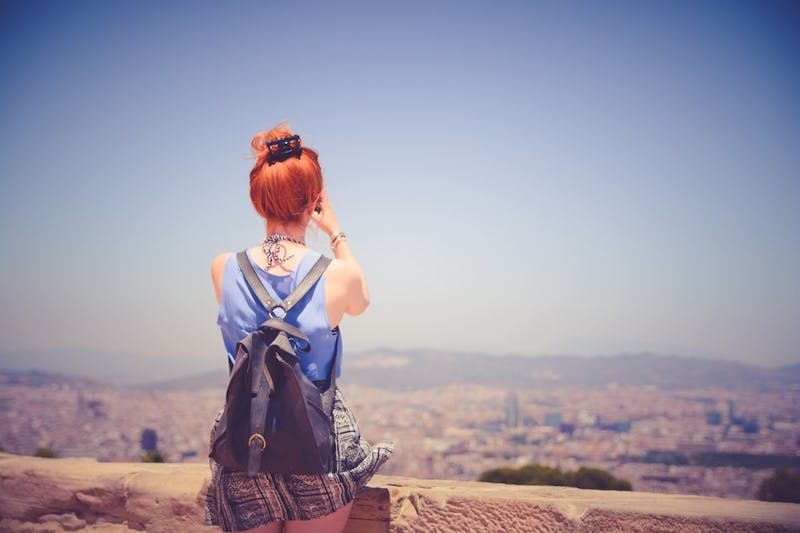 Hey, Angelenos, are you surviving out there in this unfathomable heat? I'm sitting directly in the path of my box air conditioning unit, and I swear to you, it's 85 degrees on this couch. So, in light of the fact that we're all melting, what are the best things to do in L.A. on the Fourth of July? You know, the kind of activity where you can avoid the hoards of tourists, casually sip your favorite chilly beverage, and properly celebrate America?
If you have a Snoopy Snow Cone Machine, I implore you to invite me over because the highs aren't going to dip below unseasonably ridiculous for at least the next two weeks. That means this Independence Day is gonna be a scorcher. Read — every tourist with a Mickey Mouse hat will be camped out within shouting distance of the Santa Monica Pier with their entire family and a cooler full of boxed juices. So where does that leave all of us locals, long-time transplants, and hip, out of town plus-ones? I'm probably about to blow the lid off of the best Fourth celebrations in the greater Los Angeles area, but that's why you're here!
Here are the best kept Independence Day secrets in L.A. and thus, exactly where you want to be on the coming holiday.
1. Baby Blues BBQ
This Southern-style restaurant has a few locations in L.A., and though their flagship location in Venice is the most popular, any one of them will do the trick. Speaking as a Southern-raised foodie, this place is the closest thing to the real deal in L.A. The ribs, pulled pork, and smoked chicken are all divine, and you'll know the chef knows what's up when they serve your hushpuppies with a side of whipped butter for spreading on thick. Celebrate America the Southern way — by stuffing yourself with slow cooked meat drenched in BBQ sauce.
2. Get your froyo on at 21 Choices
I already verified that the world's best frozen yogurt establishment will in fact be open on the Fourth of July, so you don't even have to pick up a phone. If you've never had 21 Choices, get ready to have the game changed. You'll need some frozen yogurt to cool down after spending an afternoon in the sun.
3. Dip into The Standard Rooftop for some poolside fireworks
The Standard in Downtown Los Angeles is a great place to spend a hot day off of work, as you can sip cocktails while you're in the swimming pool while you people watch the stylish hoards and glamorous guests. But what makes this the perfect spot for your Fourth of July is that The Standard has a perfect view of the fireworks in DTLA — you know the ones you would otherwise be viewing from the grass at Grand Park. But the ground is such an obvious place to watch fireworks, so head up to the 15th floor for some sunshine and eye-level pyrotechnics.
4. See Independence Day 2 at the Vista
So, a couple of things here — firstly, Independence Day means one thing to millennials above all else, and that's *aliens*. I'm pretty excited about the Resurgence of the greatest '90s movie franchise ever created. The second important item about this activity is that The Vista Theatre is the best movie theater I've ever seen. You could be nine feet tall and still have plenty of legroom in every seat, the popcorn is unmatched, and the kitschy vintage Hollywood interior is as charming as the unsinkable neon sign outside. Even horrible movies are great at The Vista, so exercise your freedom to eat the best popcorn on Sunset.
5. Go to a baseball game because #ITFDB
The Fourth of July is the perfect time for some good old Dodger baseball. Now, there will be quite a few people at Dodger Stadium on a sunny Fourth of July, but once the game is sold out, that's as far as it goes. Take the Dodger shuttle from Union Station to minimize the parking headache and maximize your potential for taking full advantage of the new craft beer bars (located at either end of the infield on the Loge level) and spicy-edition Dodger Dogs. Plus, the Dodger Stadium fireworks are always a good show.
6. Get your culture on at the Hollywood Bowl
The Hollywood Bowl's orchestral Fourth of July Spectacular is a civilized good time. The three day event will run Saturday, Sunday, and the actual Fourth of July. Don't forget to bring a picnic feast and a couple of chilled bottles of wine to sip on while you absorb the patriotic tunes and the fireworks display.
7. Fireworks over the ocean
Take advantage of the Pacific ocean when you head to Marina Del Rey for its annual Independence Day fireworks display. The show starts at 9 p.m. and lasts for around 20 minutes, so make sure you've got a good parking space and find yourself a view of the marina near Fisherman's Village. Bonus points if you can find a friend with a boat who wants to venture out into the water for an unobstructed view of the action.
8. Hike Echo Mountain to watch the Rose Bowl fireworks
Echo Mountain is in the San Gabriel Mountains north of Altadena, Calif. That means once you get to the summit, you've got a beautiful view of a few different fireworks displays including a bird's eye view of the all-out Americafest at the Rose Bowl. This hike will take you well away from the crowds and the parking madness that is the Rose Bowl. As of right now, Echo Mountain is not being affected by the Reservoir or Fish Fires currently burning in the San Gabriel Mountains.
9. Get your hands on the coolest shades in California
So, there's a little known fact that Sicky's World's super-slick sunglasses are now available to try on and buy at Planet Blue in Venice, which just so happens to be open on the Fourth of July. You'll be looking so-L.A. in your new spectacles just in time for the dog days of summer. Even Justin Bieber is doing it (yes, really). Stop by their store before you dip into Baby Blues BBQ for a proper feast. If you don't live in the area, Sicky's new website is up and running for your retail and Cali-lifestyle needs.
Images: Pexels; Twentieth Century Fox Films