'The Birth Of A Nation' Will Be A Powerful Film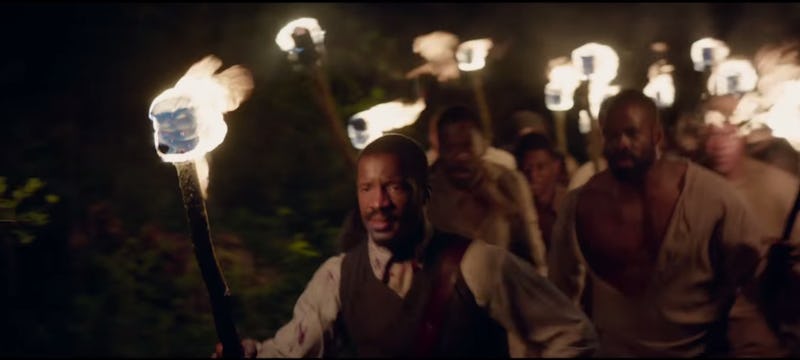 Understandably, one of the most anticipated films of the year is Nate Parker's The Birth Of A Nation. The project, which he wrote, directed, and stars in as a slave and preacher that leads his people to rebel against their brutal masters named Nat Turner, looks to be an amazing film — and now, we have proof. On Tuesday, Fox Searchlight released a full-length theatrical trailer for The Birth Of A Nation, which gives us an in-depth look at the powerful project with a compelling backing song to boot. But, what's the song in the Birth Of A Nation trailer? The track is "Rise Up" by Andra Day, and it's totally a perfect choice for the trailer.
"Rise Up" is an emotional anthem; with her gorgeous voice (totally comparable to jazz and soul legends Eartha Kitt and Billie Holliday) Day's chorus reverberates through the end of the trailer. It comes in as Nat Turner is speaking to a group of fellow slaves about the new message he has received from God: "The Lord has spoken to me; visions of what's to come — the rise of good against evil," Turner says, before laying out his mission: "We'll fight... we'll number in the hundreds, thousands even." Day's voice enters with the lyrics: "We'll rise up, high like the waves/ We'll rise up, despite of the ache/ And we'll do it a thousand times again."
If you feel "Rise Up," sounds familiar, there's a good reason for that: the gospel from Andra Day has received tons of critical praise. She has performed it twice at the White House, in addition to a stunning performance at the 2016 Grammy Awards (where she was nominated for "Best R&B Performance" for the same song). And it's no coincidence that Day's passion so perfectly scores the Birth Of A Nation trailer: speaking to the San Diego Union Tribune in February about her wild success in the past year, the 31-year old soul singer said: "When you're getting ready to go onstage at the Grammys, well, I'm a very spiritual person. And being there made me feel like there was a (divine) plan."
The Birth Of A Nation debuts in October 2016.
Image: FoxSearchlight/YouTube