Shop Kailijumei's Flower Lipstick Dupes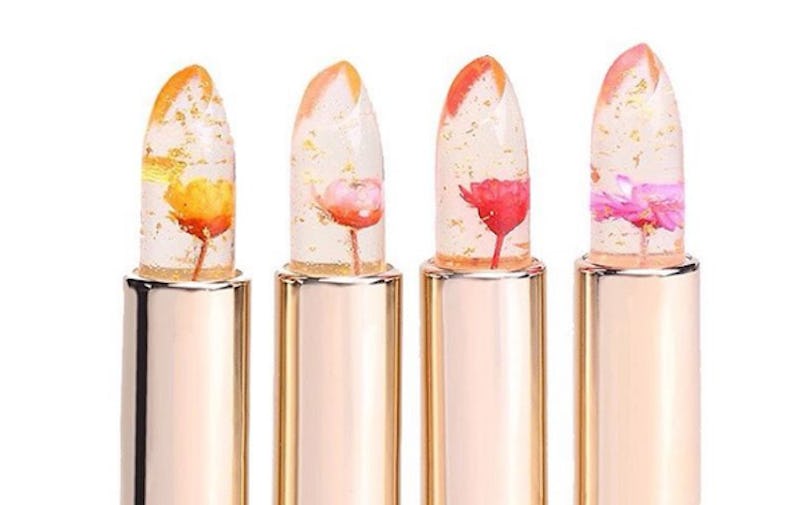 This summer, flowers are in — literally. The China-based cosmetics brand Kailijumei created a lipstick with flowers in it, and you need it in your life this summer. The color-changing lipstick could just be the coolest launch of the summer, which, naturally, means it's already pretty darn hard to get your hands on. Thankfully there are plenty of dupes out there that will have you feeling the flower power in no time.
In case you missed the social media explosion about this flower-infused lipstick, let me fill you in. The glossy finish in the golden tube looks like a clear gel with a flower inside, but really it's a whole lot of color. Once applied to your lips, the color changes with your body temperature to create your perfect pink finish. How is this possible? I don't exactly know, but the ingredients like gold flecks and real flower make it well worth the $25 to $30 price tag.
Currently, the three different shades of lipsticks — Barbie Doll Powder, Minutemaid, and Flame Red — as well as the Flower Lipbalm and the Plain Jelly Lipsticks are all out of stock. All signs point to a restock though, so you should definitely pop over to the site and see these beauties close up.
It doesn't get much more gorgeous than this, right?
According to the Kailijumei Instagram, the colder your body temperature, the more pink the shade will be. They also say that you won't see too much of a color change between all three of their different lipstick shades.
There is an option to pre-order the lipsticks on the Kailijumei site, but there's no word on when the next batch will be sent out. If you're way too excited about this product to wait, there are plenty of dupes out there to shop. Here are some of the most affordable color-changing, gel formula finds out there.
1. Waterproof Jelly Flower Lipstick
Waterproof Beauty Jelly Flower Color-Changing Lipstick, $3.25, eBay
There might not be gold specks in this product, but they're just as beautiful as the others.
2. Maybelline Color Sensation
Maybelline New York's Color Sensational Lipstick in Pink Lollipop, $5, Amazon
If the gel-only formula is more your style, then this balm is the one for you.
3. Magic Jelly Flowers Lipstick
Magic Jelly Flowers Lipstick Color Changing, $3.95, eBay.com
This one is almost identical to the Kailijumei lipstick, sans the gold specks.
4. Long-Lasting Flower Lipstick
Lady Magic Flower Jelly Long-Lasting Lipstick, $1.69, eBay.com
Break out of the pink zone and into the purple with this eBay find.
5. Frog Prince Lipstick
Lipstick Queen's Frog Prince Lipstick, $25, Amazon
Believe it or not, this green-looking lipstick goes on pink. It might not have flowers in it, but it is color changing.
6. Blossom Lip Gloss
Blossom Lipgloss in Lychee, $6, U rban Outfitters
Naturally dried flowers give this gloss the perfect scent, but you won't find any color here.
7. Four-In-One Nourishing Lipstick
Plasma Fusion Nourishing Lipstick, $11, Amazon
The gel-like formula might not have flowers in it, but it is infused with them.
So many options to shop while you wait!
Images: @kailijumei/Instagram; Courtesy Brands (7)