Where To Shop These Flower-Infused Lipsticks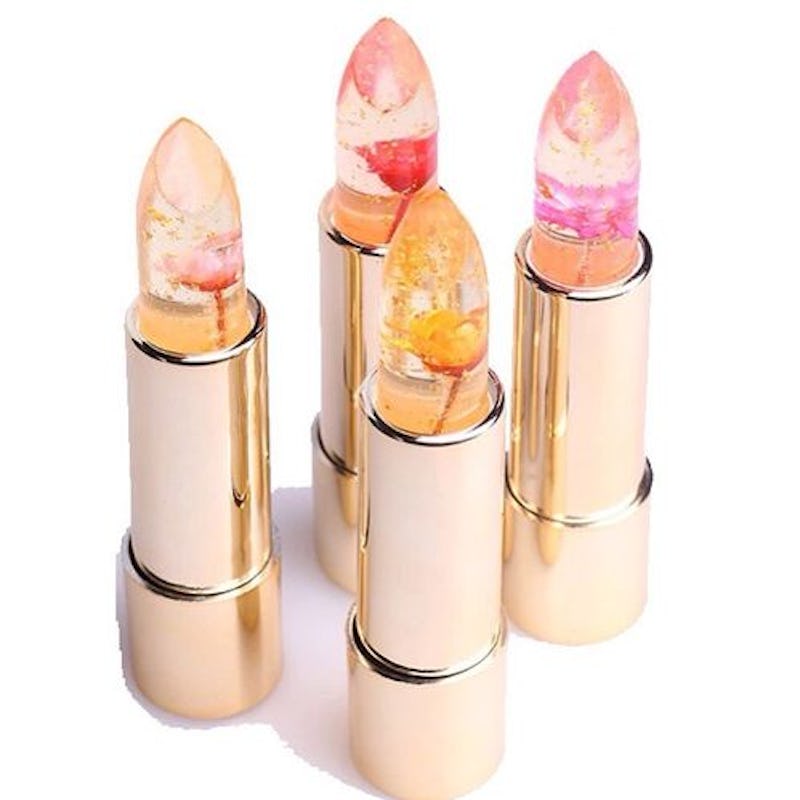 If you have been keeping up with your Instagram news feed lately, you have probably come across those pretty clear floral lipsticks, because they have totally gone viral. As arguably the latest craze in beauty, I'm sure that many of us are now wondering — where can you buy the Kailijumei flower-infused lipsticks? Well, it's a little complicated.
The brand behind these revolutionary lippies is called Kailijumei, a makeup distribution company based in China. The label is responsible for coming out with these super innovative lipsticks that not only look beautiful, but also have sort of a magic quality. In case you're not familiar with this latest social media obsession, let me give you the 411. The lipsticks are essentially clear, but are infused with things like colorful flowers and tiny gold flakes. Once applied, the glossy moisturizing formula actually changes color based on your body's temperature, so they are sort of like today's version of those '90s mood rings. Pretty cool, eh?
If you're like me, you're dying to snag a piece of this floral-infused action. So where can you cop them? Sadly, the brand has sold out of their current stock due to the high demand. The good news, though, is that the lipsticks are already available again for pre-order on the retailer's site! Hooray!
Just picture how stunning these would look on your vanity.
This is how it looks once applied to the skin, and I'm even more obsessed now.
If you don't want to wait for the pre-order, you can snatch these dupes up on eBay right now.
Check It Out: Kalilijumei Flower Lipstick on eBay
Image: Kailijumei