10 Book Characters We Wanted to Be in the 2000s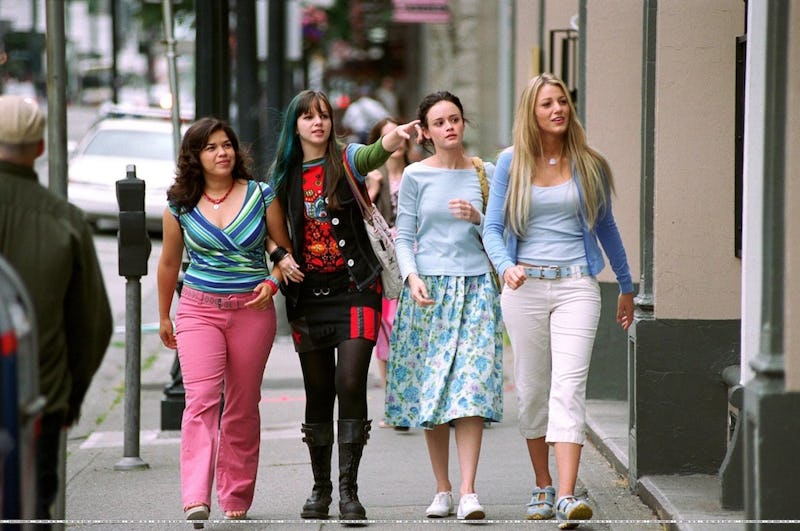 The early 2000s were a wild and crazy time for all of us, filled with awkward fads and great movements alike. But as readers, the new millennium brought with it some life-changing reads, and the books we read in the 2000s shaped us forever. Even though we may have ditched our Razor scooters (for the most part) and our Avril Lavigne CDs, these books stayed with us through the years.
During the early 2000s, I was in late elementary school and middle school, a time we can all acknowledge is the awkwardest of your life. As I was trying to figure out who I was and who I wanted to be, the books I was reading were a huge part of that equation. I would read about these confident, adventurous, bright women, who were fighting their way out of some extremely sticky situations, and I would long desperately to have their guts. In middle school, going to a school dance is terrifying to the core, let alone saving the world.
From figuring out romance to crushing stereotypes to breaking free from imprisonment, the characters on this list were absolutely killing it. So maybe even though we (or at least, I) were bumbling, chaotic, little messes during the 2000s, our literary role models showed us that things would get better.
OK, it's so hard to pick between Bridget, Tibby, Lena, and Carmen, and everyone's favorite Sisterhood character depended on who they related to the most. But I really, really wanted to be Bridget. Outgoing and confident, she's a go-getter who follows her dreams.
2. Captain Holly Short from the Artemis Fowl series by Eoin Colfer
Spunky and fierce, LED Captain Holly Short is one of the coolest characters in children's literature. Smart as a whip and the toughest of the tough, Holly also has an admirable amount of empathy. Plus, who wouldn't want to work for the fairy police?
3. Alex Rider from the Alex Rider series by Anthony Horowitz
After reading Stormbreaker, I wanted to be a teenage super secret agent like Alex Rider, with his cool gadgets and his ability to skirt under the radar.
4. Mia Thermopolis from The Princess Diaries series by Meg Cabot
Even though Mia's family life is crazy at time and her princess lessons could be painful, I'd switch places with her in a heartbeat.
A demi-god and aspiring architect, Annabeth is one cool girl. She's got the run of the secret world of the gods, a life full of adventure, and two amazing friends, Percy and Gordon.
We mostly wanted to be Kel because she was a knight in training. Despite all the B.S. they throw at her (as the first girl to legally become a knight), she rises to the challenge and proves herself to be an incredible warrior.
OK, being a victim of a mutiny would be awful, but the ability to talk to animals is every young kid's ultimate fantasy. Ani uses her powers to find her way home, which made her even cooler in my elementary school-kid eyes.
8. Natalie from The School Story by Andrew Clements
OK, having your novel published as a kid was the dream. At least, in my nerdy little world it was. Plus, Natalie got to live in NYC, which made me double envious of her.
9. Maggie from Inkheart by Cornelia Funke
Even know, we all hope desperately that we could make fictional characters come to life. Even with all the mayhem it causes, who wouldn't be jealous of Maggie and her special powers?
From Just Listen to Someone Like You, we've spent this decade (and more) swooning over Sarah Dessen's novels. We'd gladly take the romance and adventure of any of them!
Images: Alcon Entertainment; Samuelson Productions