Let's All Take a Road Trip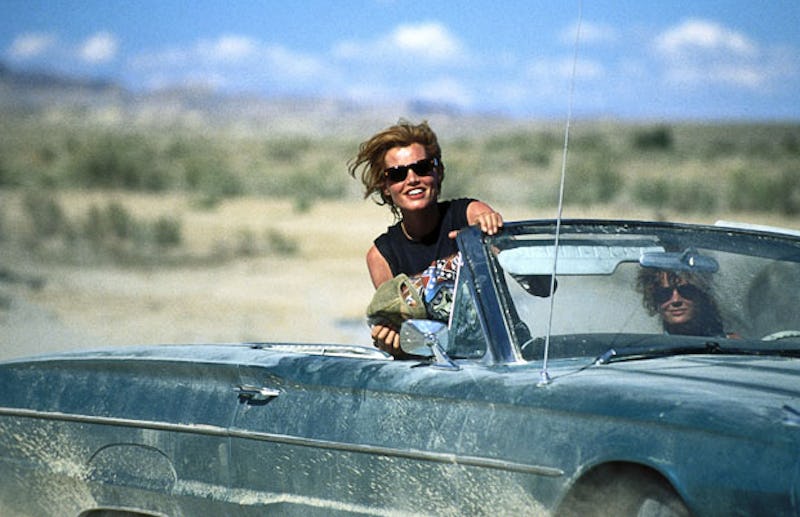 Want to know what I've been fantasizing about lately? Going on a road trip. But not just any road trip: a dusty, sun-drenched, totally cliché, Americana-as-all-get-out road trip. My friends and I would wear denim cut-offs and grubby white lace blouses and take turns drowsing against the warm passenger-side window. We'd slide off our heart-shaped sunglasses to buy cigarettes and popsicles from gas stations in the middle of the desert. All of our photographs would be taken on film cameras (we'd lean out the car windows to catch the perfect shot, of course); oh, and we'd rent a vintage convertible, just because. There'd be no smartphones and not much of a map — just us and our effortlessly tousled hair and the beautiful sunsets of the American southwest.
I know there's still (a lot of) snow on the ground, but let's just say I'm already eyeing my collection of jean shorts. You in?
The traveling outfit
I'd venture to say that nothing is quite important as the outfit in which you'll be spending countless hours in the car. If you're not extraordinarily comfortable — but simultaneously confident in the fact that you look totally cool — you'll be miserable, and all of your traveling companions will grow to hate you. Here are three options for your traveling uniform. Do not stray from these tried-and-true formulas:
Leggings + oversized blouse thing + men's button-down, unbuttoned + Converse or Keds
Super-soft jean shorts + falling-apart vintage tunic + ankle boots
Loose cotton pants + peasant blouse + sandals + a Kabbalah bracelet
What else to pack
Bras with no underwire. A maxi skirt. A low-backed dress for dancing under the stars. A huge blanket/poncho/wrap to break out at night. You don't need to bring much — just wash your dirty things in gas station sinks and spread them on the dashboard to dry.
On the matter of jewelry
Collect it on the road. Grab a pair of state-shaped earrings at a truck stop, stockpile turquoise rings in Nevada, and buy a bunch of woven friendship bracelets from that weird little shop in Sedona, Ariz. The best souvenirs are ones you can wear again and again.
Necessary accessories
Disposable cameras (or a Holga camera if you're feeling extra artistic). Black & Milds for smoking out the back window. A diary, a dog-earred novel, and candied ginger for car sickness. An entire case of water bottles to keep in the trunk. A runaway attitude.
Required reading and viewing
Before you leave, insist that everyone consume the following pieces of road trip-themed pop culture:
Movies: Thelma and Louise, Bonnie and Clyde, Y Tu Mamá También, Almost Famous, It Happened One Night
Books: On the Road, Fear and Loathing in Las Vegas, Zen and the Art of Motorcycle Maintenance
Music: Bob Dylan, Johnny Cash, Tammy Wynette, Grateful Dead, Woody Guthrie, Dolly Parton, or any one of the thousands of road trip mixes available on your friendly neighborhood internet.
Goodbye, good luck, and pick me up at 9 AM sharp.
Images: Thelma And Louise/Metro-Goldwyn-Mayer; On the Road/IFC Films; Bonnie and Clyde/Warner Bros.-Seven Arts