Get Beyonce's 'Sorry' Music Video Look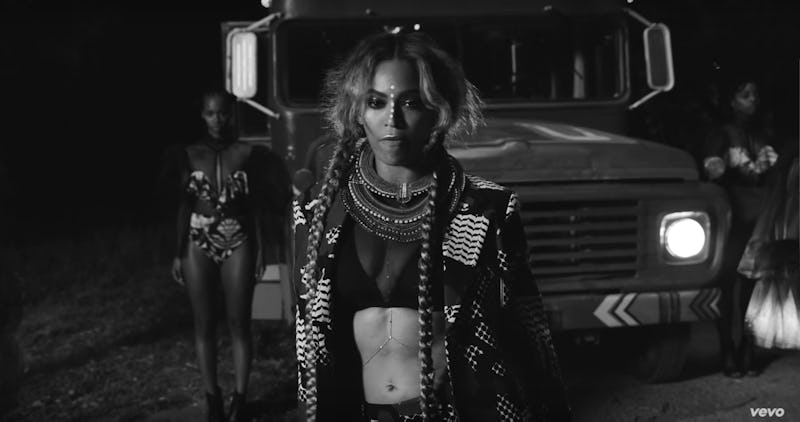 After the entire world tuned in to watch this visual album, we've all been humming "I ain't sorry" and wondering about "Becky with the good hair." That's not just me, right? For the first time since then, you're now able to watch Beyoncé's "Sorry" music video and relive the greatness all over again. Find out where to buy Beyonce's "Sorry" video blazer and crop top look because that's just one of the many things to love about what she's got going on here.
I mean, Serena Williams' dancing, the hairstyles and Yoncé's DGAF attitude. Really, what's not amazing about this, you know? And perhaps the best part of all is that you can cop Bey's style and rock it all summer long. While you may not be able to shop the exact same matching pants and blazer combo that she's wearing, you can definitely still get the same vibe by pairing a longline jacket with a crop top.
This look is incredibly chic and easy to dress up or down. There's no way you're going to want to channel anyone but the queen with your summer dressing, anyways, and this outfit really does give you the perfect excuse to walk around with an "I ain't sorry" attitude. Because honestly, what's there to be sorry about? You look incredible.
Such a killer combo.
Here, you can see the full look.
Take it all in.
Now, get to shopping. Here's what you'll need to recreate her outfit:
1. Mesh Crop Top
Plunge Neck Top In Mesh, $16, ASOS
A black crop top with a mesh insert will give you all of the Bey feels.
2. Strappy Crop Top
Strappy Crop Top, $15.90, Forever 21+
This strappy number will look great showing through that open blazer of yours.
3. Bomber Style
Soft Luxe Longline Bomer, $81, ASOS
A longline jacket that looks in a bomber style would definitely get Bey's approval.
4. Sophisticated Varsity Jacket
Badged Jersey Blazer, $80, Topshop
A blazer that looks more like a varsity jacket is just too cool.
5. Relaxed Blazer
Plus Size Collarless Open Blazer, $30, Charlotte Russe
A relaxed fit will match your laid-back vibes.
6. Zip-Up
Ellen Tracy Front Zip Cardigan, $72.82, Lord + Taylor
Zippered jackets will allow you to switch up your look to show as much or as little skin as you'd like. Not to mention, it'll make you look effortlessly chic.
7. Sleeveless
Perforated Faux Suede Drape Vest, $30.73, Torrid
If you want to get B's look, but still beat the heat then this is the way to go.
Get out there and slay, just like Bey!
Images: screengrab/YouTube (3); YouTube (1); Courtesy Brands (7)