13 Plus Size Beauty Vloggers To Follow On YouTube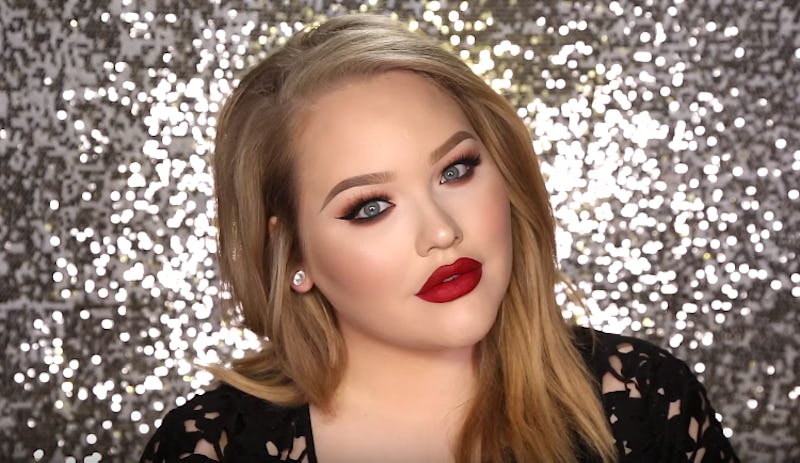 Makeup is great because of its universality: You can buy it at any price; you can be any size and wear it; and, most importantly, nobody is excluded from the power of cosmetics. Personally, finding folks who represent me — plus size beauty vloggers, for example — is a delight. There's a sense of community in makeup as a whole. But that community can still be broken down into different facets of identity, and even help minorities and otherwise marginalized folks intersect with one another.
Even if a plus size beauty blogger never discusses issues of size acceptance, seeing a plus size person succeed and achieve their goals — whether they be makeup-related or not — is inspiring. While many vloggers use their platforms to promote body positivity, there's no problem with focusing on beauty alone. Their simple existence is enough. After all, makeup is one category of fashion and beauty that will most often lead to Google imagery of exclusively thin, white, cisgender women. To deviate from the norm, in and of itself, is a powerful, inspirational statement.
The vloggers below only really have two things in common: Being plus size and having makeup tutorial YouTube channels. Other than that, they hail from individual walks of life, with unique interests and, yes, different styles of makeup. Now it's time to celebrate them all.
1. Passion Jonesz
This fashion and beauty vlogger offers everything from "Get Ready With Me" videos to clothing hauls to, of course, makeup tutorials. Her cosmetic style is bright and always beautifully executed.
2. BeYouBeautiFULL
This beautiful (see what I did there?) makeup guru will give you advice on hair, beauty, clothes, underwear, and everything in between. Her style is glamorous AF; and with her help, yours can be, too.
3. LoeyLane
Loey is actively known in the YouTube community for her body positivity — remember her "Fat Girls Can't Wear Bikinis" video that went viral in 2015? But that's not all. Lane also produces some amazing makeup tutorials on her channel.
4. Makeupvixen
A professional makeup artist who not only reviews products, but shows you how to use them? Makeupvixen focuses on beauty for natural hair; and considering that makeup artistry is literally her job, there's no doubting how good these tutorials are.
5. Priscilla Ono
Makeup artist to Amber Rose and Tess Holliday, Priscilla Ono has her own makeup school in Los Angeles; but you can get some tips and tricks for free through her very own YouTube channel. These tutorials may be a few years old, but that doesn't mean they're not full of skill.
6. Makeup With Jah
I love this channel because Australia-based Jah often includes a before and after shot, making sure we can see exactly how the transformation will look: Not just the end result. It's another high-glamour channel, but when can you ever get too much glam?
7. Tawny Cris
This mom of two covers lifestyle, fashion, and, of course, all things beauty on her bubbly YouTube channel. Her vlogs let us into her life as a mother while also giving us makeup tips that anyone can use to great effect.
8. FatandNerdy
For some gloriously vintage vibes, check out the FatandNerdy channel. It's truly twee beauty vlogging at its finest.
9. Runa Azam
Personally, I adore a channel that combines fashion and beauty advice. I mean, what's the point of having killer makeup if you don't have the clothing style to match? By giving us all her tips and advice in one video, Runa flawlessly kills two birds with one stone.
10. NikkieTutorials
She's another vlogger who made it big through a viral video — "The Power Of Makeup." And she's another YouTuber who totally deserves the fame for her online work. Plus, with a collaboration with Too Faced out, there's literally no doubting Nikkie's skills at this point.
11. PlusSize ByDefault
This vlogger has only been producing videos for seven months. But already, the quality of her work is amazing.
12. PatrickStarrr
There are very few vloggers as fabulous as PatrickStarrr out there, which is why you should already be following this channel, regardless of whether you're plus size or not.
13. FabulousNat
Nathalie is out to champion natural hair and all things beauty-related. She's been blogging and vlogging since 2009, making that seven years of experience you can rely on.
IMO, these YouTubers are a whole lot more than plus size role models. They're a whole lot more than people producing makeup tutorials, too. This is a community, and a community that's diverse without even trying. I think that's pretty special.
Image: NikkieTutorials/YouTube (1)