9 Etiquette Tips That Everyone Forgets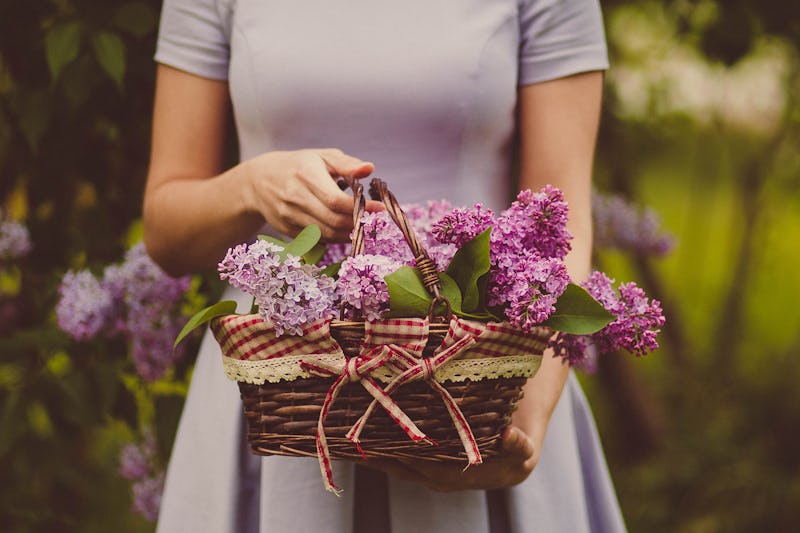 Etiquette can seem like a completely outdated word, bringing forth images of ladies in bonnets, or debutant balls. However, that doesn't mean that good manners aren't important, or that there aren't still a few important etiquette tips for daily life that we should always keep in mind.
And when I say "good manners," I'm not talking about curtsies, or where the fork goes on a dinner table. I'm talking about the little details that emerge when someone is being thoughtful and considerate. Because at the end of the day, that's really what manners are all about. They show that you've taken a moment to step outside your own head, look around, and do something just a little nice for someone else.
Plus, the thing I've noticed about etiquette is that because it's not necessarily always emphasized in this day and age, when someone does display it I notice and appreciate it way more. It just gives them that little extra something that puts them ahead of the pack. If you're striving to be your best self, or are looking for little ways to make a great impression, here are nine etiquette tips that everyone forgets but that are still super important.
Check Out: Everyday Etiquette: How to Navigate 101 Common and Uncommon Social Situations , $12, Amazon
1. Always Introduce Yourself
A compilation piece on AllWomensTalk reminded us to always introduce ourselves with a handshake, a smile, and our name. It helps set a friendly tone, and odds are everyone else will be relieved that someone started the introductions.
2. Write Thank You Notes
AllWomensTalk also noted the importance of writing thank you notes. If someone took the time to buy and give you a gift, you can take the time to properly say thank you! And you get extra props if you take the time to hand write it as opposed to emailing.
3. Hand Write Condolence Cards
This one is a personal tip that I will always stand by. Acknowledging another person's loss absolutely requires a hand written note or card. It's OK to send your thoughts via email or calling as well, but at the end of the day nothing shows you care more than taking the time to write and send something from the heart with actual paper and pen.
4. Be Present
This is another personal tip that applies in the age of texting and cell phones more than ever. When you're having a conversation, be present. Don't check you email or scroll social media; instead, pay attention to the person right in front of you. I can guarantee others will notice when you give them your undivided attention.
5. Be Punctual
Another thing that cell phones have changed is our ability to change plans on the fly. And while this can be incredibly convenient at times, it also often leads to people being less concrete with plans. But the thing is, being on time means you respect other people's time, and it's always better to make an effort to be there when you say you will. Trust me, others will appreciate it.
6. RSVP
A compilation piece for Wisebread.com reminded us to always RSVP, even if we don't plan to attend an event. If someone thinks enough of you to extend you an invitation, it's only right to let them know if you can make it or not. Plus, just think how helpful it would be to know who was coming if you were the host.
7. Don't Show Up To A Party Empty-Handed
A compilation piece for Forbes stressed the importance of always showing up to a party or event at someone's home with just a little something to show your appreciation. It can be as small as a dessert or as big as a nice bottle of wine. It just lets them know that you appreciate the work they are putting in and want to give something back in return.
8. Don't Crash At A Friend's Without Bringing Something
This is an extension of the above, but in some ways is even more appropriate. If a friend is putting you up for a night or two in their home, always (always!) get them a little something for their trouble. It shows that you're aware of the fact that hosting people takes work, and that you appreciate the effort. It can be as simple as picking up their favorite candy at the grocery store.
9. Don't Make Your Parties BYOB
This is another tip from Forbes that I can totally get behind. It's one thing to tell guests that that they can bring their own favorite drinks if they want them, but you should always supply some basics of your own. It's the subtle, yet noticeable difference between providing a space for people to congregate and actually hosting.
A changing world means that there are absolutely changing social norms and standards of etiquette. However, there are a few things that still haven't changed, and keeping them in mind will always serve us well.
Images: Pexels (12)
Happy shopping! FYI, Bustle may receive a portion of sales from products purchased from this article, which were added independently from Bustle's sales and editorial departments after publication.