15 Tips For Plus Size Thrift Shopping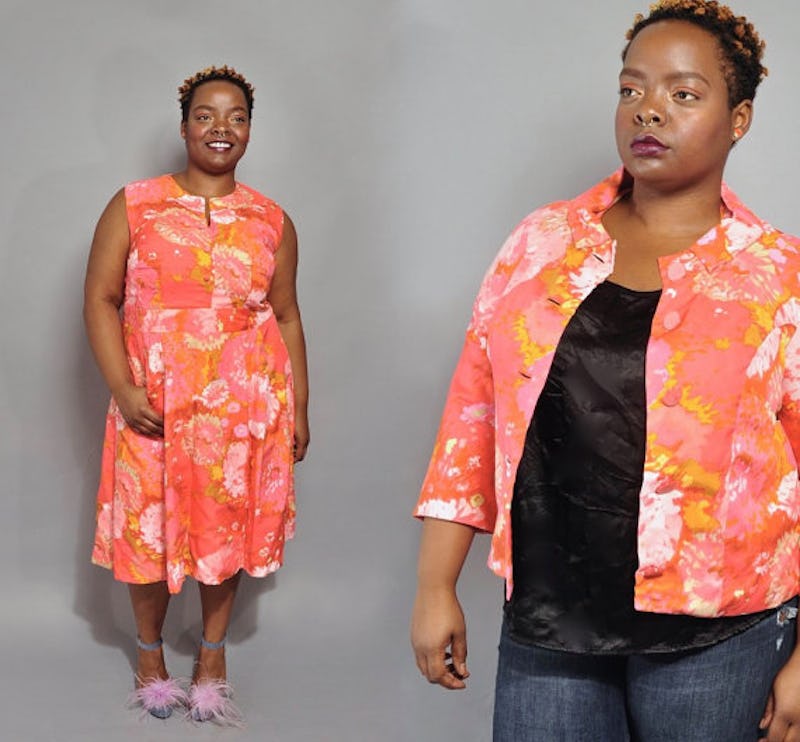 Thrifting is my favorite way of buying clothes. The thrill of finding some amazing vintage threads while thrifting, as opposed to purchasing the same dress you've seen 15 fashion bloggers rock, is so much more rewarding, IMO. But knowing how to thrift shop when plus size is a skill anyone over a size 12 has to pick up, because unfortunately, most thrift stores aren't made with us in mind. That said, I may be known to purchase items that don't fit me, just because they're beautiful and I want them more than anyone else ever would.
If you're lucky enough to live near a plus size thrift store, the following tips might not be super helpful to you. My advice is for those looking for gems in the same stores that their friends frequent: The thrift stores that you have to tear apart for an hour in order to find anything decent, but that consequently make it all the more satisfying when you do.
Maybe my passion for thrifting comes from a personal desire to have a wardrobe that is incredibly different to anybody else's, or maybe I'm fascinated by the thrill of thrifting itself. But my mom brought me up shopping in thrift stores, and I'm going to continue to do so until I die. No matter what size I am. Here are some tips for how to do the same.
1. Don't Trust Labels
Vintage Plus Size Button Up Blouse, $15, etsy.com/brazenbazaar
Sizing has changed a lot in the past couple of decades. Even now, sizing isn't standardized as well as it should be. Although you're probably not going to fit into a size six from any decade of history at a size 18, a size 14 may be a hell of a lot bigger than you anticipated.
2. Check For A Plus Size Section
1950s French Corset, $39.39, etsy.com/effiebutterworth
A lot of thrift stores organize their clothing by size. If you're in a rush or you're on the verge of giving up, this can save you a heck of a lot of time otherwise spent sifting through sizes that will do nothing for you.
3. But Still Search Through Every Section
Black Nude Plus Size Vintage Dress, $82, etsy.com/gatsbylady
It's a thrift store, guys. People will usually pick up an item, carry it around, decide they don't want it anymore, and proceed to put it anywhere. This means that some of your best finds could even be mixed in with the kids clothes. If you have the time and the energy, don't leave a section of the store unchecked.
4. Try Everything On
Acid Button-Up, $24, proudmaryfashion.com
I don't care if they don't have a fitting room. Put it on over your clothing and make sure these items fit you. Even if they don't fit particularly well over your current outfit, it's pretty easy to tell if something is going to fit you by itself or not.
5. Consider Altering Your Clothing
'60s Cocktail Shift Dress, $39.39, etsy.com/hotcanaryvintage
Whether you do this yourself or take it to be altered, an item that may feature one detail that's bothering you can usually be changed to suit your preferences and wants. I'm constantly cutting skirts and dresses to just below my butt cheeks, and you can too.
6. Repurpose A Garment
'30s Vintage Dress In Silk And Satin, $181.82, etsy.com/21stcenturyvamp
What was a T-shirt for one girl can be a crop top for you. What was a men's shirt for one guy can be a new dress for you. Just by using a little imagination when thrift shopping, your choices don't have to be so limited.
7. Be Patient
Plus Size Vintage Dress Suit, $68, etsy.com/sabrosasvintage
Try to make a day of your thrift shopping if you can. It's easy to spend up to two hours in one store, and that's totally worth it if you find something amazing that you wouldn't have discovered while on a rush.
8. Talk To The Employees
Plus Size Vintage Full Slip, $10, etsy.com/fashionREdesign
Maybe they've seen some plus size gems and can point you in their direction. If you get to know the people who work at any given shop, they may even start keeping items to one side for you as they come in.
9. Go To Plus Size Thrift Stores & Swap Events
Vintage '90s Maxi Cardigan, $64, shoptunnelvision.com
Plus size thrift stores exist and if you live near one, you should check it out. Also, keep an eye out through social media for plus size swapping events. You can go in with clothes you don't wear anymore, and come away with something entirely new to you, but still technically vintage.
10. Consider Leaving Jackets & Shirts Unbuttoned
Plus Size Vintage Burgundy Shirt, $22.73, etsy.com/BelovedEndeavour
This is kind of a specific one, but hear me out: None of my coats or jackets zip-up, button-up, or fasten. If they do, it's at a stretch. If something fits my arms and I love it, I'm going to get it and just leave it unfastened. Nobody's going to think you can't do it, they'll think you're choosing not to. And even if they do think that, who cares?
11. Look Through Menswear
Plus Size Vintage Shirt, $18, etsy.com/IfIWereJaneVintage
Why not repurpose some men's clothing to your own style? While these garments have not been made with hips or tits in mind, there are sure to be some pants or blazers out there that will look absolutely amazing on your body.
12. Make An Agreement With Your Friends
Vintage Black Crochet Swimsuit, $48, etsy.com/LuvsickVintage
Thanks to the wonders of technology, seeing something your BFF might adore means you can send them a picture of it, and they can tell you if they want it or not. Similarly, you can get your mates to do the same for you when they're out thrifting. Even if it's cheap and they haven't replied, I suggest getting it anyway. Vintage can make a great present or be sold online to somebody else.
13. Know Your Measurements
'70s Scarf Print Skirt, $30, etsy.com/RummyVintage
I'm not saying I take a tape measure out with me and check all the clothing I come across to deduce whether or not it will fit me based on these standards. But sometimes older clothing will feature inch measures on the label as well as a clothing size. If you know your measurements and your usual size, this can be a great way to help yourself find more garments.
14. Go Thrifting Often
Purple Sequin On Silk Club Shirt, $28, etsy.com/CallMeChula
I think that with all shopping trips — thrifting or otherwise — there will be days during which you want everything, and days during which you can find absolutely nothing. This is usually truer of thrift stores, as their stock is changing literally on the daily. Since plus size items in thrift stores can be a commodity, they're often the first to go when put on the shop floor. So make sure you're there often enough to be the person who gets first pick.
15. Don't Buy Anything You Don't Like
'60s Summer Shift Dress, $36, etsy.com/LunaJunctionVintage
This may seem obvious, but I've fallen victim to it so many times. You're tired. It's been a long day. Your thin friends have two bags full of clothing and you have some weird ornament your mom might like. So you buy something you're unsure of, just so the day isn't wasted. Then you end up despising the dress for everything it stands for.
Don't purchase anything unless you're entirely sure you're going to wear it. There's no shame in spending a day thrifting and coming home with nothing to show for it.
Essentially, thrifting boils down to putting in plenty of time, energy, and patience into a shopping trip that would no doubt be easier if you were thin. But the rewarding feeling you get is worth so much more than the vintage feather robe you managed to score for $15, right? Plus, you're getting clothing you just wouldn't see on anybody else, which is always a win in my books.
Images: Courtesy Brands