'Girls' Hannah & Adam Should Break Up & 6 Other TV Couples Who Need to Call It Quits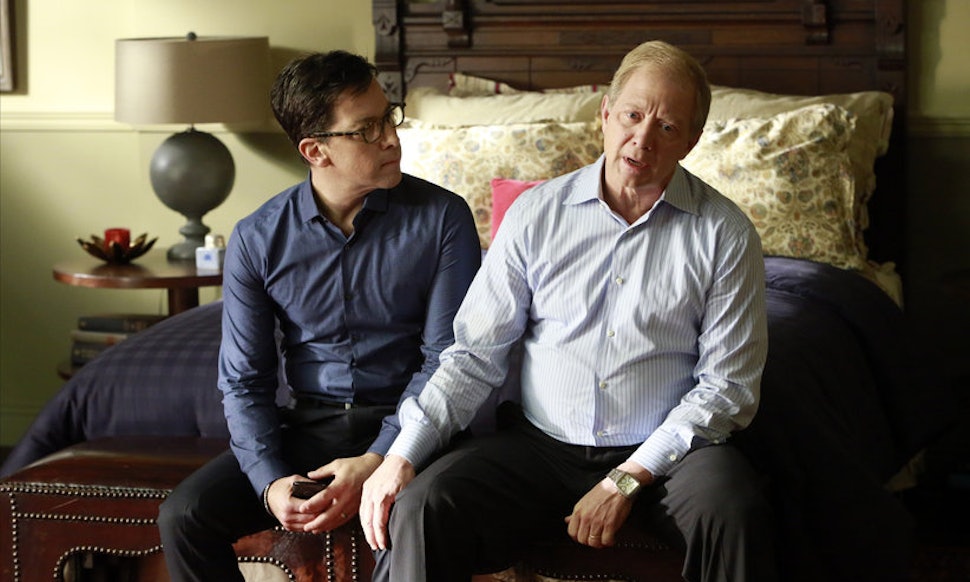 As much as I love watching Scandal's James and Cyrus go head to head, I can't help but think that if these two just broke up, a lot of personal issues would be resolved. Sure, America would still have a ruthless Chief of Staff with the propensity for murder on their hands, but who in Scandal's DC isn't kind of a monster, right? They aren't the only two who would solve a lot of issues by breaking up.
From the duo on Girls to the relationships on Glee, here are the 7 TV couples who would be better off calling it quits.
Image: ABC
Emily and Paige, 'Pretty Little Liars'
Let's just ignore the fact that Paige tried to drown Emily before they started dating, because that's what the show has been doing since these two got serious. The truth is, while Paige has been a pretty great girlfriend to Emily, they both want totally different things. Paige wants Emily to fit into her perfectly planned college life, and Emily has no idea what or where she'll be after graduation. And while I think that Paige telling the cops about Alison was probably the most logical move anyone has ever made on the show, she totally disrespected Emily's wishes and only did so out of anger and (probably) jealousy of Alison. My only issue with Emily ending things with Paige is that she'll fall right back into Alison's manipulative love trap. We all want better for you, Em!
Image: ABC Family
Elena and Damon, 'The Vampire Diaries'
I used to love this couple. LOVE THEM. But even I know when a great TV relationship starts becoming too co-dependent and downright unhealthy for both parties. Sure, Damon dumped Elena, but he wanted her back right before Katherine jumped into Elena's body, which means that these two will most likely get another shot at love. But should they? I mean, Damon basically murders a small town every time he gets mopey. How many times can Damon scream "I'M BAD FOR YOU ELENA!" before Elena finally realizes, "Wait, yes, you actually are?" Love you Damon, but if you want to win Boyfriend of The Year, stop tearing people's heads off whenever you're pissed off. Then you might actually be worthy of all of this affection Elena keeps giving you and feel less guilty about it.
Image: The CW
Emily and Aidan, 'Revenge'
They. Are. So. Boring. For two people whose relationship began after bonding over a mutual desire for revenge, there has never been a relationship less passionate. Though the two are technically done for now, it's clear that Aidan (and probably Emily, once she gets over her whole "everybody-must-die" thing) wants to reignite the relationship. Their relationship mirrors exactly how I felt about Season 2's Initiative arc: I want it over and never spoken of again.
Image: ABC
Neal and Emma, 'Once Upon A Time'
Here's a quick checklist for potential suitors for Emma Swan. 1) Are you Captain Hook? (Actually, that's the extent of that list.)
Neal seems like a relatively cool guy, and clearly, these two have a lot of history. When it comes to Emma, though, I'd rather see her have secret makeout sessions with the eyeliner-wearing Captain Hook than rehash past drama with Neal any day. These two should shake hands, promise to be friends and co-parents, and go find more suitable, pirate-y life partners.
Image: ABC
Kurt and Blaine, 'Glee'
Kurt and Blaine were a great couple — in high school. But after Kurt left for New York, their relationship fell apart: Kurt was distant, Blaine cheated, and, aside from an occasional wedding hookup, they were done. Then, because it's Glee, the two reconciled and BLAINE PROPOSED TO KURT. I'm really happy that Blaine has the right to propose to whomever he wants, but proposing to his high school boyfriend when he is still in high school is a terrible idea. These two should be out exploring the world, making new friends, and ditching New Directions drama for college glee club drama.
Image: Fox
Fitz and Olivia, 'Scandal'
Another couple from Scandal! I know that the secretive and sexy relationship between the President and Olivia Pope is what ignited Scandal's fire in the first place, but now I really want to put it out. Half the time I don't know if these two are mad at one another or are really turned on by the other. (Oftentimes it's both, so you can imagine my confusion.) I understand that true love trumps a lot of things, but Fitz wouldn't be a good guy even if he wasn't married, and Liv has buckets upon buckets of trust issues that even the hot President can't fix. And then there's the case of Jake, whom Liv would be far better off coupling up with. Forget Vermont, Olivia! There probably isn't a grocery store within thirty miles.
Image: ABC
Adam and Hannah, 'Girls'
I'm starting to slowly warm up to Adam, which is saying a lot, as last season I found him borderline abusive and insanely creepy. I still think Adam is a weird guy, but that isn't why I don't want him and Hannah to stay together. Their relationship has become weirdly co-dependent. Girls used to be all about the girls, and lately the show has been about Hannah and Adam's lovefest. I get it — as you get older, relationships start becoming more important and feel more permanent. But when it comes to Hannah and Adam, I'd like to think that these two aren't endgame — Adam has a whole lotta issues he has to workout before getting really serious with Hannah, and I'm not convinced that Hannah isn't unnerved by Adam's odd tendencies. Let's hope that Adam's Broadway show ends them for good, as Patti LuPone predicts it will.
Image: HBO