'Spindle Fire' Is The Fairy Tale Story You Need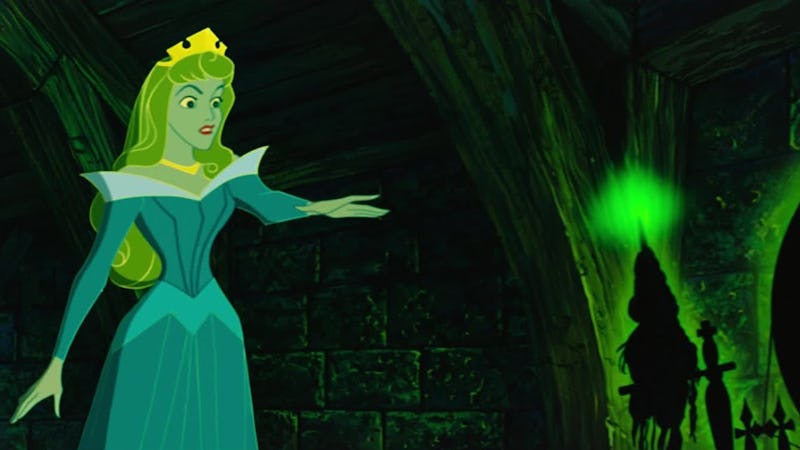 There is a reason that fairy tale retellings are so gosh darn popular: The original stories are so captivating that we can't help wanting to hear them again and again. Whether Rapunzel is a moon-dwelling hacker trying to save her fairy tale pals, like in Marissa Meyer's The Lunar Chronicles, Cinderella falls for the King's Huntress in Malinda Lo's Ash, or Snow White becomes a meditation on race, identity, and family, like in Helen Oyeyemi's Boy Snow Bird, there's something timelessly magical about a fairy tale.
Luckily for us readers, we're about to add another enchanting fairy tale retelling to our TBR list. Lexa Hillyer's Spindle Fire is a Sleeping Beauty retelling unlike any you've ever read. And Bustle teamed up with Paper Lantern Lit (YA superstar Lauren Oliver's organization) to reveal not only the book's magical cover, but an exclusive reveal of chapters one and two.
Fans of Sarah J. Maas and Leigh Bardugo better get ready because Spindle Fire is about to launch you into a fantasy land as original as they have created. Isabelle and Aurora are super close half sisters, sure, but they're polar opposites. Isabelle is the king's headstrong illegitimate daughter; Aurora is a sheltered princess. But both lost something to the revengeful faeries the day of Aurora's christening: Aurora her sense of touch and her voice, Isabelle her vision.
And when Aurora pricks her finger on a spindle, she's plunged into a fae dream realm and her sister is the only one who can venture after her to save her.
Needless to say, Spindle Fire's cover is just as gorgeous as anticipated:
And now, take a peek into this exclusive excerpt of Lexa Hillyer's Spindle Fire:
Chapter 1
Aurora
Winter seemed to come early in 1313, the year Aurora was born. For days that July, a mass of damp white flakes clung to treetops and roofs like snow.
Some thought perhaps it was the North Faerie's doing. They were wrong.
In her day—which was a very long time ago indeed—the North Faerie had been known for wreaking havoc on the skies whenever she lost one of her infamous chess games. But she had died many decades before our story begins, mysteriously murdered in her own home. That's why the White Throne, carved entirely from the tusks of narwhals, is now called the Red Throne; it's covered in her blood.
Aurora knows the stories well—she's read the entire 313-book collection of faerie histories in her grand library. Princesses have a great deal of time on their hands, after all. Especially princesses like Aurora, who have no sense of touch and no voice. These were tithed from her just months after her birth.
But it wasn't snow that came down that summer, for it didn't melt. And it wasn't any faerie's doing either. As everyone who was alive then and remains alive today remembers vividly, the ashes that rained over heads and homes and whole towns across the kingdom of Deluce had one very distinct quality: the acrid scent of spindle fire.
Wet wool.
Wood smoke.
Burning hair.
Chapter 2
Isabelle
Mud. Murk. Dankness and blackness and bog land and fog so thick it entered the folds of the mind. This was Isabelle's world as a child.
Gradually, though, she discovered darkness was not an absence of light but a living thing, an infinitely tangible substance to roll around in and dig into. She began to fall in love with that darkness, exploring its wells of sounds and stirs.
The palace was full of dim corners where the king's unwanted daughter could play. The whole estate sits right on a cliff above the mouth of the Strait of Sorrow, whose tide pulls clouds to shore and traps them there, churning and unquenchable. This makes the air briny; it has the vague taste of sardines, and the softness of moss. The floors are always slick with moisture, the walls bright dusted with salt. Over time, Isbe learned the feel of every dent in these walls. Every variety of squeak and cry from the floor formed a language—don't enter, turn right, someone was just in here, or you are alone.
You see, she was blinded at the age of two; the very day of her half-sister Aurora's christening.
Some people consider it a problem—or even a curse—to be forever trapped in darkness. But Isabelle no longer minds the dark.
Light too can be a curse.
It can illuminate things no one should ever have to witness.
Images: Disney; Courtesy of Paper Lantern Lit