Will Britain Heed John Oliver's Brexit Plea?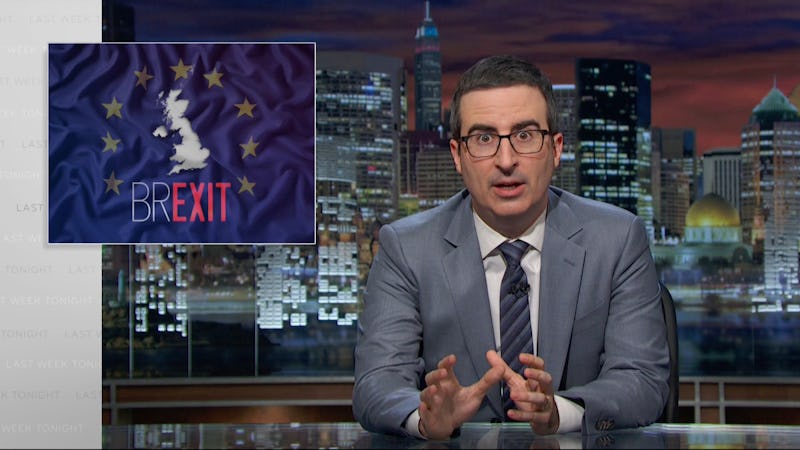 Last Week Tonight host John Oliver waded into the Brexit debate Sunday with an impassioned plea urging voters in his homeland to stay in the European Union. But unfortunately, many Brits won't see Oliver's comedic breakdown of the Brexit campaign until after polls close Thursday, as the British network which airs the late-night talk show has postponed the episode due to "broadcasting restrictions." Yet with polls ahead of Thursday's referendum showing voters virtually split over whether to go or stay, is Oliver's call too late?
"Please don't vote for a Brexit on Thursday," Oliver said plainly during his 15-minute rant. "It's perfectly understandable to be annoyed at Europe ... It's a complicated, bureaucratic, ambitious, overbearing, inspirational, and consistently irritating institution, and Britain would be absolutely crazy to leave it."
But Oliver's message won't hit British TV screens until after voters have already returned home from the polls late Thursday. British broadcasting network Sky Atlantic (which airs HBO's Last Week Tonight in Britain) confirmed it was postponing airing the episode in order to comply with broadcasting neutrality rules. "Sky have complied with the Ofcom broadcasting restrictions at times of elections and referendums that prohibit us showing this section of the programme at this moment in time," the network said in a statement
In an attempt to debunk the main arguments of the Brexit campaign (and explain the whole idea behind the political referendum to Americans), Oliver dug into how leaving the EU might affect both the world and Britain. "Britain leaving [the EU] would be a huge destabilizing decision," Oliver said, while admitting that the 28-member bloc makes itself hard to love.
Still, Oliver argued that those who support Britain leaving the EU — like the UK Independence Party (UKIP) and London Mayor Boris Johnson — have overstated the benefits a breakup might bring. "You would expect the Brexit camp to have some pretty solid arguments, Oliver said. "Unfortunately, many of them are bullshit." Oliver claimed that UKIP's argument that a British exit from the EU would allow the country to significantly reduce immigration into the country was false, that immigration policy was unlikely to change in the wake of a Brexit, since an independent Britain would need to negotiate a trade deal with the EU which included "free mobility of labor."
Oliver also stressed the detrimental effects many economic organizations have warned a break from the EU would have on Britain's economy. According to The Wall Street Journal, eight out of 13 separate studies concluded that Britain "would be worse off" if it left the EU. In comparison, three studies concluded that the island nation "would be better off," and three reported mixed results. Indeed, global markets have shown signs of worry ahead of Thursday's referendum, as uncertainty causes volatile dips in stocks.
In lieu of ditching the EU, Oliver proposed an expletive-filled anthem to help Britain express its frustration while staying in the 28-member bloc in the true British way — aka reaping "all the benefits while still being a total d**k about everything."