Babeland Celebrates 20 Years of Great Sex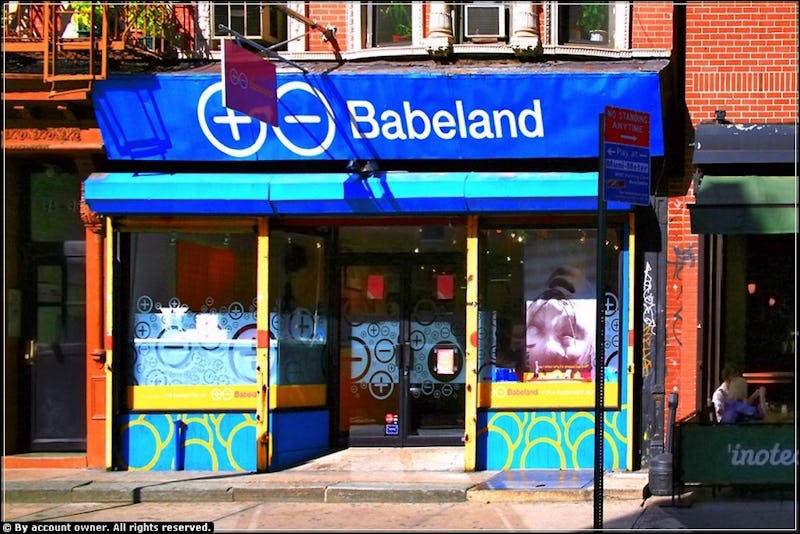 In 1993, Claire Cavanah and Rachel Venning founded Toys in Babeland, a Seattle sex toy shop committed to encouraging women to explore their sexuality with high-quality products in a no-shame environment. Over the past 20 years, Babeland has expanded to the Lower East Side, SoHo, and recently, Park Slope, as they continue to spread the gospel of fun, passionate, and open sex. I had the opportunity to chat with Cavanah and Venning about their 20 years spent operating one of the country's most celebrated sex toy shops.
Can you talk a bit about the climate in which you opened Toys in Babeland in Seattle? How was the shop received?
"It was at the end of the culture wars where the anti-porn feminists were starting to relax, and those of us who had jumped off that ship and were pro-pleasure had moved on. The transgender evolution wasn't really connected to the LGBT movement yet, and queerness was much more marginalized. I can't think of any place that had real sex information. There certainly wasn't the kind of information online that there is now."
"The Capitol Hill neighborhood where the store is still located was full of artists and musicians with a lot of creative and DIY energy back then. People didn't really understand what we were doing until we opened and it was like a barn raising. We dumpster dived for fixtures and had painting parties. As word got out, there was a lot of enthusiasm and "Oh, thank God." There weren't any friendly or welcoming sex toy shops in Seattle then. We felt the need personally after venturing into the handful of stores that catered to men. If not downright hostile, they were just icky."
In what way has owning a sex toy shop allowed you to participate and witness shifts in sexual culture?
"Because we were doing something new and we had a mission, both of us got to speak out and help change people's minds about vibrators and sexual pleasure. Talking about women's pleasure now is normal, not radical or surprising. It's in popular culture, mainstream TV and media outlets. There's more good information out there in all places. It's unbelievable how fast this has moved."
How are the stores in NYC different from that first shop in Seattle?
"Each time we've opened a store we've done better aesthetically, and Babeland Brooklyn, the newest location, is the prettiest and shiniest yet. The product selection is essentially the same at all the stores, but we've found more of a demand for certain things at different stores depending on the neighborhood. It has more to do with that than with differences between NYC and Seattle. For example, Babeland SoHo customers want more luxury bedroom toys than at any of the other stores. They'll buy diamond-crusted vibrators that wouldn't move at Babeland Lower East Side."
What are some of the most essential products you sell at Babeland? What does every modern woman need to have?
1. "We are huge fans of lube at Babeland. It's good for just about everything."
2. "A go-to vibrator that is customizable with varying settings and patterns to match her mood. The Gigi is one of our faves."
3. "Something to use with a partner, whether that's a couple's toy like the We-Vibe 4, a vibrating cock ring, a strap-on, a pair of restraints, even a blindfold can add novelty to the experience and that's exciting."
What's in store for Babeland in the next 20 years? Is there anything you're particularly excited about?
"A vibrator in every nightstand is the mission!"
Image: Courtesy of Babeland