8 Skin Rituals To Do Differently, If You Have Acne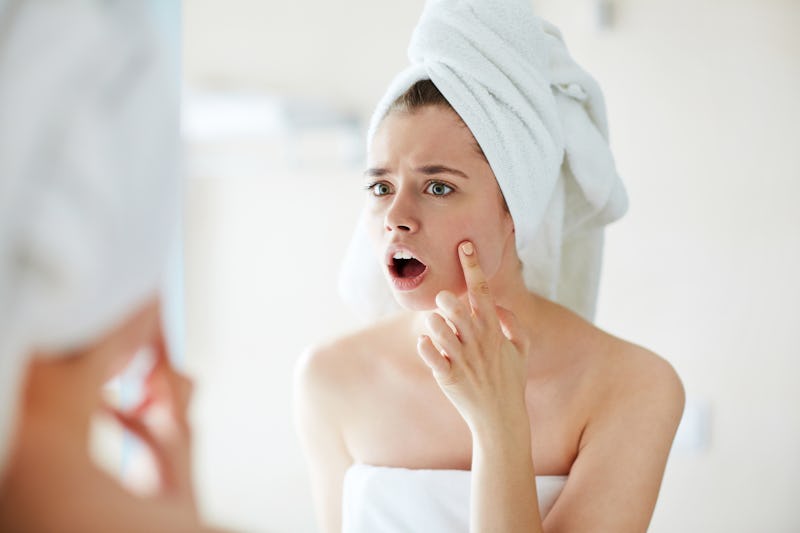 If you suffer from frequent breakouts, you probably know you have to take extra caution when dealing with your acne-prone skin versus clear skin folks, who can wash their face once and be done. You have to go the extra mile when picking the best cleansers and soaps for acne to use for your bedtime ritual, as opposed to someone whose skincare routine for acne is nonexistent.
Understanding the difference between creating a skincare regiment for acne-prone skin versus one for clear skin is the first step in creating a system that will help heal blemished skin. I reached out to dermatologist Dr. Kally Papantoniou, MD, FAAD, to get to the bottom of the differences between the different skin types.
Dr. Papantoniou told me, "An acne skincare regimen will be centered on these four goals: cleansing, exfoliating, controlling bacteria, and maintaining a healthy skin barrier with good emollients." She said, "Normal skin provides more flexibility with product types and skincare habits, and revolves around the type of skin you have: oily, dry or combination, or if you are looking to rejuvenate or reverse sun damage." Dr. Papantoniou was able to give me some insight on what you steps you can take before bed to get rid of acne.
1. Cleanse Deeply — Adding Sulfur To Your Regiment Purifies Pores
Peter Thomas Roth Therapeutic Sulfur Masque, $27, Amazon
A sulfur mask will dry out skin and clear blemishes. It also helps prevent future breakouts by using ingredients like eucalyptus oil. The mask will exfoliate your skin, getting rid of dead skin cells and absorbing excess oil which will ultimately help unclog pores. Aloe will smooth the skin and stop over-drying. Use the mask two or three times per week for best results!
2. Never Skip Toning, And Bring Vitamin C Into Your Bedtime Ritual, Too
Art Naturals Vitamin C Hydrating Facial Toner, $13, Amazon
Vitamin C helps prevent pore clogging and does so all while reducing inflammation, which the acne you already have may be causing. A vitamin C toner is a great option, as it goes an extra step in cleansing your skin that your face wash may not do. Toners provide a deeper clean than some cleansers. This one is all-natural and includes witch hazel, so your skin won't be irritated.
3. Lightly Exfoliate Dead Skin Away
Philosophy Clear Days Ahead Overnight Repair Acne Treatment Pads (60 count), $33, Amazon
Dr. Papantoniou told me that if your roommate is using a cleanser or exfoliating pads with glycolic or salycylic acid, you should definitely test it out. She said, "They provide the added benefit of brightening up your complexion and removing dull dead skin cells." So, split the cost with your roomie and splurge on a treatment pad that has both glycolic and salicylic acid. Your skin could start to look brighter, and dark spots will begin to fade.
4. Remove Oil From Your Bedtime Routine
EltaMD PM Therapy Facial Moisturizer, $33, Amazon
"If you suffer from acne, you should be looking for oil-free skincare products and make-up," says Dr. Papantoniou. A moisturizer that is ceramide-rich can help maintain a healthy skin barrier. This moisturizer is specifically designed for nighttime use, as it uses a controlled release of ingredients as you sleep, and its Niacin amide and antioxidants improve skin tone.
5. Use A Spot Treatment With Acne-Fighting Ingredients
Acne Spot Treatment Drying Cream, $16, Amazon
You could try all the acne products in the world on your skin, but if they don't have the right acne-fighting ingredients, they won't help. Dr. Papantoniou says to look for ingredients like salicylic acid, zinc, benzoyl peroxide, sulfur, retinol, and vitamin C. This spot treatment combines three of those ingredients (salicylic acid, zinc, and sulfur) to not only fight stubborn pimples, but also help clear up dark spots that may be left behind from them.
6. Choose A Cleanser That Works Best For Your Skin
If you have milder skin, you may want to use a gentler cleanser. If you have very oily skin, its important to use a face wash that draws out that oil.
CeraVe Foaming Facial Cleanser, $10, Amazon
For those with normal-oily skin, reach for a cleanser that is gentle and replenishes the skin in one quick step. CeraVe's foaming cleanser is great because it won't dry out or irritate your skin. Plus, you can share it with a roommate or partner who may or may not suffer from acne.
Paula's Choice Skin Balancing Oil-Reducing Cleanser, $26, Amazon
If you have have oily-combination skin and suffer from severe acne, a wash that removes excess oil and makeup (without drying out your skin) is what you should be looking for. This one's conditioning formula (including sunflower seed oil and aloe leaf extract) will balance and calm your sensitive skin.
7. Take Off Makeup Before Bed
Bioderma Sensible H2O Micelle Solution , $12, Amazon
Dr. Papantoniou told me, "If you take the time to really take care of your skin at night, it allows your skin the evening hours to respond and repair during the restorative hours of sleep...Never sleep with make-up." Removing makeup is important because you don't want your pores to be clogged overnight, as this is the prime time to help fight acne. Use a solution that will gently cleanse and remove both your face and eye makeup. This one is hypoallergenic and suitable for both sensitive and acne-prone skin.
8. Don't Just Grab Any Makeup — Non-Comedogenic Is A Must
Bare Escentuals BareMinerals SPF 15, $18-$31, Amazon
While putting on makeup is likely not a part of anyone's pre-bedtime skin care regiment, it's still a vital step to fighting acne, and it makes caring for skin come nighttime significantly easier. Dr. Papontoniou said, "You should read labels carefully and check to see that it says non-comedogenic, meaning it does not cause acne or clog pores." When you're tackling oily skin and prefer powder to do so, check out this non-comedogenic powder fit for most skin tones and types, with colors ranging from Fair to Golden Dark.
Bustle may receive a portion of sales from products purchased from this article, which was created independently from Bustle's editorial and sales departments.
Images: Fotolia (1); Amazon (9)