This Is What Charlotte Tilbury's Hot Lips Cost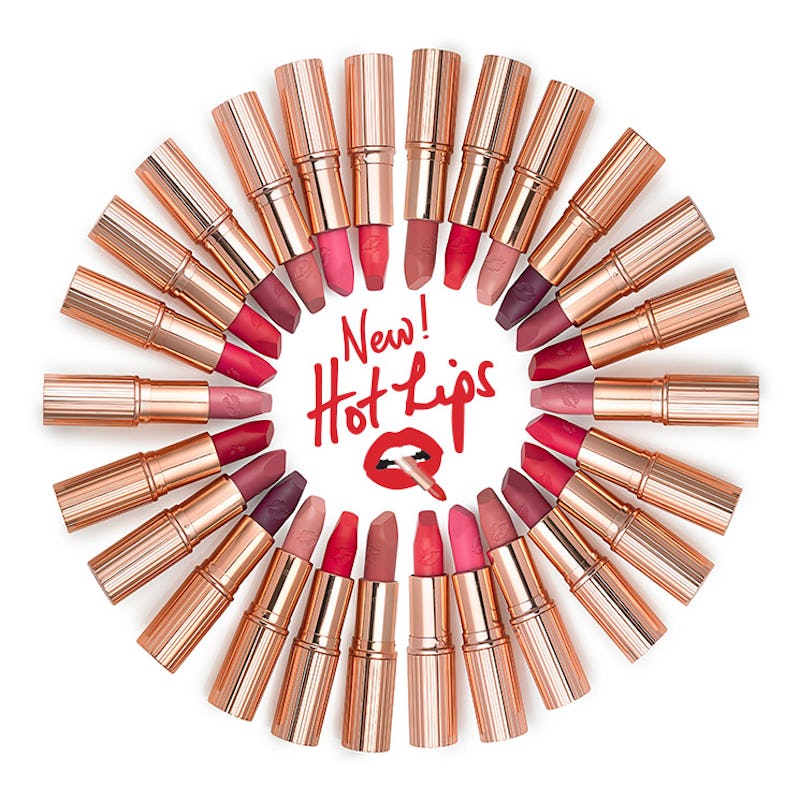 Looking to channel your inner celeb with a new lipstick shade? Charlotte Tilbury's newest lipstick collection came out on Friday and is pretty much everything we've ever dreamed of as far as celebrity makeup collaborations go. Tilbury's Hot Lips collection features 16 colors inspired by some of the most famous, confident women on the planet — from Kim Kardashian's nude "Kim K.W." to Miranda Kerr's corally-pink "Miranda May." There is every shade of nude, red, pink, plum and coral you could ever dream of, and the collection really does have something for everyone — regardless of your taste in makeup or leading ladies.
Ms. Tilbury is no stranger to celeb beauty: She is one of the most famous celebrity makeup artists ever, so it's no surprise that she would choose to collaborate with these superstars. She used her experience to create the perfect lipstick formula that goes on smoothly and dries into a matte, cashmere finish. "Using lighting trickery, pigments and powders is a trick I use all the time on photo shoots, and have been working for years to re-create this effect in the slick of one lipstick," she wrote on her website.
Her products have been around for the better part of the last year, and before today Hot Lips shades for Kate Moss, Penelope Cruz, Sienna Miller and Victoria Beckham were already on sale. They have repeatedly been some of the website's best sellers, so it's pretty much guaranteed that the 12 newest shades are going to sell out fast.
The lipsticks are on sale now at CharlotteTilbury.com. Individually, they cost $32 each, or you can buy the whole 12-piece set for $350 (it excludes the original Kate Moss, Penelope Cruz, Sienna Miller and Victoria Beckham shades).
If these prices are a little steep (though potentially justifiable, considering they are going to give you celebrity photo-shoot worth lips), check out some of these less expensive collaborations from some of the featured stars. I can't promise the quality will be the same, but the inspiration certainly will be!
1. Kardashian Beauty
Kardashian Beauty Au Naturel Lip Set in In The Flesh, $14.99, Ulta.com
Want nude lips like Kim's (and Kourtney's, and Khloe's) for under $15? Try out this shade from the #squad's own line.
2. Kate Moss for Rimmel London
Rimmel London Lasting Finish By Kate Nude Collection Lipstick, $4.89, Walmart.com
The Hot Lips collection isn't Kate Moss's first time at the collaboration rodeo: She's been working with Rimmel London for the last few years. This nude shade is surprisingly similar to Tilbury's, but for almost $30 less!
3. Nuance Salma Hayek Nuance
Nuance Salma Hayek Lipstick in Dusty Rose, $9.85, Amazon.com
Want Salma's plump, sultry lips? Try out this deep shade from her Nuance collection
Images: Courtesy of Brands