Clothes Storage Tips For When You Have No Space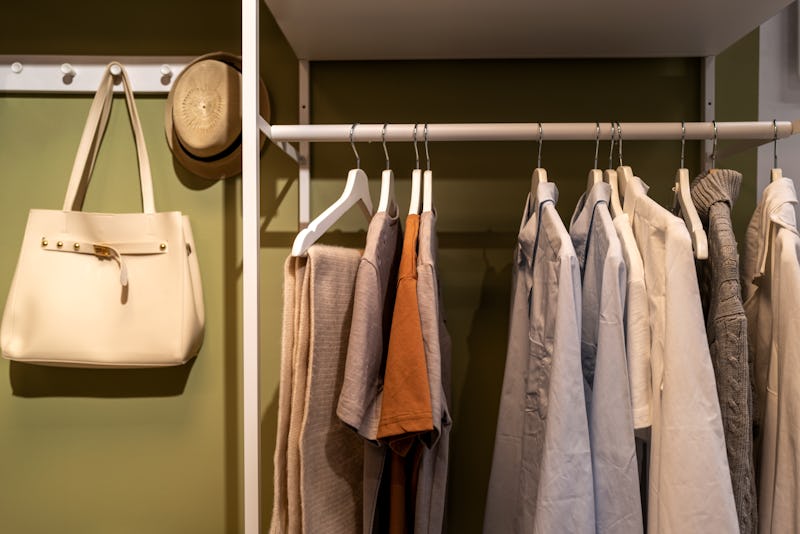 zhihao/Moment/Getty Images
Storing clothes can be extremely frustrating — especially when closet space is limited. However, there are ways to get more storage out of small closets. I not only live in a city with infamously little closet space (thanks, NYC!), but I have shared a closet for the past two years with my roommate. That's right. Because neither of our rooms contain closets, we both have to rely on the one positioned in the hallway between our bedrooms.
Needless to say, this means we are aware of almost every single clothes storage, space-maximizing hack out there. Our closet is a virtual treasure trove of space-saving tips and techniques. It kind of has to be if we don't want to go totally insane and not drive ourselves crazy. Because if there's one thing I personally can't stand, it's not being able to get to or see my clothes because a closet is packed too tightly.
If you're suffering from an unusually small closet situation and are kind of at your wits end, I feel you. But the good news is I've also got you covered. Below are 11super helpful hacks for maximizing space in a small closet.
1. Get Rid Of Stuff
OK, this first tip might not be one that you want to hear. But I've often found that the main reason I have no space is because I hold on to things I literally never wear anymore. Tackling this issue and donating what you no longer need will instantly free up some primo closet real estate.
Check Out: The Life-Changing Magic of Tidying Up , $11, Amazon
2. Get A Clothing Rack
The Emily Merritt Wardrobe Rack, $239, PBTeen
Clothing racks might seem kind of unsightly. However, there are a few super cute models out there that can look really cool — especially if you use them to hang some of your nicer pieces. It basically doubles as decoration if displayed in the right way.
3. Consider Loft Sleeping
Elsie Loft Bed, $899, PBTeen
OK, as someone who slept in a loft bed for a year in my twenties, this is only something I'd recommend for people with very limited space (because at the end of the day, who really wants to have to climb a ladder when they're tired). But when you're majorly short on storage it can definitely be worth it.
4. Or At The Very Least, Bed Risers
Wooden Bed Risers, $25, Vermont Country Store
Bed risers aren't just for college dorm rooms. They're an awesome way to create more storage space for seasonal items and coats without taking up any space or altering the look of your room. I recommend them to anyone navigating apartment life.
5. Invest In Vertical Hangers
5-Tier Swinging Arm Pant Rack, $14, Target
The Simple Home Art Decor Ideas channel on YouTube stressed that when closet space is tight, utilizing vertical space is key. Pick up a few vertical hangers and stack like-items together. You'll seriously save inches.
6. Use Door Space
Sunbeam Shoe Rack, $19, Amazon
The same YouTube channel also recommended using your door space for extra storage. I keep a hanging shoe rack on mine, but you can use the space for accessories, like scarves and jewelry, as well.
7. Get An Extender Rod
Spring Tension Curtain Rod, $39, Overstock
Apartment Therapy recommended getting a pressure rod and hanging it a few feet below the one already in your closet if space allows. This instantly gives you an entire new row to hang clothes.
8. Use Shelf Dividers
Lynk Vela Shelf Divider Set of 4, $22, Amazon
The same Apartment Therapy piece suggested getting dividers for your shelves. This might not technically save space, but it will definitely help to keep you organized, which can make it feel like there's more space. You'll wonder how you ever did without them.
9. Increase Shelf Space Up top
Ikea Kallax Bookcase Shelving Unit Display Black Brown Modern Shelf, $89, ebay
I highly recommend getting shelves to lay on top of closet shelves already in place — especially if you have a lot of unused vertical space. This can double, or even triple, your storage options depending on how high your ceilings are.
10. Think About Parallel Rods (As Opposed To One Straight Across
If your closet is deep, but not very wide, you may want to consider taking out the rod already there and replacing it with two rods that go from the front of the closet to the back. It will create a mini walk-in closet and can double your rod space. See the above video to see what it looks like!
11. Remember — You Don't Have To Hang Everything Up
This last tip might seem obvious, but it's totally worth mentioning. Remember, not everything — like shorts and t-shirts —needs to be hung up. And some things, like sweaters, can even get misshapen on a hanger. So see what you can keep in drawers if you're short on closet space.
Not having enough closet space can seriously suck. But there are things you can do to maximize the space you have, which can make a huge difference to your life. So go forth, and use that space to the fullest!
Images: Getty Images (2)
Happy shopping! FYI, Bustle may receive a portion of sales from products purchased from this article, which were added independently from Bustle's sales and editorial departments after publication.