Ways To Make Your Home Smell Amazing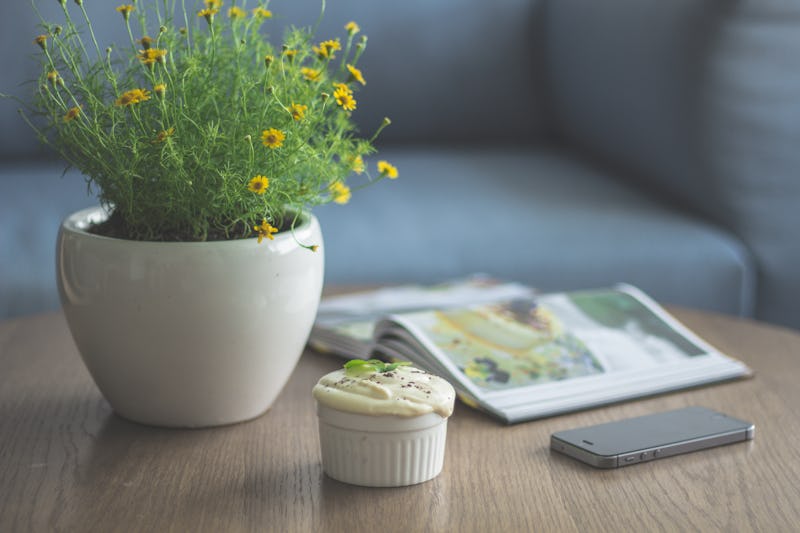 There's nothing quite as nice as coming back to an amazingly fresh-smelling home. It's one of those little details in life that makes all the difference. And the good news is there are a ton of easy hacks to make your house smell good that require little to no effort on your part. And isn't that the best kind?
I used to be weirdly against little home niceties like air fresheners. I thought they were an unnecessary expense that provided little actual return. If you kept your home relatively clean and odor free, what was the point? However, after being gifted a scented candle one holiday season in my absolute favorite scent (lilac), I tried it out and literally never went back. It turned out that one, technically unnecessary detail made me so incredibly happy. "I'd kind of be crazy not to keep buying these," I thought.
And it turns out it's not just me who notices a big difference. A 2009 study published on PubMed.org found that teens who received aromatherapy were significantly less stressed than those who received a placebo, indicating that it could be a very effective treatment for stress management.
Basically, a good-smelling home isn't just nice, it can literally help you de-stress. Which, in my opinion, is kind of worth its weight in gold. If you're on the lookout for ways to make your home smell amazing, here are 11 super easy hacks that should help.
Smells Begone Home And Linen Spray In English Lavender, $10, Amazon
I discovered linen spray in my local Bed, Bath and Beyond this past year, and I seriously now wonder where it's been all my life. Just spray some of it on any fabric in your home — from comforters to couches — for a super fresh smell. It's the perfect little accent after your clean a room.
2. Make A Stove Simmer
According to a piece on The Huffington Post, a super easy way to make your home smell great is by making a stove simmer. Simply boil some water and then add some cinnamon sticks (and orange slices if desired). Let it simmer for 30 minutes and say hello to a delicious smelling kitchen and surrounding area.
Arm & Hammer Pure Baking Soda, $4, Amazon
Baking soda is one of those home maintenance super hacks that can help you out in about 1,000 situations. In terms of odor absorption, I always sprinkle a coating at the bottom of the trash can in my kitchen before putting in the bag, and also keep an open box in my refrigerator and by my cat's litter box at all times. Game changer!
Yankee Candle - Bahama Breeze Large, $24, Amazon
Scented candles are just about the easiest way to make a room smell amazing, and the variety of scents make them my usual go-to. And pro-tip: you can usually find really high quality brands and scents at discount stores like T.J Maxx and Marshalls. I never buy mine anywhere else any more.
Bounce Fabric Softener Dryer Sheets, Outdoor Fresh, $9, Amazon
According to the same Huffington Post piece, keeping a dryer sheet at the bottom of a garbage can is a super convenient way to control odor. Keep a box on hand in your kitchen for a quick odor-solution.
6. Essential Oils In A Mason Jar
A post on the super awesome site DIY Crafts recommended filling an empty mason charge with baking soda and adding a few drops of your favorite essential oil. You can then poke holes in the lid and use the jar as a portable air freshener for any space that needs a scent-boost.
Bath & Body Works White Flower Top, $10, Amazon
DIY Crafts also suggested making your own refills for store-bought plug-in air fresheners. "You just have to remove the wick, fill the container with your favorite essential oils and water and then replace the wick. This is a great way to save money and have a wonderful smelling home at the same time," they note.
Voluspa Limited Edition Reed Diffuser, $20, Anthropolgie
Reed diffusers are a great alternative to scented candles because they emit really nice fragrances without the whole potential fire hazard thing. I've tried to make my own at home using essential oils, but I've honestly found that buying the scent pre-mixed works just as well and is a lot more convenient. They're awesome for spaces where candles might not necessarily work well, like at the office.
9. Go Crazy With House Plants
PositiveMed.com highly recommended investing in house plants to help keep the air in your home purified and smelling fresh. Aloe vera, English Ivy, and Chinese evergreen are just a few plants known to best help neutralize air.
10. Make A Pomander
A "pomander" is just a fancy word for a nice smelling, fruit-based air freshener. Check out the above tutorial to see how to make one with an orange and cloves for a super nice-smelling spicy citric accent (and while the video specifically references making them for Christmas, they can of course be made any time and for any occasion!).
11. DIY Gel Fresheners
This last one is also from DIY Crafts. Simply fill a jar with some plain gelatin mix, water, and your favorite essential oils, and voila! You have your very own gel air freshener. You can also add food coloring if you want to make them look more decorative.
A fresh-smelling home isn't out of your reach, nor is it super difficult to achieve. Just try some or all of the above tips, and be prepared to never want to leave your house again.
Images: Pexels (4)