How To Shop Bleacher Report x KITH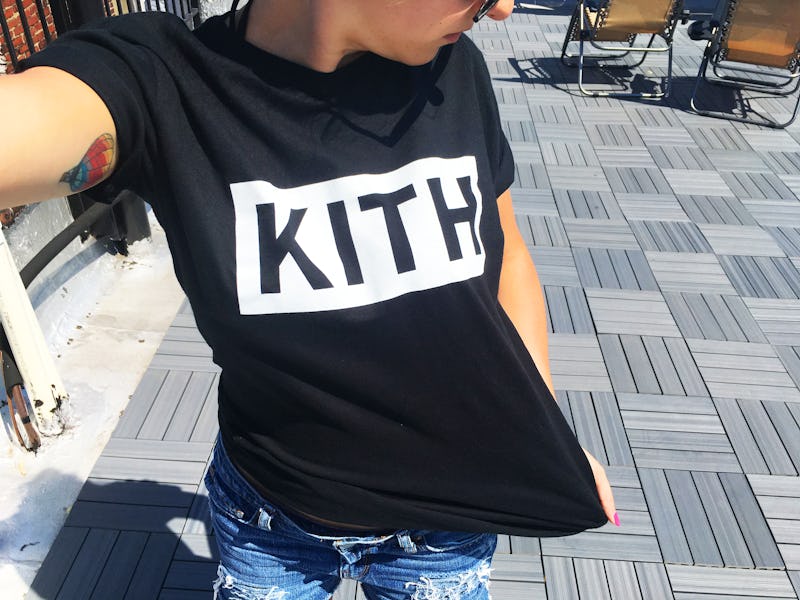 I don't shop in stores. Perhaps it has to do with living in ultra crowded New York City, but I find the IRL shopping experience excruciating compared to clicking around online. But when I recently was pleasantly surprised by the Bleacher Report x KITH #BR99 Popup Shop, I realized I'm probably missing out on a lot of cool stuff by refusing to step foot into an actual brick and mortar.
Full disclosure: Bryan Goldberg, Bustle's Founder and CEO, is a co-founder of Bleacher Report — so, yes, I mostly checked out the shop because my boss told me to. The full deal is that Bleacher Report (a sports news website, in case you aren't familiar) teamed up with KITH (an NYC-based streetwear brand) to turn a townhouse in SoHo into a massive shop/game room/Instagram bait space. In addition to speaker panels with pros in the sports industry, KITH is using the popup to launch their 4th of July capsule collection.
All of the clothes are ~technically~ menswear, but I'm personally pretty over everyone pretending a shirts and hats have to be gendered. The 4th of July capsule features baseball-inspired tops in of red, white, and blue that I'm sort of dying to wear with some cutoffs and platform sandals for the holiday.
If jerseys aren't your thing, the popup also features some cool KITH tees, hats, and beach towels (which is what I snagged for myself).
As we wander around the many #BR99 stations that are just begging to be the background to my Snapchats, a rep for Bleacher Report tells me she anticipates that the limited edition collection will sell out "basically immediately." So if you're in the NYC-area and want to shop, I'd head to to 79 Greene St sooner rather than later. The space — which also includes a make-your-own GIF station, a fooseball table, and a "customizable cereal and ice cream bar" — is open to the public until June 30. Take it from someone who despises IRL stores: This one's pretty darn fun.
Images: Kara McGrath; Courtesy Bleacher Report