7 Unexpected Tunes for the Perfect First Dance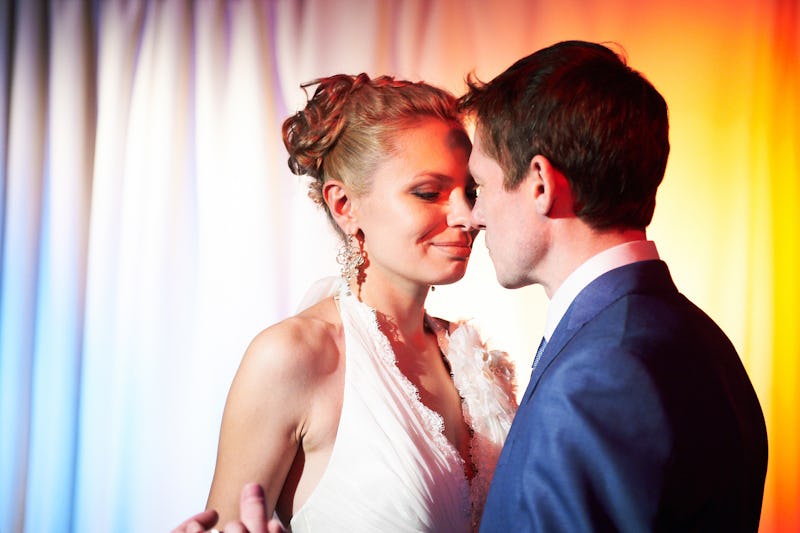 Some details of a wedding are quickly forgotten amid the excitement and emotion of the big day. Did you have three glasses of champagne or four? Who was it who caught the bouquet?
Your wedding song, on the other hand, you'll never forget. You'll smile when it plays on the radio, you'll hum it to your husband or wife, and it will (hopefully) always bring happy memories of the day you said "I do." So you better make it a good one.
Now, don't get me wrong, I love me some Etta James. But it's highly probable that every time you hear the first few soulful notes of "At Last," no matter where you are, another couple in the vicinity is thinking, and maybe exclaiming, "It's our song!" Don't you want a wedding song that has at least a chance of being your song — and not everyone else's in the room? Whether you prefer something classic or more modern, these eight unexpected songs perfectly capture the romance of your first dance together, and you can be sure that your guests won't know all the words by heart.
Sure, Harry's been in the spotlight lately for his brilliant role on American Idol (Simon who?) but the fact that more than half of the contestants didn't know who he was testifies to his relative obscurity. His lyrics will put a smile on your face, and his impressive piano runs will give you a reason to bust out those swing dancing skills you haven't used since college. Think Michael Bublé minus the cliché.
Our favorite New Girl, Zooey Deschanel, also has some serious pipes. Her upbeat, indie track with band partner M. Ward is reminiscent of the golden-oldies with a quirky twist. The retro sound will have you bopping around the dance floor, smiling from ear to ear.
Tom Odell is everything that we wish Taylor Swift could be. The 23-year-old British crooner writes his songs from his own experiences, but with a mature sophistication well beyond his years. His touching lyrics don't include grand proclamations of love, but rather the little things you do for each other, like tucking his feet in when the covers fall off. Say it with me: awwww.
If you're aching to sway to a true classic, you can never go wrong with Van. While "Crazy Love" has certainly been done before, it's simpler and less mushy than your usual "Have I Told You Lately That I Love You?" After all, you're going for classic, not dated.
Although the least obvious track of the bunch, the title says it all. Florence Welch's melodic voice, in combination with the haunting yet beautiful chorus, will make you feel like the only two people in the room.
If a slow dance isn't quite your thing, show off your dance moves to none other than Queen Bey herself. I mean, let's be honest, there's no one quite like Beyonce to kick off the best party of your life. You'll easily set the tone for an evening of fun and laughter, and you can expect your guests to not just join you on the dance floor but own it.
The most recent of them all, this ballad by John Legend isn't overplayed — yet. While Mr. Legend could probably sing anything and have us swooning, this particular track for his supermodel wife Chrissy Teigen is literally everything you want to hear from the one you love.
Image: Fotolia