Danica Patrick Might Be The Biggest Cubs Fan Yet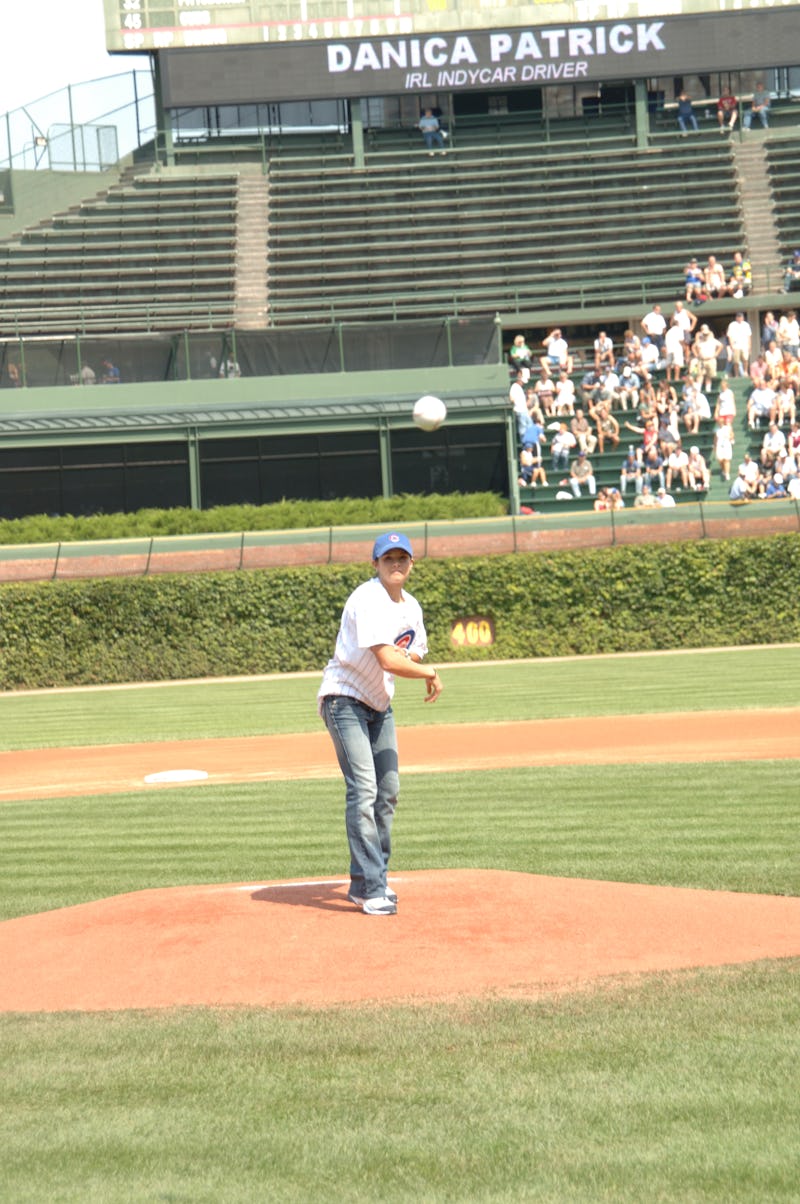 Racecar driver Danica Patrick threw out the ceremonial first pitch at a Chicago Cubs game back in 2006. Pretty cool for a kid raised in Illinois to launch the first ball from the pitcher's mound at world-famous Wrigley Field for America's third-favorite baseball team. But intimidating, too, since it was in front of 27,000 people. "It's a lot more nerve-racking, because I feel like as an athlete, I'm supposed to do a good job," Patrick says, before admitting that she practiced before she pitched. "Luckily, it wasn't one of those where the catcher had to go running for the ball. It landed right in front of the plate."
The Cubs, somewhat affectionately known as the Lovable Losers, were less successful. They lost 96 out of 162 games that season. And as an avid fan, Patrick undoubtedly feels the excitement (and dread) of being committed to a team with a less-than-stellar record. But Patrick, the world's sixth-most-famous female athlete, climbed the mound at Wrigley again in 2012. And again, she fired an on-line, one-hop pitch to the catcher. However, her beloved Cubbies were even worse that year, losing 101 games. And wouldn't you know it, on the day of our interview about being a Cubs fan during a potentially historic season, Patrick's team lost their fourth game in a row for the first time in 2016.
More despair for a long-suffering Cubs lover? No way. Despite their recent stumbles, the Cubs are in first place in the National League Central Division and have the best win-loss record in all of Major League Baseball — proving, so far, that the Las Vegas odds makers were right in predicting that the Cubs would win the World Series. Finally.
"Of course, everyone has nagging anxiety," Patrick says, understating the angst of rooting for the Cubs. "It's been like 128 years or something. But look at Cleveland." The NASCAR driver drew hope from LeBron James' Cleveland Cavaliers, who won the National Basketball Association championship a few days before I spoke with Patrick. The victory was the first in any sport for Cleveland in 52 years. "All I can say is when a team has a reputation for something, you always wonder if it's going to play out the same. But there's always the chance it's going to be different."
For the Cubs, it hasn't been quite 128 years. But Patrick is close. Chicago's North Siders last won the World Series in 1908, which was the second year in a row for them. (They beat the Detroit Tigers and the legendary Ty Cobb both times). That's a generations-long drought. But when you're a Cubs fan, you stick with your team, even if sometimes, your loyalty doesn't have much to do with the current team. "A lot of it just has to do with Wrigley Field," she says. "The whole thing is just an event. Plus, definitely the history of the Cubs makes you want to cheer for them, of course, where they can be a World Series champion again. What do we say in Chicago? The team that you love, even though they make you sad all the time."
Surprisingly, perhaps, Patrick puts baseball on a par with auto racing in terms of excitement: "Neither of them are all that exciting. There's a lot of lead-up time. They both take a long time to get to the end. You always want it to be close at the end. But when it is exciting, it can be as good as any sport can be."
Both sports also have distinctive fragrances — burning tires around the oval, and freshly-cooked hot dogs at the ballpark. And this year, the scent of a championship really is in the air. The team is so good that four Cubs players, more than any other National League team, are starters on the 2016 All-Star team. So Patrick, like most Cubs fans, holds guarded hopes that this really will be the year.
As for throwing out another ceremonial pitch at Wrigley, Patrick says she would be up for that. What's tougher is going to the microphone in the press box during the game and leading the crowd in singing "Take Me Out to the Ballgame." Put it this way: Her arm is stronger than her voice. But Patrick joked about her singing baseball's anthem: "I think it probably made a top 10 list of not-to-do things."
Images: Paul Webb (2)