8 Tips For Less Painful Facial Hair Removal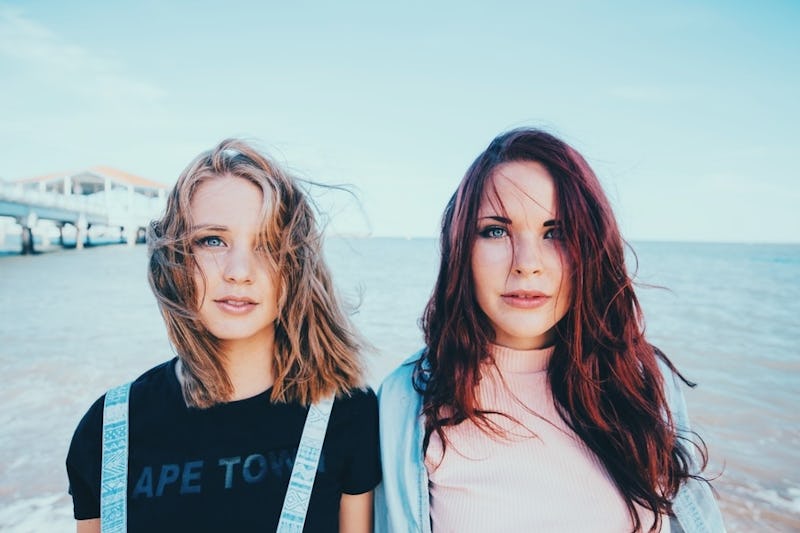 Everyone feels like their happiest and most confident self in a ton of different ways. If yours is by rocking the hair you were born with, especially as it pertains to facial hair, then you should 100 percent do it. But, if you're looking for tips on facial hair removal that aren't super painful, you've come to the right place. Getting rid of facial hair isn't the horrible chore you may think, and there are a few significantly less painful ways to remove facial hair that you should know about.
If you've tried waxing and tweezing, and those hair removal methods just hurt too much, it might be time to find a product that doesn't make you want to run for the hills. Your face is a sensitive place, so you should treat it that way. Don't use products that cause pain and discomfort. Instead, look for a facial hair removal alternative that gives you great results, and doesn't make you want to cry.
If you want to clean up your eyebrows or remove stubborn above-lip fuzz, you can find something that works. From hair removal creams, to buffers and laser removal options, there is something for every situation. Hair removal that's easy and doesn't hurt too much? Sign me up.
1. Shape Brows Without A Tweezer
Tinkle Eyebrow Shaper (3 pack) , $5, Amazon
Use a shaping blade to help remove small hairs without the painful pulling from a tweezer. These blades stay sharp after several uses, so you can use it for a few months before grabbing a new one. It removes fine hairs, giving you a clean, smooth look.
2. Go Completely Painless With A Removal Cream
Avon Skin Moisturizing Facial Hair Removal Cream , $6, Amazon
If you prefer to use a hair removal cream, look for one that has moisturizing effects built in to the formula. Often cream removals can leave your skin looking red, dry, and flaky. One user said, "I have had no irritation at all, just a soft, hair-free upper lip."
3. Skip Multiple Laser Hair Removal Sessions For An At-Home Session, Instead
Tria Beauty Hair Removal Laser 4x , $450, Amazon
Laser hair removal can be super expensive. Instead of spending thousands of dollars, splurge one time for your own at-home system. Laser hair removal targets hair follicles and permanently disables them. This leads to permanent results and super smooth skin, without pain. The Tria is gentle enough to use on your face, and within three months, the gadget says it'll reduce your hair growth by 70 percent.
4. Find A Multi-Use Trimmer That Combats Fuzz
Conair LLT2 Ladies Precision Trimmer , $13, Amazon
A trimmer with multiple attachments is a great way to eliminate the pain that often comes with hair removal. Trim away facial fuzz with a tool that you can use from head to toe. It comes with two eyebrow shaping combs, as well as a nose and ear attachment.
5. Extra-Sensitive Skin? No Problem With A Gentle Hair Remover
Surgi-Cream Hair Remover Extra Gentle Formula For Face (Pack of 3) , $13, Amazon
People with sensitive skin often shy away from using a depilatory cream. Reach for one with maple honey, vitamin B2 and aloe vera to smooth and moisturize your skin. In just four minutes, remove hair and prevent the growth of new hair with ingredients like papaya, citrus, and olive.
6. Or Be Precise With Quick and Easy Hair Removal By Hand
Set of 2 Bellabe Facial Hair Removers, $27, Amazon
It's important to not damage skin when removing hair. This can often happen with the use of wax and bleaching. So, go in a different direction with a hair remover that can be used on the upper lip, chin, jawline, cheek, and neck areas. Many users said the first time using this was a bit painful, but afterwards the pain goes away quickly. Simply twist the device around hairs, and see all hair disappear.
7. Massage Hair Away Using A Facial Buffer
Hair Off Facial Buffer , $16, Amazon
Gently massage away unwanted hair with a facial buffer. It causes no pain, and it actually exfoliates skin. Your face will be silky smooth and hair will be gone. After a few uses, your hair growth will even begin to become less noticeable. Use on your upper-lip or on your cheeks to remove stubborn fuzz.
8. Avoid Pain And Damaged Skin With All-Natural Sugar Wax
Moom Organic Hair Removal Kit , $16, Amazon
Sugar wax is different from regular wax because it is really gentle and made with all-natural ingredients that actually soothe skin. MOOM Sugar Wax contains chamomile, tea tree oil, lemon juice, sugar, and wax. That's it. Regrowth will become smaller and smaller. Hairs will become finer. Who doesn't love long lasting and pain-free results?
Bustle may receive a portion of sales from products purchased from this article, which was created independently from Bustle's editorial and sales departments.
Images: Pexels (1); Amazon (8)