Glossier's Quartz Haloscope Is Officially Sold Out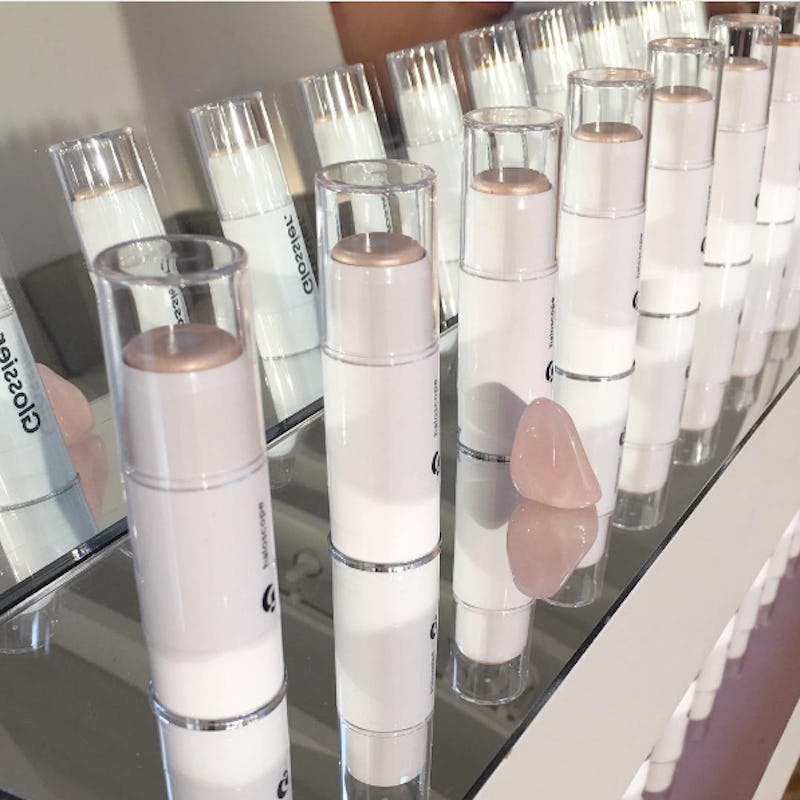 In case you were living under a rock for the past few weeks, Glossier's new Haloscope highlighter has been totally rocking the beauty world since it was released. The gorgeous highlighter stick comes in two shades, Quartz and Topaz. Topaz is a bronze shade and gives you a sun-kissed glow, and Quartz is a pearly pink that makes your skin look totally luminescent. On Monday, Glossier announced its Quartz Haloscope highlighter officially sold out. So I'm here to answer the question you're all wondering about: When will Glossier restock Haloscope in Quartz next?
Luckily, as soon as the brand announced the sell out, they also announced when they'll restock. According to the caption on the brand's Instagram, you can backorder Quartz now and expect your highlighter to ship in late August. That's not too bad, right? And in the meantime, you can still order the gorgeous bronze Topaz shade of Haloscope for now.
Glossier's popularity has seemingly taken even them by surprise, and they've dealt with sell outs of their crazy-popular products since the launch. I do appreciate how informed the brand has been keeping fans though, and keeping them apprised on Instagram seems like a great way of doing it.
If you didn't manage to get the Glossier Haloscope highlighter in Quartz during the first round of sales and just can't wait until August, you can shop these great dupes in the meantime.
1. Marc Jacobs Beauty Glow Stick
Marc Jacobs Beauty Glow Stick Glistening Illuminator, $42, sephora.com
This basic highlighter from Marc Jacobs doesn't quite have the pink-ish sheen of Quartz, but it's got a similar shape that I have a feeling will apply similarly.
2. Benefit's Watt's Up
Benefit Watt's Up! Cream-to-Powder Highlighter, $30, sephora.com
This cream-to-powder highlighter from Benefit looks like a great dupe for Haloscope, and I love that it has a built-in blender.
3. Kardashian Beauty Dashlight
Dashlight Highlighter Strobing Dome, $9.99
This strobing dome is the same sort of consistency as the Haloscope — it rolls on and leaves you with a dewy glow.
These dupes will work for now, but mark your calendars for the Glossier restock.
Images: @glossier/Instagram; Courtesy of Brands