How Do I Keep From Overheating During Sex? 9 Ways To Stay Cool & Comfortable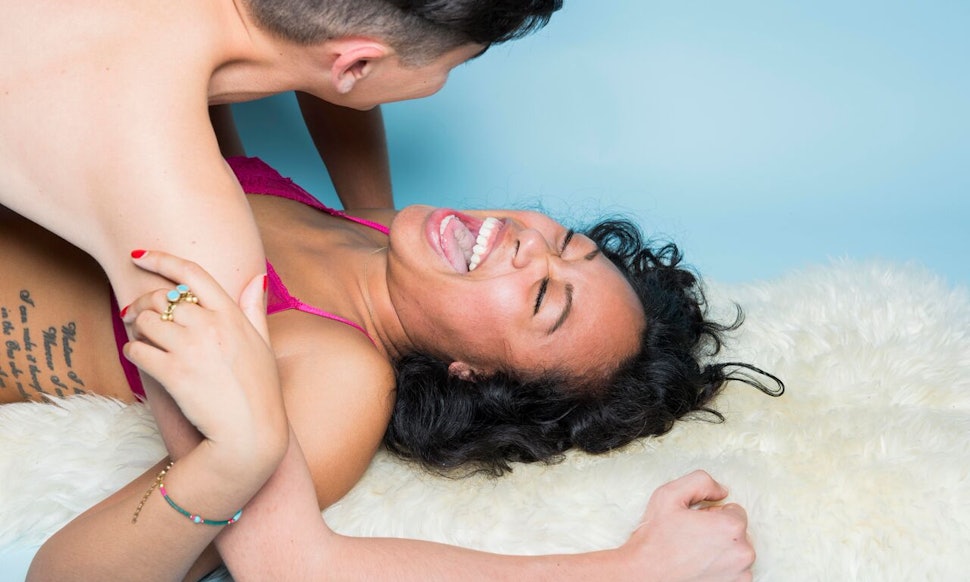 I'm the type of person who overheats during everything, and that first bead of sweat is equivalent to an off switch for me. Keeping cool during sex is a valid and common topic of research for me. Why? When I overheat during sex (just like when I overheat during anything else), I stop right where I am, start fanning my face, make a few distress noises, and generally refuse to continue until I've cooled down. Basically, I'm a huge baby about sweating when I don't want to be sweating.
It's totally natural to heat up while you're getting hot and heavy with someone. Your hormones are flaring, your body is moving, your heart is racing, and there's a whole lot of friction going on. All of these things (especially the combination of them) can make you overheat during sex and cause the temperature in the room skyrocket, but no worries — there are definitely ways to keep cool during sex. Sure, you can move to a chillier room or grab a few ice cubes, but sometimes, that's just not a viable option. Here are the best ways to turn your room into the sex-equivalent of an icebox, so you can focus less on the heat and more on the action that's causing it.
1. Choose A Cooling Massage Oil
Banyan Botanicals Pitta Massage Oil, $15, Amazon
Oils react with your skin in certain ways to either heat you up or cool you down, and this Banyan Botanicals pitta massage oil contains nine organic herbs that leave your body feeling cool, comfortable, and relaxed. It's totally natural and kept in a BPA-free bottle for your safety, and while it's great for not-so-hot hot massages, reviewers say that their skin also looks especially radiant afterwards.
2. Make Every Surface A Chilling Experience
LINENSPA Instant Cooling Pad, $19, Amazon
This Linenspa instant cooling pad can be placed on your pillow or underneath your body for an instant wave of refreshing coldness. It's super durable, the plastic cover can be wiped clean, and the substance inside changes from a gel to liquid, in order to keep you cool for hours. Then, when you're done, put it in the refrigerator or lay it out on a flat surface for next time.
3. Stimulate The Important Parts
Sensuva Organics Nip Zip Nipple Balm, $8, Amazon
This Sensuva Organics nip zip nipple balm is an all-natural balm for your nipples that keeps them moisturized, stimulated, and extra-cool. It has a rejuvenating tingly feeling, and it reviewers say it tastes great, too.
4. Counteract The Friction With A Cooling Lube
Maple Holistics Cooling Personal Lubricant, $9, Amazon
With all that friction going on, it's a good idea to find a lubricant that cools on its own. This Maple Holistics cooling personal lubricant is entirely natural, pH-balancing, water-based, and paraben-free, but it leaves a cool, slick, and refreshing tingle wherever you decide to put it.
5. Stimulate Your Quick-Cooling Spots
ACEVIVI SPA Icy Eye Mask, $9, Amazon
When the freezer-friendly bead pearl gel is inside of this icy eye mask, it looks just like your average blindfold, but it's actually helping to stimulate your quick-cooling spots to keep you refreshed in bed. It's made from smooth mulberry silk, is adjustable to fit any person, and doubles as a sleep mask or heat therapy mask.
6. Find Sheets That Won't Trap The Heat
Mellanni Bed Sheet Set, $27, Amazon
This Mellanni bed sheet set is made from extremely high-quality microfiber, and because of that, it's silky soft, luxurious, and cooling. It allows heat to flow right through (so much so that a Texas reviewer says these are her go-to sheets to keep cool), and because this four-piece set is durable and easy to care for, they're a number-one best seller.
7. Glass Sex Toys Can Go Right Into The Refrigerator
MyXToy Double Textured Clear Glass Toy, $15, Amazon
Glass sex toys might sound a little bit intimidating, but the fact that MyXToy is made out of borosilicate glass means that you can heat it or cool it to your liking. It's double-sided for G-spot stimulation or ribbed pleasure, and because it's hypoallergenic, easy to clean, and can be refrigerated, reviewers are pretty damn pleased.
8. Get A Fan You Can Put Anywhere
Avalon 6-Inch Clip-On Fan, $17, Amazon
Never underestimate the power of a conveniently-placed fan. This Avalon 6-inch clip-on fan is convertible, and it comes with a clip as well as a tabletop bottom, so you can place it anywhere and everywhere. Clip it to your bed or put it on your nightstand to enjoy two cooling speeds, no matter what it is that you're doing.
9. Do It In The Shower (Safely)
Sportsheets Single Locking Suction Handle, $12, Amazon
Sex in the shower is an awesome way to regulate your body temperature, but I, among many other people, don't have the coordination for that. This Sportsheets single locking suction handle makes sex in the shower a safe and fun activity with its lock-down suction areas and comfortable handle. Stick it to any tiled area for more leverage, balance, and pleasure.
Bustle may receive a portion of sales from products purchased from this article, which was created independently from Bustle's editorial and sales departments.
Images: Bustle (1); Amazon (9)