Amazingly Helpful Tips For Makeup Storage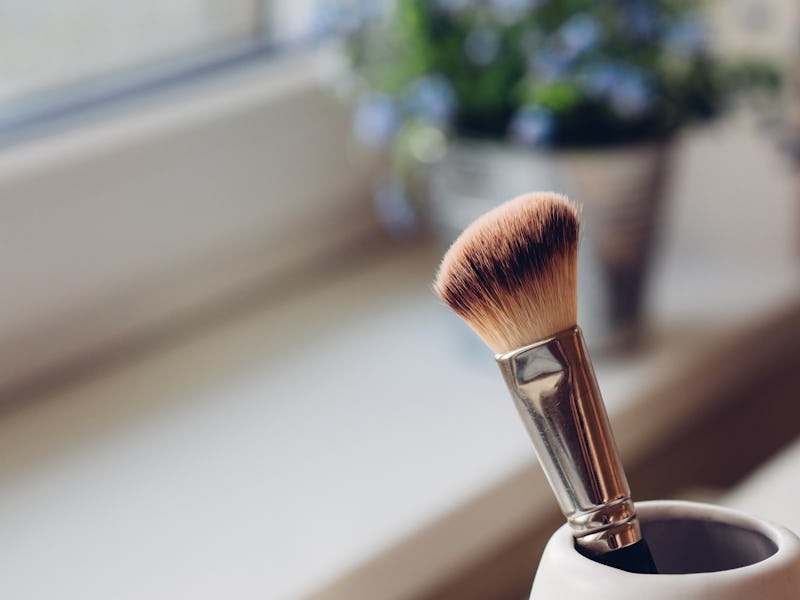 If you're like me, your makeup has gradually taken over a lot of real estate in your life. And the ironic thing is, I don't even wear much makeup on a daily basis! It's why I've sought out a few simple ways to organize my makeup and regain control of my space.
The thing that I've noticed about an organized makeup space is that it not only makes me actively want to use the makeup I have more, but it also helps me remember what I even have in the first place. I can't tell you how many times in my life I've emptied out a crowded makeup bag only to discover half a dozen products I'd completely forgotten that I owned.
Not only that, but proper makeup storage helps me keep my products clean. And if you've ever suffered from a makeup-brush-induced break out, you know how incredibly important clean tools are when it comes to your face. Oh, and did I mention that organized makeup storage just feels nice? It's the difference between a feeling of clutter and disorder, and a feeling of convenience and simplicity. And who doesn't like that?
If you're looking for some solid storage and organizational hacks for your makeup, here are 11 tips that will make all the difference.
1. Turn A Jar Into A Makeup Brush Holder
On her YouTube channel, LaurDIY recommended simply filling a glass jar with some beads or marbles. This will help your makeup brushes stand upright and stay separated, and also makes for a super cute decorative display.
Lazy Susan, $30, Williams Sonoma
Beauty vlogger VasseurBeauty recommended using a lazy suzan to display your makeup products. This will allow you to access many different products without having to knock things over or dig through layers and layers of items.
3. Decorate And Stagger Cardboard Boxes
VasseurBeauty also has an awesome system for displaying eye shadow palettes and brushes that just entails glue, some cardboard, and wrapping paper. Take a look at her above video for a quick tutorial.
Clear Glass Roberto Tray, $54, Home Depot
Beauty vlogger Jamielle Laura recommended getting a cute, inexpensive tray to display things like perfumes and body sprays, or foundations and lotions. This subtle detail instantly makes things look and feel less cluttered and more organized.
5. Invest In A High Quality Travel Case
Travel vlogger and YouTuber Sonia Gil stressed that a good makeup bag is extremely important for efficient and stress-free makeup packing. In her YouTube video Travel Tips: How To Pack Your Makeup, she recommended investing in a bag with ample pockets as well as a plastic interior to make cleaning super easy.6. Invest In A Clear Acrylic Container
Acrylic Lipstick Organizer Holds 24, $7, Amazon
YouTuber and beauty lover Andrea Matillano stressed the incredible difference having lipstick — as in products specifically designed to hold lipstick — makes in displaying your makeup. It enables you to instantly see and access all of the lip products you own instead of sorting through a jumbled mess in a drawer or bag.
Acrylic Compact Powder Case Holder, $11, Amazon
These, also recommended by Matillano, are kind of game changers. They allow you to neatly stack all of your blushes, bronzers and compacts so that you actually know what you have. It's amazing that something so simple can make such a difference.
Acrylic Drawer Makeup Organizers With Removable Drawers, $23, Amazon
Acrylic organizers in general are always a solid first step in a makeup storage endeavor. They help you keep all of your products on display, which ultimately helps you not forget what you have.
9. Use An Old Plastic Jar For Hair Accessories
This is a personal tip that was so obvious, yet took my years to figure out. Grab an old glass or plastic jar when you're done with it and designate it as your hair tie/clip container. That way you'll have them in a centralized location and have a handy place to toss them when you find them lying around the house.
10. Toss What You Don't Use
This is also a personal tip — and I know from experience it can be really hard to do. If you hardly ever use a product, or haven't used it in years, it could be time to part with it. Odds are you won't even miss it, and you'll be helping make the products you do use way more accessible.
11. Travel With Cotton Balls
Clinique Perfectly Real Compact Makeup Sponge Refill, $5, Macy's
The Julep.com blog also recommended cushioning your blush and bronzer compacts with either a cotton ball or the application pad that came with the product by placing one inside the compact with the product. This will help act as a "makeshift shock absorber" and help prevent valuable product from breaking off.
Using your makeup should never be a hassle, and an efficient system starts with organized storage! Use some or all of the above tips to be well on your way to super usable makeup.
Images: Pexels (2)