5 Hacks To Make Your Iced Coffee Even Better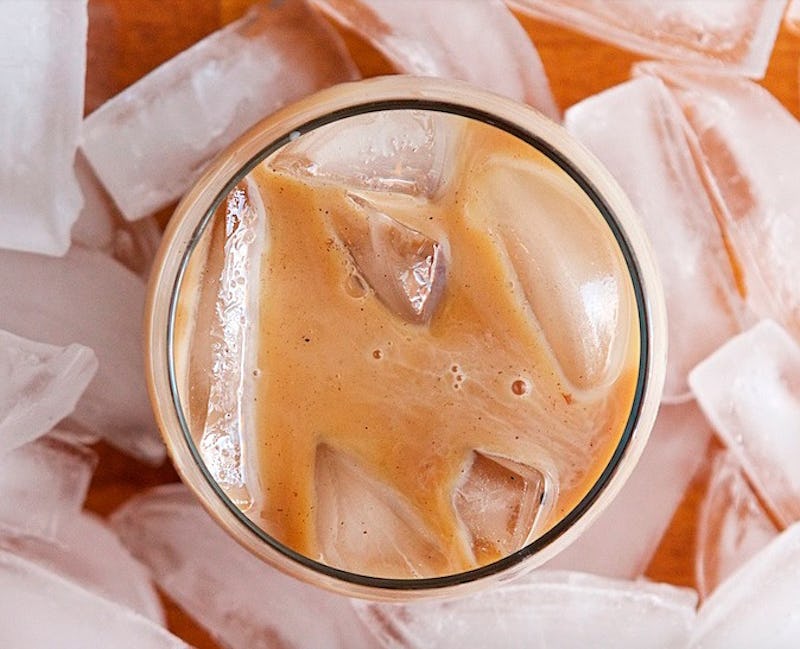 With summer comes the inevitable switch from piping hot latte to a colder caffeine delivery — often in the form of iced coffee or cold brew. When I think about iced coffee, the first thing I think of is a large plastic cup filled with black, unadulterated brew pierced with a tall green straw, but there are ways to make your iced coffee even better, and you should probably stop whatever you're doing and try them out post haste.
Most iced coffee that you can buy today is technically cold brew, which means that the beans are steeped in cold water overnight before being strained to serve. The extra time that the beans are in contact with the water also multiplies the caffeine dose compared to regular drip coffee. If you're craving iced coffee at home and don't have 12 hours to wait for that afternoon burst of energy, you can double the amount of coffee that you put into the filter which will increase the potency of your brew and prevent your drink from getting too watered down by melting ice.
So, what are some other pro tips for taking your iced coffee game to the next level? Check out these ideas from around the globe.
1. Coffee + Horchata = Cochata
If you've ever had a Mexican horchata, you know the spicy, creamy, sweet goodness is as refreshing as can be. The Kitchn has the secret to making your own Cochata at home, or you can adulterate your favorite coffeehouse cold brew with store-bought horchata and have it ready in seconds.
2. Add Cardamom To Your Coffee
Ever wonder how your chai latte got that delightfully spiced flavor? A large part of the flavor of chai comes from cardamom, and if you're brewing your iced coffee at home, you can grind up a few pods of cardamom in with your coffee beans and add it directly to your coffee filter with any other spices you like. You can even add cocoa powder to give your iced coffee a mocha twist. Get the details at The Kitchn.
3. Sweeten The Deal With Vanilla Coconut Milk
Take a can of full-fat coconut milk and add vanilla and honey. Then add to your black coffee to create a beverage that's somewhere between breakfast and dessert. Find the recipe for this drink at Half Baked Harvest.
4. Use Coffee Ice Cubes
Ever wonder how to prevent your iced coffee from getting watered down as your ice melts? Well, for starters, you can freeze brewed coffee in your ice cube tray to keep your drink as strong as ever all the way to the bottom of the glass. The Kitchn has more details.
5. Keep Things Chill With Thai Iced Coffee
If you've ever had the pleasure of drinking a ridiculously creamy Thai iced tea, you'll know that it can cool you down on a hot day and put out the fire from a particularly spicy meal. This iced coffee recipe from Steamy Kitchen has the same idea. Made with a two to one ratio of coffee to cream, a Thai iced coffee is, functionally speaking, almost ice cream. And who can say no to ice cream?
Images: The Kitchn (4); Half Baked Harvest; Steamy Kitchen