Steal JoJo Fletcher's White Sweater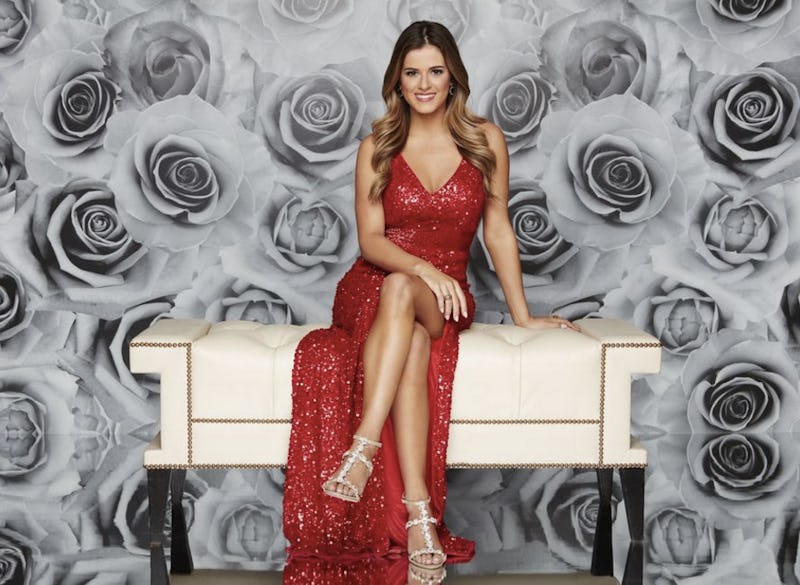 Though our opinions on who JoJo should pick as the winner of The Bachelorette may differ, I think there's something we can all agree on — her style is seriously on point. If you're wondering where you can buy JoJo Fletcher's white sweater from episode 6, you aren't alone, and I've got you covered with some options to shop.
It may be summer, but only JoJo could make us all long for winter clothing when we should be stoked on our tanks and dresses. But that just speaks to the power of this sweater, because it was that good. Fletcher wore a giant, oversized white knit sweater on Monday night's episode of The Bachelorette that was a little chunky, kinda ribbed, and featured bell-like sleeves, and it was seriously adorable. Especially when paired with her green jeans and booties. So perfect.
Naturally, fans immediately took to Twitter to find out where they could buy it for themselves, but the only clue we've gotten, a photo posted on the show's stylist Cary Fetman's Instagram page, only credits it to an unnamed boutique in Houston, Texas. So that doesn't really get us all that far on our quest for this seriously cute sweater.
So this Instagram post shed a ray of hope:
Until you realize the hashtag leads you no where. As we know, the show is filmed several months in advance, so there's a good chance that this exact sweater isn't even still available, so until the sweater gods reveal all, here are a few lookalikes you can shop.
1. Pull & Bear
Fisherman Knit Sweater, $40, asos.com
The sleeves might not be as full, but it's definitely just as chunky as JoJo's.
2. Free People
Off-The-Shoulder Sweater, $103, asos.com
Off-the-shoulder is way more wearable in the summertime, am I right?
3. ASOS
Chunky Sweater, $49, asos.com
I think JoJo would totally approve of a V-back.
4. RHYTHYM
Cable Knit Sweater, $75, nordstrom.com
Oversized, slouchy fit? Check.
5. Volcom
Pullover, $49.50, nordstrom.com
This one is a little more breathable for summer.
6. Talbots
Plus Size Sweater, $53.99, talbots.com
Diamond stitching makes it a little more glam.
7. ASOS
Chunky Yarn Sweater, $26, asos.com
This chunky sweater feels seriously similar to JoJo's.
There's no better way to cover up in the summer than with a lightweight white sweater. These picks will have you covered — both figuratively and literally!
Images: ASOS; Talbots; Nordstrom; ABC