Are Too Faced Sketch Marker Eyeliners Permanent?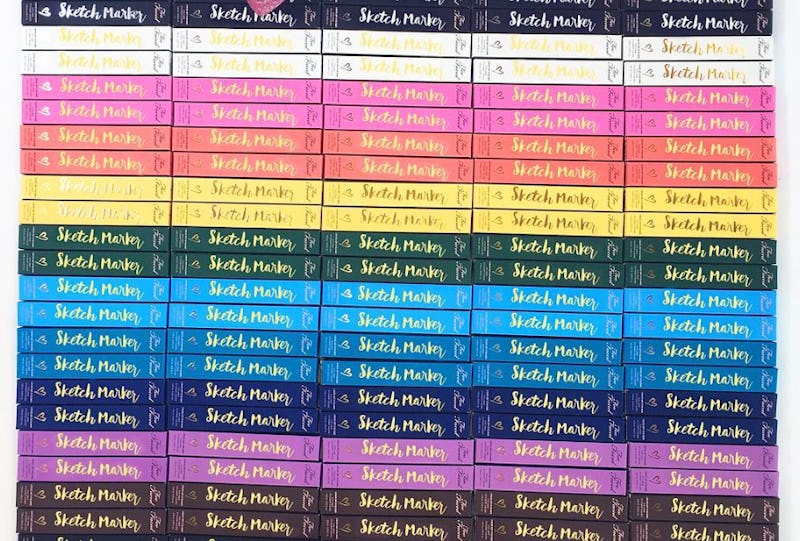 Eyeliner forever! Too Faced dropped the Sketch Marker Liquid Art Eyeliner pens, which come in a variety of colors and take inspo from Japanese calligraphy pens. They are like paintbrushes for your eyelids. Too Faced co-founder Jerrod Blandino has been promoting these new liners like crazy, offering a maj new giveaway of all 12 shades. He also posted an Instagram of a Too Faced Sketch Marker coloring book, which I so want to play with. The words "Limited Edition" are stamped on the front cover of the coloring book, which caused some Too Facers to wonder, loudly, in the comments section of this particular post if the eyeliner pens are limited edition or if they are permanent additions. Their status wasn't clear to me, either.
UPDATE: Too Faced reps got back to Bustle via email, saying, "The liners are permanent so they're here to stay." The coloring book is also not a commercial piece.
I was curious if the liners are LE or if it's the coloring book that's actually limited edition. I also wondered if the coloring book will even be released commercially or if it's purely promotional and part of a giveaway. What's the deal?
Well, the product description on the Too Faced site does not label the Sketch Marker Liquid Art Eyeliners as "limited edition." Bustle reached out to Too Faced reps to inquire and clarify the status of these eyeliners and to find out if they are permanent. We'll let you know if and when we hear back.
Here is the coloring book and that confusing "Limited Edition" stamp, which caused some questions. Markers and coloring books are a perfect pairing. And that face on the cover is so pretty, which is the Too Faced aesthetic.
Here is the official product listing and description on the Too Faced site.
Here is the giveaway post, in case you are interested in trying to snag all 12 liners.
A rainbow of eyeliner colors! I hope these babies aren't going anywhere and will remain an easy-to-get Too Faced product that sticks around for a long, long time. Like a quality eyeliner sticks to one's eyelids for a long, long time.
Images: Too Faced/Instagram (1); Jerrod Blandino/Instagram (2)