Kylie Jenner's Kimoji Phone Case Is to Die For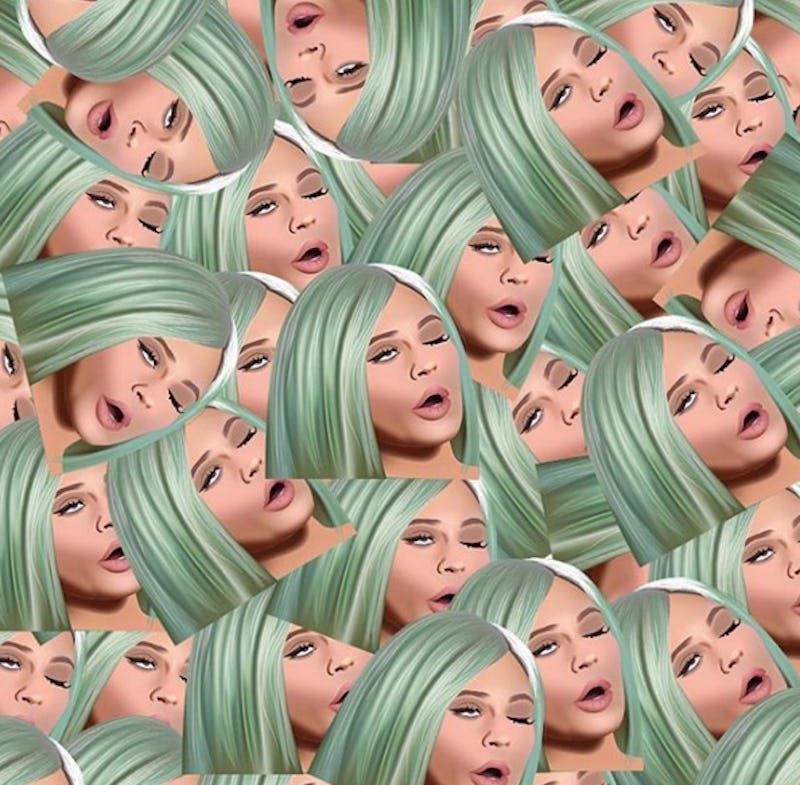 When it comes to creating an empire, nobody does it better than this family. So, of course, Kim Kardashian's emojis with her face, butt and some of her sayings became hugely popular. She didn't stop at just the virtual versions of these, either. Oh no, she also created Kimoji products you could use IRL. Now, is Kylie Jenner Kimoji Merch coming, too? Based on a recent photo Jenner posted — I'd say yes! Because if there's anyone more popular than Kim K, it's her little sister, Kylie.
Jenner posted an Instagram photo holding a phone case that had the her own face all over it. Kardashian's already created a Kimoji for her sister (you know, the one where she has green hair and is rolling her eyes) but, it's not one of the Kimojis that made it onto any of the IRL merchandise. However, that could be about to change.
It definitely wouldn't surprise me if Kim K came out with a second round of Kimoji gear, and I really hope that the next batch has the Kanye and North West Kimojis as well as the Jenner one. Because if you could carry a phone case with any of those faces on it, you would, wouldn't you? That's what I thought!
See, even Jenner herself couldn't resist carrying around a phone case with her face on it.
Here's a close-up of this eye-rolling Kimoji. I don't know about you but this facial expression forever describes my mood.
Her eye-rolling skills are pretty epic and definitely worthy of being plastered all over a phone case, if you ask me.
It may not be Kardashian's crying face, but it's pretty up there.
Kimoji Cry Face iPhone Case for 6/6s, $28, kimkardashianwest.com
The cry face was deserving of its own phone case, and I'm thinking Jenner's eye roll is, too. Fingers crossed, at least!
Images: kyliejenner/Instagram (1); Giphy (2); Courtesy kimkardashianwest.com (1)